An introduction to creating Customer Lists in ROLLER Mail and sending data from the ROLLER platform
Please note:  It's important to remember that only customers that are opted in on the ROLLER platform will be transferred across to the ROLLER Mail platform. If a customer has not subscribed, they will not be added to any lists in ROLLER Mail.


Planning
Before creating a customer list and segment rules, think about what you want to achieve. Here are some scenarios to consider:
A generic list containing all subscribers who opt-in
A campaign prior to a customer's visit to ensure they know some tips 
Creating different lists for each type of activity you may offer or product specific lists
Sending a feedback after a customer attends the venue
Offering cancelled bookings a discount code to encourage a return visit

ROLLER Mail
Login to the ROLLER Mail account
Create a List
Click on the List & Subscribers tab

Click on the Create a new list button in the right-hand side column
Give the list a name and type: choose from 'Single opt-in' where no confirmation is required or 'Confirmed opt-in' where a confirmation is required. For clients under GDPR, you must select the latter
Custom fields
The ROLLER Mail integration will automatically send through Name and Email address, you can also create custom fields to send the following data to the list (please note it is not necessary to create all these options, only create custom fields based on what information is required):
Date fields:
Booking Date - this will update with the most recent booking date made on the platform
Last visit date - this will update with the most recent check-in from POS
Date of Birth
Text fields:
Postcode
Booking status - this will update with the most recent booking made on the platform
Number fields:
Booking value - this will update with the most recent booking made on the platform
Booking ID - this will update with the most recent booking made on the platform
Create custom fields 
1. Click Custom Fields, located on the right hand side panel:


2. Give the custom field a name and set the field type as per the list aforementioned

3. Repeat step 2 and add other custom fields as required
4. Each field will now be displayed under 'Your existing fields', from here you have the following options:
Check 'Visible' - this will make it visible on subscription forms, highly recommended
Check 'Required' - if you want to make this field mandatory
Click and hold the Reorder icon to move the position of the fields
Click the trash icon to delete the field
Deleting fields
If you do decide to delete it, you'll be asked to check and confirm the deletion. We highly recommend exporting any data prior to doing this
Head to ROLLER Platform

Once the list is finally created, head to ROLLER to create a segment to send data to the list
Accessing Segments
Hover over ' Customers', highlight 'Segmentation' and click 'Create segment'
Please note: if you are already in Segmentation, click '+Create segment'. If you already have existing segments, this is located in the top right corner

Creating a Segment
Give it a name
Make sure it's unique
We recommend making sure it's identifiable or descriptive with what the segment is for 

Segment Rules
Filters
Booking date - allows you to select specific dates or date ranges 
Last visit date - allows you to select specific dates or date ranges 
Postcode - options are equal to or not equal to a specified postcode. If your platform is not configured to capturing postcodes, this option is not applicable to you
Product - select a product, multiple products or entire categories
Date of birth - allows you to select specific dates or date ranges. This data capture is only available to clients using waivers and the date of birth is applicable only to the booking holder
Booking status - choose between booked or cancelled 
Accept marketing - this allows you to filter those who have opted in and those who have not subscribed to the venue's database
Total spend - this allows you to filter the customers based on their total spend at the venue
Average spend - this allows you to filter customers based on their average spend based on all their visits to the venue

And VS Or
You should always use AND if you want data to match at least one filter rule from each filter grouping, otherwise use OR if the data can match anyone specified filter rule within a filter grouping.
Creating filter rules
Click '+Add Rule' and select the filter from the drop down and specify as necessary. Click the 'OR' and 'AND' buttons to create more variables for the filter rules. Click the trash can icon to remove unwanted filters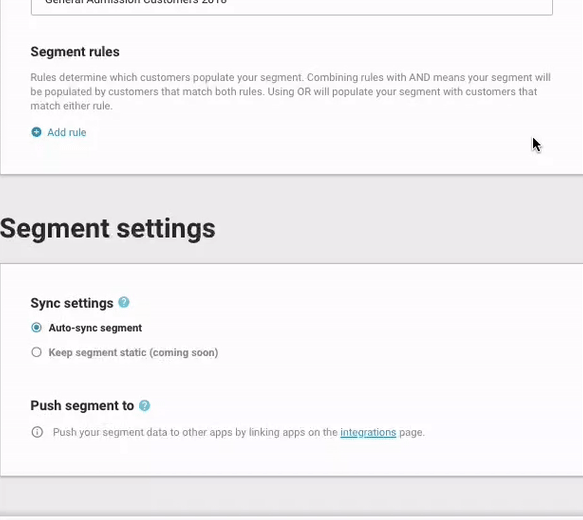 Segment Settings  
Push segment to
1. Check the ROLLER Mail account
2. Select monthly, weekly, daily or hourly frequency and then pick the ROLLER Mail list (you created early) from the drop-down. This will decide how often the integration sends data to the list 
3. Map fields - select 
Save Segment
Click 'Save' to finalise the segment or click 'Discard' if you do not require it. Once you create the segment, the data will sync within an hour of publishing and then it will sync according to the frequency that you have set 
 
Options
Back to the Segments page, you'll be shown a list of all created Segments. It is important to know that the figure in the 'Total Customers' column will reflect the total number of people in that segment but this is not the number of customers that are transferred from ROLLER to ROLLER Mail. Please remember, only opted-in customers are pushed from platform to ROLLER Mail, so if you have 1,000 total customers in the segment but only 800 of those have opted in, those 800 are the customers that will be in the ROLLER Mail list.

Click the more button and the following options will be displayed for each segment:
Edit
Sync all integrations - coming soon
Archive segment - this is not reversible
Export CSV - this will automatically download the customer list for the segment with the customer ID, first name, last name, email, accept marketing and more