To help make signing in quicker for your staff using POS, you can create a numeric passcode for them so they don't have to type in their email
A POS PIN (formerly known as Passcodes) allows your staff to log in using a numeric pin rather than using their email address and password. If the user is a Manager or Admin role, they can also use the POS PIN as their Manager Code which allows the authorisation of refunds, opening tills and more.
Head to the Staff page
Click on the 'Settings' menu and select 'Staff'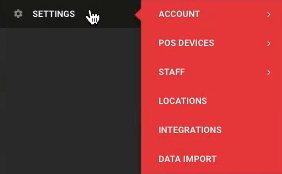 Set the POS PIN
On the Staff page, a list of all staff members will be displayed. Click the more button next to the staff in question and select Set Passcode from the drop-down menu


A pop up will appear prompting to type in a passcode or leave empty to remove passcode. Click Set Passcode and it's all done

Please note all passcodes have to be unique to each staff member, if it's not, you'll get the following warning:


If it is successful, you'll get the following message and in the Staff list there'll be a tick under Passcode for that staff member

You could also assign or change a staff's passcode by clicking on the staff profile and select Change Passcode under the Security section. 
Note: If you do not have the Passcode functionality, please log a support request with us.