Refunding credit card payments from the Payment Gateway
For venues utilizing Adyen or Worldpay, please refer to this article.
For all other Payment Gateways, refunds for VM credit card payments are an external process to ROLLER and must occur from within the Payment Gateway's portal. Click on the link below to be redirected to the relevant article for instruction on the Payment Gateway the venue is utilizing:
If the transaction was not processed through the gateway, it is not possible to refund if there is no existing transaction.
Once the refund has been processed, head to ROLLER VM to adjust or cancel tickets as outlined below.
Logging refunds through the ROLLER VM
Only a user with Manager permission level (or higher) is able to refund a guest.
ROLLER provides the functionality to register the action of a refund to a guest, the specified sum of money up to the total booking cost. It is important to note that this will not actually refund the guest, this action will mark the booking as refunded for reporting purposes. Guests will still require to be refunded manually via the original payment method (the Payment Gateway, cash, EFTPOS, etc).
1. Search for the booking that requires a refund
2. In the booking, click the more button in the top right corner and select Refund from the options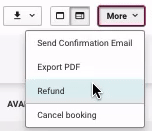 3. Select the Refund method on the pop-up modal - we recommend using the same method as the original purchase):
Credit Card - it is recommended to state the Payment gateway ID
Cash
EFTPOS
Cheque
Bank Transfer
Gift Card - it is required to put in the Gift Card ID for this option. This option is only for refunding to a guest's existing gift card, it will automatically update their gift card but bear in mind if the gift card is expired, the refund will be applied but is unusable without an extension of the expiry
4. Optional but recommended: leave a note as to why a refund was required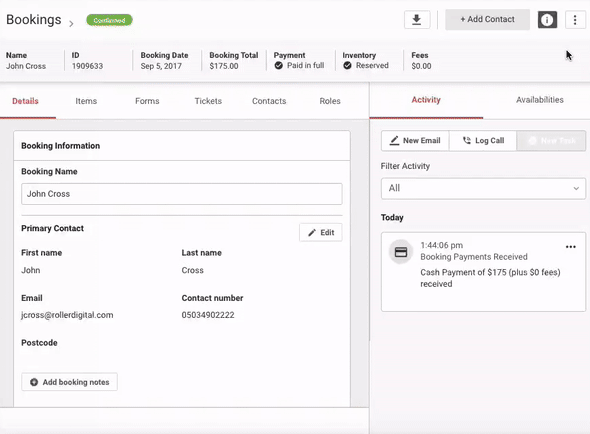 5. Adjust the refund amount if the refund is partial or check the tick box 'Refund and cancel booking' to automatically cancel the booking.
Cancelling a booking is not an action you can reverse
6. If the refund is only partial, an amount owing will be displayed and you'll need to remove the refunded product/ticket to remove the amount owing. Click Save & Reserve