Run sheet allows you to group and sort bookings of any given day by session time, groups, resource and payment statuses.
Access the run sheet
From Venue Manager, go to Bookings > Run sheet
A new page will open your run sheet.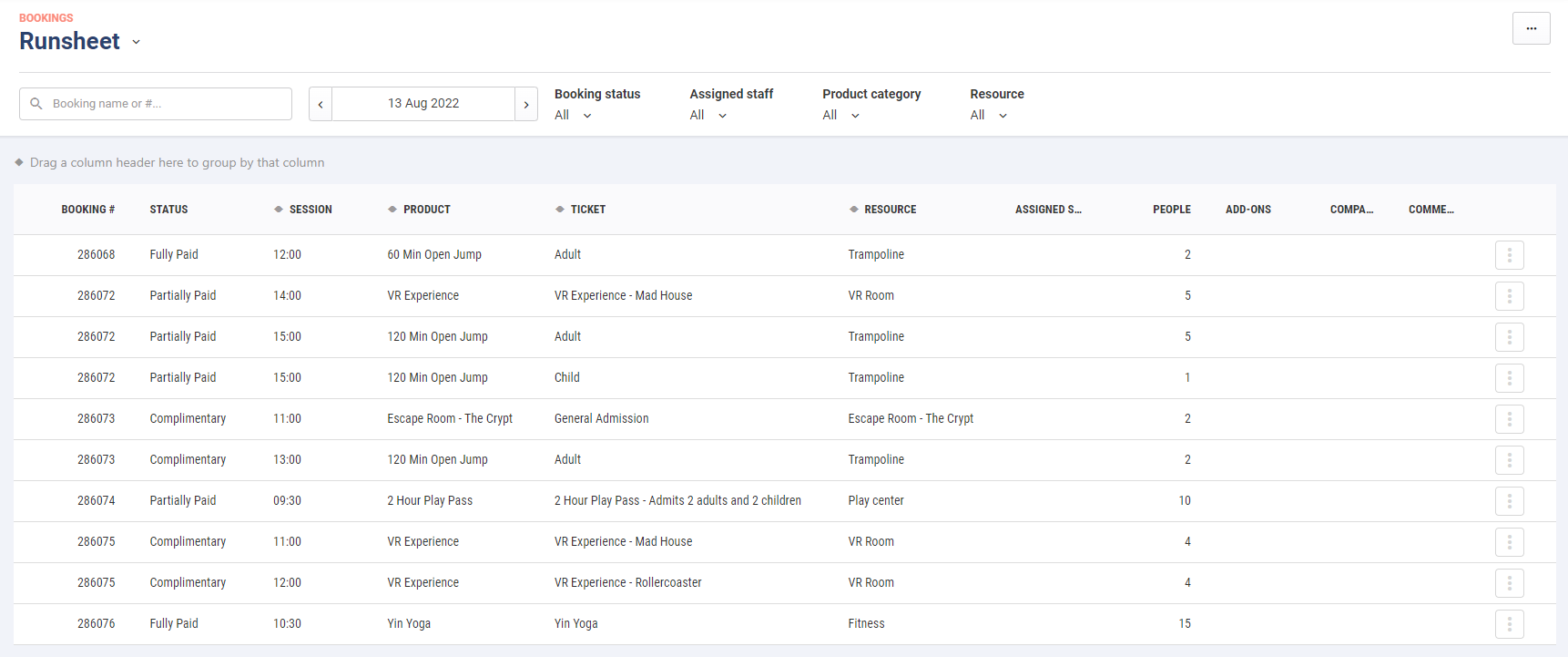 Sort and filter your run sheet
The run sheet can be filtered by a number of variables to allow you to view the information you want.


| Option | Description |
| --- | --- |
| Date selector | Select a date or day for the date range. |
| Booking status | Filter bookings via payment status. This can be useful to filter for unpaid bookings or only display bookings with a completed payment. |
| Booking manager | Filter by allocated booking manager. Note that these have to be manually allocated within the booking in order to filter by this metric. |
| Product category | If allocated product categories can allow you to filter results via a predefined category. For example, all birthday party products could be allocated to a category in order to only view results for party products. |
| Resource | Filter the view to only show bookings for a particular resource or resources. |
Create a new run sheet view
Run sheet views allow you to save a view that your organisation frequently uses. This allows you to save both layout as well as filters.
Hover over the column name you want to aggregate together first, click the more button and from the drop-down menu select Group. Carry out the same actions for any other columns you would like. Create groups based on the order you would like to see the information
Select and filter your selections based on Booking status, Assigned staff, Product category or Resource.
Save the view by selecting the drop down menu to the right of the Run sheet header. Select save view and define a name for the view.
Run sheet views
Below are some example views that we have found venues use frequently which may assist in managing your venue.


| Option | Description |
| --- | --- |
| Session times | Group session to sort bookings by chronological order. |
| Booking name | Group by booking name to show bookings in alphabetical order. |
| Resources & capacities | Group Resource, then Group Session, Group People with Agg: Sum. |
| Product | Grouping by product is perfect for food orders, showing how many of each product is required at what time. |
| Booking status | Grouping by booking status is ideal to let you know of any unpaid or partially paid bookings that are owing. |
| Ticket type | Grouping by ticket type will show you bookings for each ticket type if your product has more than one type. |
Export the run sheet
ROLLER allows you to export the data in three different ways depending on your requirements.


| Option | Description |
| --- | --- |
| Run sheet CSV | Allows for the data to be exported into a CSV format. Useful if further manipulation of the data within Excel is required. |
| Print run sheet PDF | This will provide a landscape PDF with an itemized layout containing individual items in a line-by-line display. |
| Print party run sheet | This will compile a landscape PDF with a one-page per booking view. This will compile all items into a single view and include any attached form data. |