Gift cards are available for use across the entire ROLLER Platform and are a great revenue driver and easy to create and use.
Gift cards allow your guests to purchase a special gift for someone from your business. ROLLER's feature allows for full branding control and for guests to purchase gift cards online the same way they would purchase any other product. Gift cards can be set to dollar amounts or custom amounts (allow guests to choose a denomination) that can be redeemed over multiple visits or can be configured to a certain experience or product you offer.
Digital gift cards can be sold online and through the Venue Manager where ROLLER will generate the Gift card number. You can also sell physical Gift cards in the POS, this is designed for you to type or scan the barcode or number of the physical card to create the Gift card number.
When a digital gift card is purchased the recipient will receive an email notifying them that they have a received a gift card from the purchaser (time set by purchaser). The email and gift card will be branded with your logo.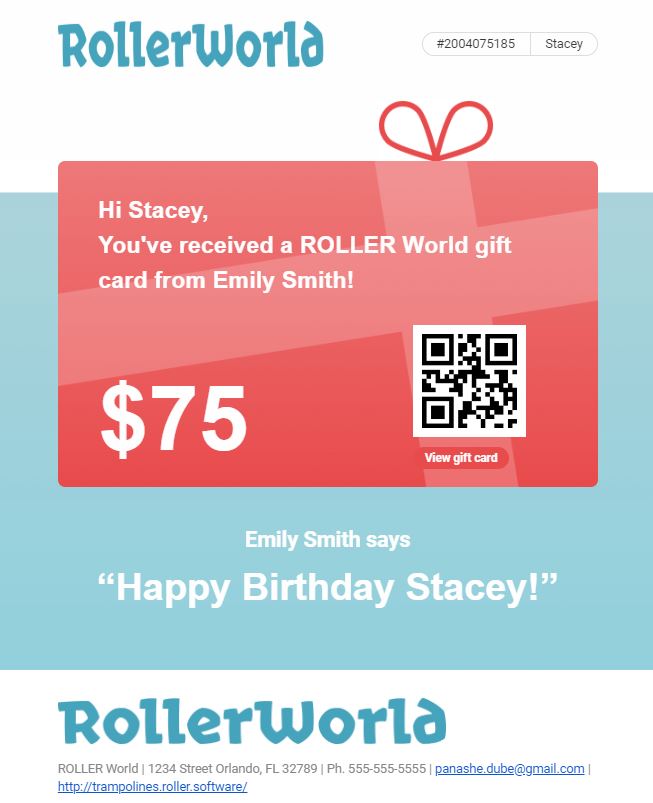 When the recipient clicks View gift card they will be taken to a new page which will show either the video or written message
When they click Continue they will be shown their gift card including the balance (updates in real time), expiry, gift card number and QR code
There are options to see Terms for the gift card, the option to Print and if you set a passcode, clicking the Admin button will allow you to manage redemption's from the guest's mobile phone/tablet.
Examples of gift cards:
Hospitality: degustations, master classes, high tea experience
Tourism: spa treatments and packages
Leisure: season passes and ticketing
Features:
Brand the look and feel of your gift cards
Setting multiple price denominations to offer
Track gift cards and manage gift cards from Venue Manager
Issue gift cards for guest loyalty or new promotions
Allow the purchaser to add a custom message or attach a video message to a gift card
Please see our articles below for more information on creating and managing Gift cards.