Not gonna lie... we get excited about analytics. Here is where you'll find all you need to know about our comprehensive Reporting suite. 
Where to access reports
Hover over 'Reports' and click on the 'All reports' menu item

How to filter reports
Each report can be filtered by selecting or omitting specific handles or categories. You can do this by clicking the "+ Edit filters" button on the top right corner.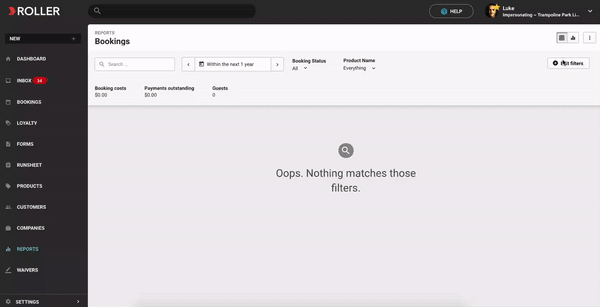 For some reports, you can also search for specific entries on each report by using the search bar on the left-hand corner. Results can usually only be found by typing:
Booking ID, or

Booking Name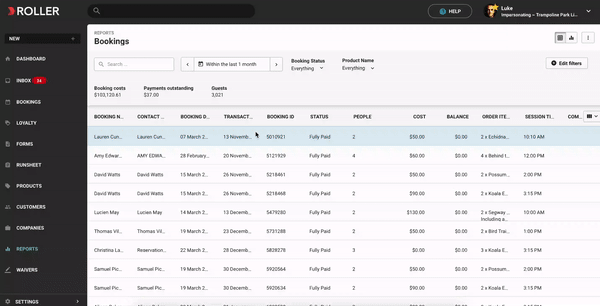 Please note that while you can edit the reporting filter, the most effective means of searching is always exporting the entire date range without filters for the report to excel, and searching within excel.
If reports are not loading properly, click the three dot button on the top right corner and click "Reset".
For some report types, the option is available to save the current filter under a unique name to be used later for convenience. This appears under the clickable downward arrow next to each report heading. This applies to the Revenue by Product Report, Check-Ins by Ticket Report and Discount Code Redemption Report, among others.
To adjust what columns you are seeing on each report, click on the column button on the far right of the column header.
Grid vs Chart view
There are two different ways you can view the data on our reports - grid view and chart view. You can toggle between the two by clicking the grid icon or the chart icon on the top right corner in each report.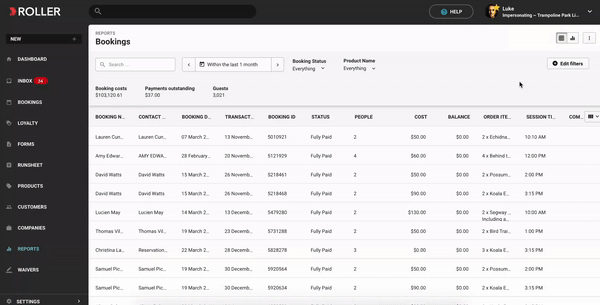 Please note that for some reports, only grid view is available.
Grid view
This displays an itemised view of each entry in the report

Filters can be set and saved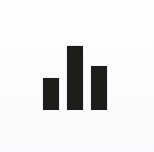 Chart view
This displays a bar graph of each product and the amount of sales made

This is not available for some report types

Some of the filters available may include hour, day, month, or year
Exporting reports
You can export each report to a .csv file by clicking the three-dot button and click "Export (CSV)" or "Export (PDF)".
You will be alerted via Notifications once the report is ready to be downloaded
The exported data will only include the data that you have filtered (i.e. if you are filtering for canceled bookings only, it will only include canceled bookings). However, please note that exported reports will show all available columns for the report even if you currently are only viewing part of the data through hiding some columns.
Some exported data may not be displayed on Venue Manager/Admin due to performance but will be available in the CSV.