Adding a waiver kiosk to your business can make managing entries much smoother. When things get busy, it can help ease congestion, save time for your front-line staff, and create a better experience for your guests.
Add-on feature
Protect your venue against liability and improve the guest experience with digital waivers. To unlock the waivers add-on, contact your account manager or the support team.
Learn more
Adjust waiver kiosk settings
When using a waiver kiosk, your existing waiver is reformatted into a kiosk-friendly design to make signing waivers super user-friendly.
By default, the logo and color palette for waiver kiosks is set by what you have configured in Settings > Design > Brand & appearance. Refer to the guide Add your brand and logos to learn more.
You can override this default waiver kiosk logo and adjust other settings by following the steps below:
From Venue Manager, go to Apps > Waiver Kiosk > Settings
Click Unlock to make changes
(Optional) Select Skip page asking guests if they have a booking if you want to skip asking guests this question
Enter the Welcome text (maximum of 75 characters)
(Optional) Upload a custom background image for your waiver kiosk.

By default, this is set to Use ROLLER default background. If using a custom image for your waiver kiosk, you can choose to tile background or stretch background to fill the screen.


Override logo - this will use default logo in Venue Manager unless the override default logo option is enabled and a different logo is uploaded.
Log in to the kiosk so guests can use it
Using tablets or a standalone device, a staff member with either administrator or manager access to ROLLER must first log in to the Waiver Kiosk URL for each device so that guests can use it.
From Venue Manager, go to Apps > Waiver Kiosk > Launch Waiver Kiosk to log in. We highly recommend bookmarking this on each waiver kiosk station.
After logging in, guests can use the waiver kiosk as required.
Logins are valid for 7 days. After 7 days, you'll need to log in again.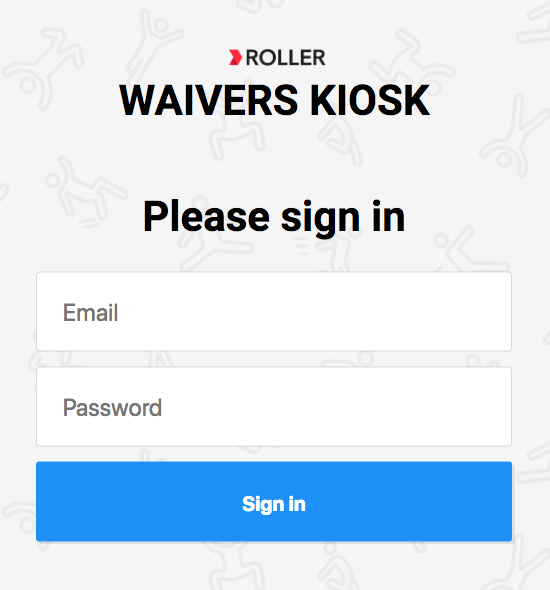 Refer to the guide Set up and lock down a waiver kiosk to learn how to set up Google Chrome and lock down your waiver kiosk so guests can't navigate away while completing their waiver at a waiver kiosk.