Improve how you report in ROLLER by using GL codes effectively. This guide shows you how to categorize products for accurate reports and accounting. Creating clear reporting categories and assigning products to them streamlines ROLLER reporting, as well as improving reporting accuracy.
The
permission
Can manage reporting categories
is required for staff members to create, edit and delete reporting categories. Administrator and manager system roles have this permission enabled.
Create your reporting categories
From Venue Manager, go to Reports > Reporting categories
The following information displays:



Total products in the platform
Unassigned: The number of active products not assigned to GL codes and categories
Unassigned (Archived): The number of archived products not assigned to GL codes and categories
Reporting may be ineffective if you don't assign GL codes to all products.
Select Create a Category.
Fill out the following fields:


Category name (eg Admissions, Concessions, Food & beverage)
The GL code it is assigned to (eg 101, 201, 301)
Select the product(s) to assign the GL Code to
Select Save.
(Optional) To add a subcategory, select the options menu (3 dots), then select Add subcategory.
To add additional reporting categories, select New Category, then repeat the previous steps.
To delete a category, select the options menu (3 dots) for a category, then select Delete. Once deleted, you can't get your categories back.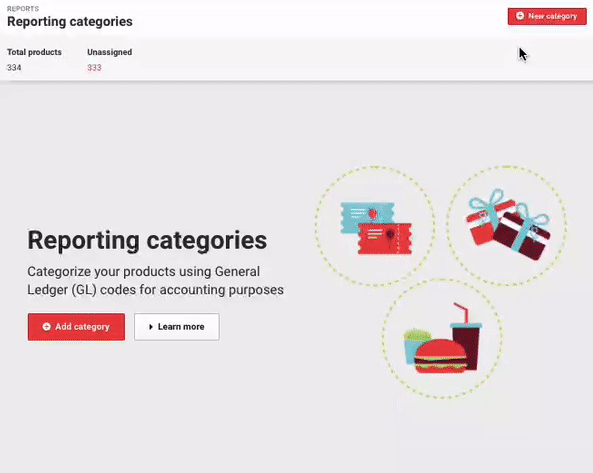 Reporting category tips