About
Please note that most of these draft bookings will also be abandoned carts. This functionality has been created as an interim workaround solution for when connections to Payment Gateways timeout during the Checkouts process. Due to the connectivity dropping out, this results in:
ROLLER not receiving communication from the Payment Gateway that the payment was confirmed and successful
Results in the booking to stay in draft mode
As well as the confirmation email not to be sent out
We are working with Payment Gateways to resolve this from preventing this from occurring in the future. But for now, should a guest contact your venue because they did not receive a confirmation email but had money deducted from the business's Payment Gateway and you're unable to find their booking, please follow these steps:
Check your Payment Gateway
You will first need to confirm if indeed you have received this guest's payment, search for it with the following details from the guest:
Booking Name
Email address
Date and Time of payment
Amount Paid
Credit card type and/or last 4 digits of their card
Once you have confirmed this, head to the ROLLER Platform
Head to the Bookings page
Hover over the 'Bookings menu' and click on 'All Bookings'
Click the more button in the top right corner and select 'Incomplete Payments'


On the Incomplete Payments page
You can filter by Payment Date or search using their email address


Changing the booking from Draft to Confirmed
Click on the 'Order' tab and change the order slightly, click 'Save & Reserve'
Change it back to the original order and again, click 'Save & Reserve'.
NOTE- If the booking date is in the past, please replace the tickets with valid tickets for today's date or a future date.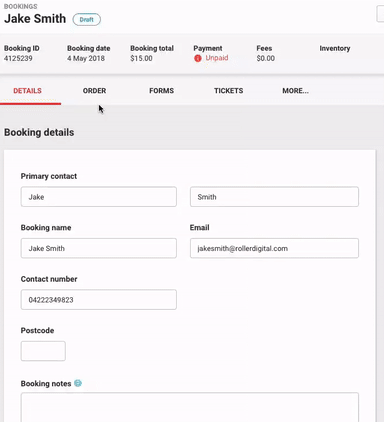 You should be able to see the 'Take Payment' button, click it to open the Payment Modal
Select the payment method as EFTPOS or Bank Transfer and you can click +Add comment if you would like to add a note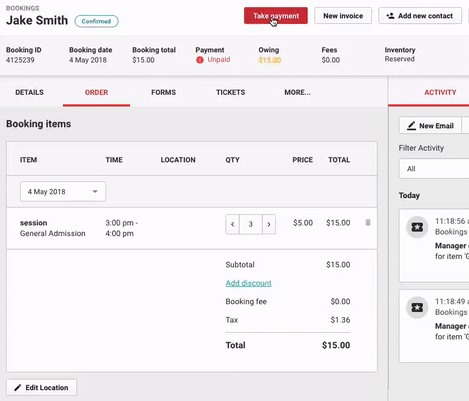 Send Confirmation Email
Click on the three dot icon and select 'Send Confirmation Email'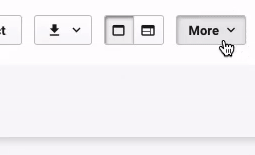 A pop up modal will appear with the email address, you can adjust this if necessary. Click 'Send Email' when ready