The Bookings calendar view displays all bookings and redemptions within bookings across a monthly view, with options to configure products and bookings that you can see.
Navigate the bookings calendar
From Venue Manager, go to Bookings > Calendar.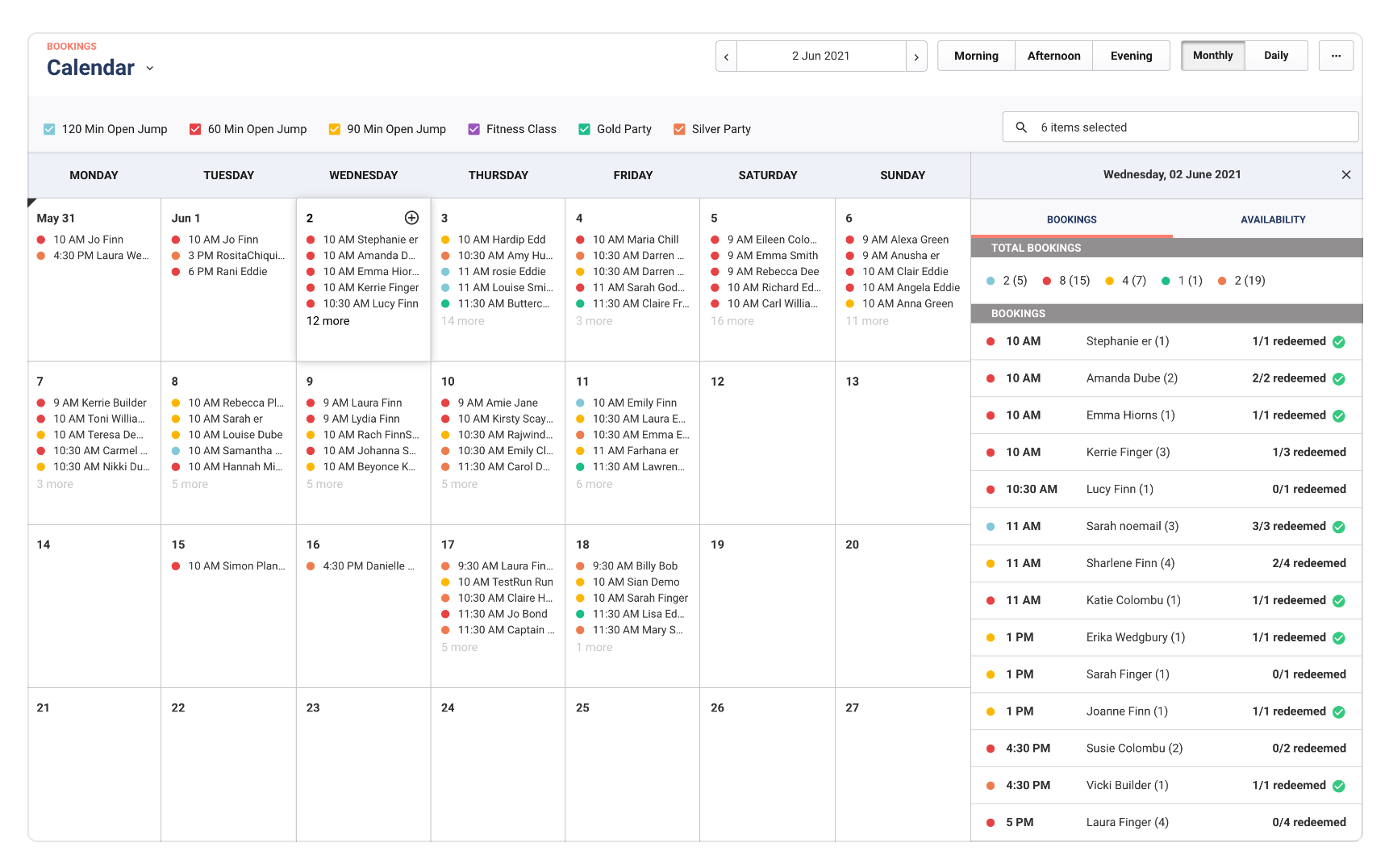 The calendar will display Monday - Sunday and show bookings in each day for a month (4 weeks).
Each day in the calendar displays the first 5 bookings and where there are more than that amount of bookings, there's a More link which opens a flyout panel showing all bookings for the day and the redemption count for each booking.
Filter and customize views
The top bar of the Calendar allows you to select filters and customise the results displayed.
| | |
| --- | --- |
| Date selector | Select the starting date you wish to view bookings from. The calendar will display starting from the day (or week) chosen. |
| Morning, Afternoon or Evening | Choose to see bookings which start in the morning (12am to 11:59am), afternoon (12pm to 5:59pm) and evening (6pm to 11:5pm). |
| Monthly and Daily view | Toggle between daily capacity and monthly calendar view. |
| Product selector | Display bookings in the calendar which contain the selected product(s) or product categories if configured for your account. |
Once filters have been selected, the page will update to show in real-time the bookings over a month's view based on the filters selected.
Save custom view
If you frequently use the same filters to customize this page we recommend saving a custom view.
Create a booking
To create a booking from the Calendar:
Select your filters > then click on the date for the booking to open the booking flyout panel > select the Availability tab.

Alternatively, hover on the date of the intended booking and click the + sign on the top right corner of the date. This will open the flyout panel with the Availability tab.

Select the product you want to create a booking with > choose the start time (for session passes), the ticket types and number of tickets.
Click Create booking with x items to open the new booking flow with the items already added. 
Complete the booking. 
Close and reopen sales periods
You can restrict sales of standard pass products by closing and reopening sales for a particular day. Click here to learn more.