The gift card grid provides an overview of gift cards issued for each gift card product at your venue. This includes total gift card sales and the remaining balance total.
View the gift card grid
To navigate to the gift card grid for your gift card product.
In Venue Manager navigate to Products > All Products.
Locate your gift card product, click the three dots on the right hand side and click View gift cards.
Gift card grid details
This grid displays summary information of the gift card product selected.
| | |
| --- | --- |
| Grand total | The total value of all issues gift cards of this gift card product. |
| Remaining balance total | The remaining balance of all gift cards of this gift card product. |
The grid columns will show the below headings by default:
Gift card #
Purchaser
Recipient
Initial balance
Balance
Status
Expiry Date
The following columns are optional and can be added to the grid:
Is sent
Delivery method
Postage option
Postage price
Amount paid
Payment method
Purchase location
Email
Mobile
Address
City/Country
Suburb/Locality
State/Province
Postcode
Country
Purchase Date
Purchase Time
Adding and removing column headings
To modify the displayed columns of the grid, click on the column settings button on the right hand side of the table headings and select the option you want to add or remove.
A tick will denote that a column has been added to the grid.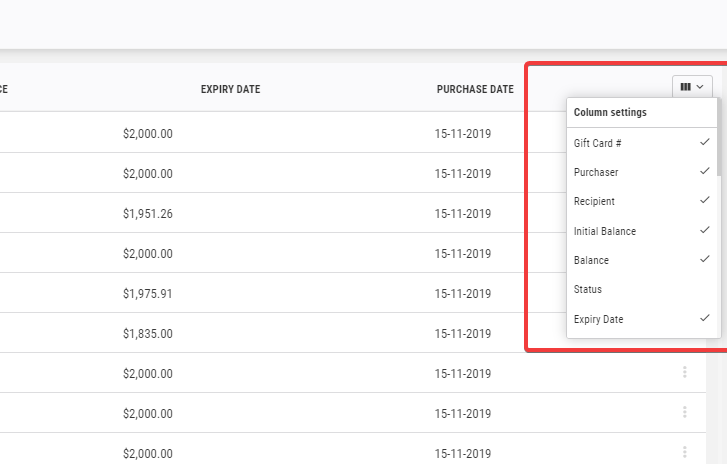 Save custom view
If you frequently use the same filters and columns to customize this page we recommend saving a custom view.