In this article, we give an introduction to creating lists in ROLLER Mail and linking these to Segments in your ROLLER account.
Linking ROLLER segments to lists in ROLLER Mail will allow you to automatically sync data periodically to ROLLER Mail so you're sending email campaigns and email automations with the most up-to-date lists.
Skip to:
Create a list in ROLLER Mail
1. Login to your ROLLER Mail account
2. Click on the List & Subscribers tab
3. Click on the Create a new list button in the right-hand side column
4. Give the list a name and choose from Single opt-in (no confirmation is required) or Confirmed opt-in (confirmation is required).
For clients under GDPR select Confirmed opt-in
5/ Click Custom fields


6/ Add all the custom fields you wish to capture and set the data type. You only need to add the custom fields if you plan on using that data for email campaigns.
Below is an overview of all the custom fields you can capture in your lists and their corresponding data type:
Booking Date - this will update with the most recent booking date made on the platform

Last visit date - this will update with the most recent check-in from POS

Date of Birth

Postcode

Booking status - this will update with the most recent booking made on the platform

Booking value - this will update with the most recent booking made on the platform

Booking ID - this will update with the most recent booking made on the platform

Custom Fields Explained - the ROLLER Mail integration will automatically send through the customer's name and email address to your lists, however, you also have the ability to obtain additional data on your customers using custom fields.
7. Each custom field will now display under Your existing fields.
From here you have the following options:
Check Visible to make the field visible on sign up forms (highly recommended)
Check Required if you want to make this field mandatory on sign up forms
Click and drag the tab (3 horizontal lines) to move the position of the fields
Hover over the fields to reveal the delete icon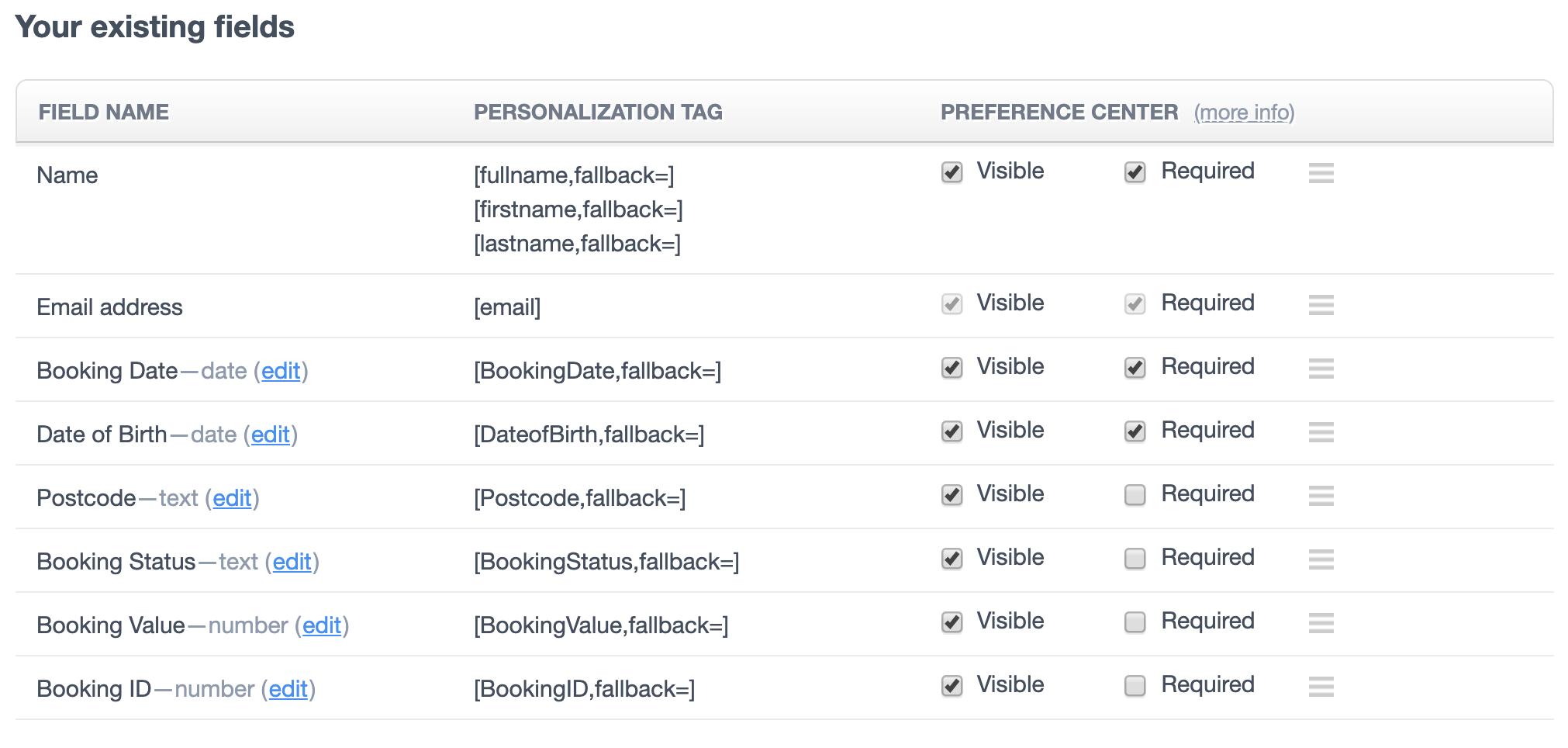 Link your ROLLER Mail list to a Segment
Make sure you've already created a segment. Click here if you're unsure how to create a segment.
1/ Go to Customers > Segmentation > Segments

2/ Find the segment you're looking to link to ROLLER Mail > Click more (3 dot icon) > Edit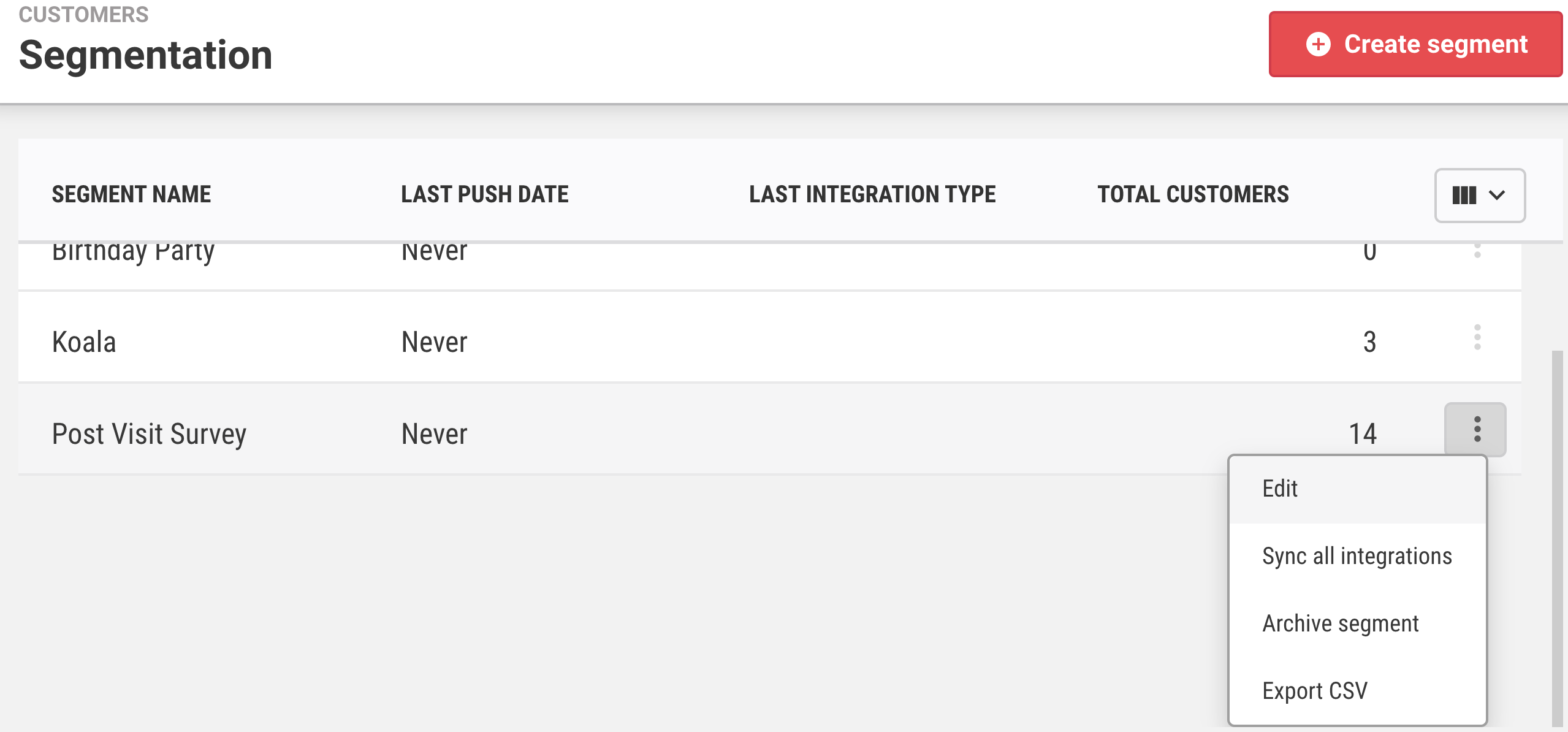 3/ Scroll down to ROLLER Mail settings > check ROLLER Mail

If you see this message:

This means our ROLLER Mail integration hasn't been activated correctly for your account and you will need to submit a request to our support team to get this activated.
4/ Choose how you want ROLLER to sync/push data from this Segment to ROLLER Mail automatically

5/ Select which ROLLER Mail list you want to link the Segment to

6/ Map the ROLLER Mail fields with the associated ROLLER fields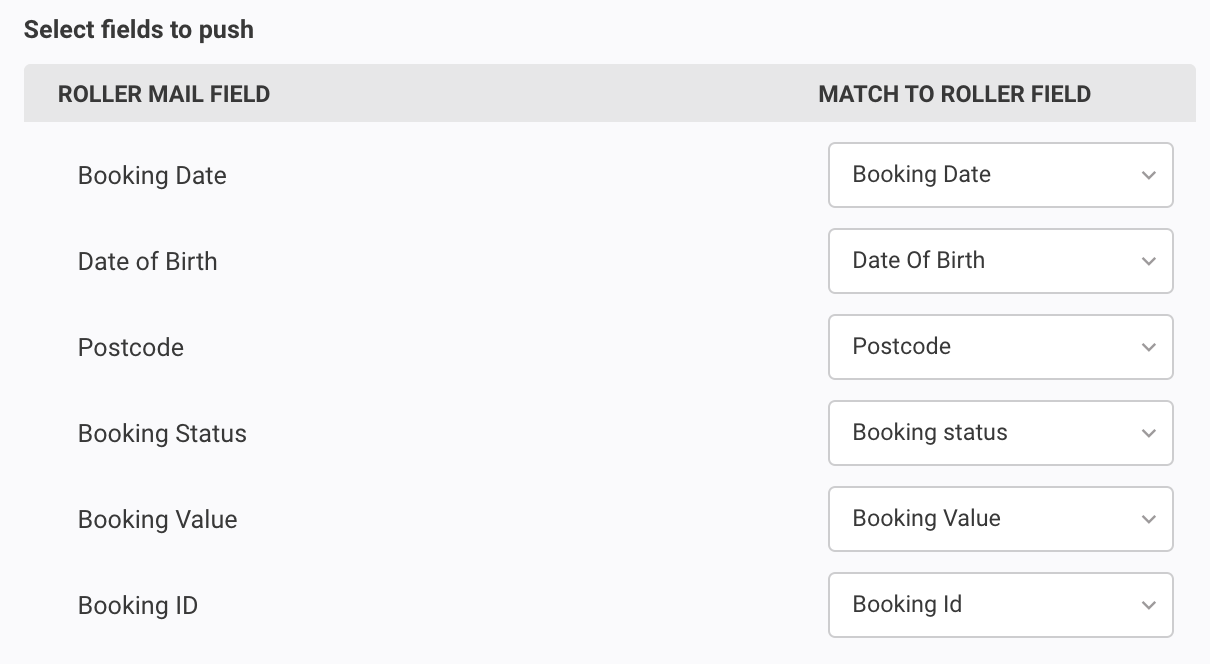 Only fields that were added as custom fields during step #6 of Creating a list in ROLLER Mail will display.

7/ Save your segment
It's important to remember that only customers that opt-in to marketing through ROLLER will sync across to the ROLLER Mail platform.
If you want to create a Segment that pushes customers who haven't opted-in please log a support ticket.
How to manually sync your Segments to ROLLER Mail
1/ Go to Customers > Segmentation > Segments

2/ Find the segment you want sync > Click more (3 dot icon) > Sync all integrations