This article explains how a Staff Member can create and submit a support ticket to ROLLER's customer success team.
It's important that all members are aware of how response times work by checking the Contacting ROLLER Support article.
You should always submit a new support ticket every time you need assistance with a new challenge or topic to ensure the best response times.
Navigate to:
Submitting a support ticket outside of ROLLER apps
To submit a support ticket outside of ROLLER apps navigate to our Support Center and click Submit a request. Alternatively, you can email support directly at support@rollerdigital.com.
Submitting a support ticket via Venue Manager
Log into Venue Manager;
At the top, right-hand corner next to your login details, click on the circular question mark icon which will open the Help Center;
Use relevant keywords when trying to find an article, e.g. "POS installation, troubleshooting printers, product configuration". If you can't find the appropriate information from the suggested articles or by searching the knowledge base, you can submit a ticket by:

Clicking the Contact us button
Complete all fields, provide a detailed description, add any proof or material that would help us replicate and understand your challenge, e.g. Screenshots, screen recordings, videos.
Click Send to submit the ticket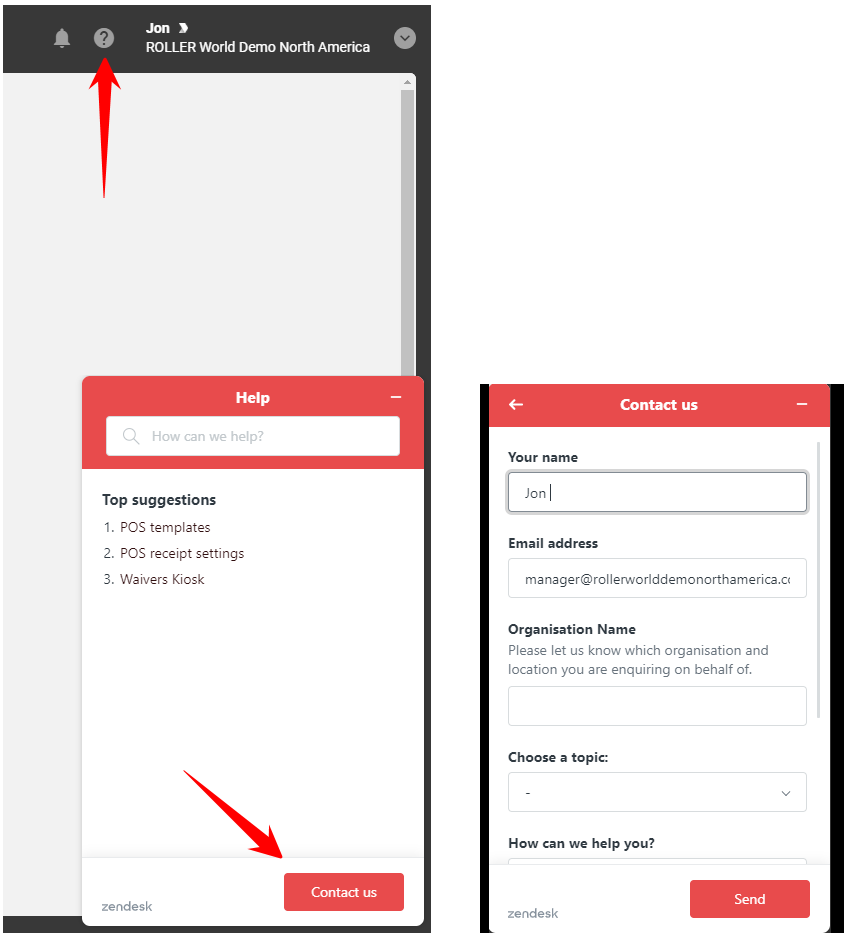 Submitting a support ticket via POS
Log into POS;
At the bottom, left-hand corner, click on the three dots or MORE word which will expand the POS options.
Then click on the HELP icon
Use relevant keywords when trying to find relevant articles about your inquiry, e.g. "POS installation, creating a menu, adding products, product configuration". If you can't find the appropriate information from the suggested articles or by searching the knowledge base, you can submit a ticket by:

Clicking the or click on Submit a support request to contact us and connect with a Customer Success Manager.
Complete all fields, provide a detailed description, add any proof or material that would help us replicate and understand your challenge, e.g. Screenshots, screen recordings, videos.
Click Send to submit the ticket