This article gives you an overview of different ways to redeem memberships in POS:
Note that you can only redeem one membership per transaction.
Redeeming membership through the POS menu screen
Add items to the cart and click Redeem membership (you can also click the Redeem membership button first before adding items to the cart)
A flyout screen will appear to prompt you to search for the member by either typing in their name, email, or membership number. Select the correct member name from the search result, and click Redeem membership
You will be taken back to the menu screen, now with the member name added as the booking holder, and the appropriate discount applied to the transaction. Click Continue
If a waiver is required for this ticket, the next screen will enable you to confirm the waiver for this booking holder. Click Complete booking to confirm the waiver
If the membership is only giving a partial discount for the transaction, you will be taken to the payment screen where you can take payment for the remaining balance. If there are no amount outstanding, you will be taken to the booking complete screen
If the membership you just redeemed is linked to another member, the next membership redemption you do will bring them up as Suggested members on the membership search bar on the flyout screen.
Redeeming membership through the member search screen
1. Click the Search button in POS. You can look for the guest's membership under the Members tab by either typing in the member name or membership number. If you have a barcode on your membership card, you can also scan in the barcode to find the member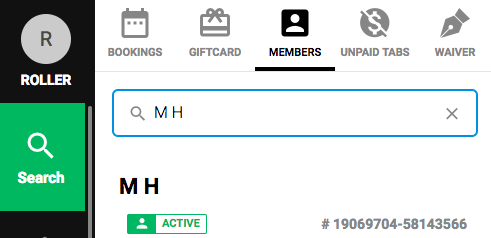 2. Click the Redeem Membership button to put transactions through. If a waiver is required to redeem your membership product, you will need to ensure a waiver is attached to the membership before you can click Redeem Membership. You can attach a waiver to the membership by clicking the pen button
3. Add items to the cart, click Pay Total and complete the transaction - this will automatically discount any eligible items using the guest's membership