When purchasing a membership in POS, it's important to understand that the card, being used for recurring payments, must be authorised/validated and then used to purchase what is in the cart via the payment terminal.
You also have the option to adjust the membership start date to a future date. The membership will be marked as "inactive" until the future date.
1. In POS, select the membership product and add that to the cart. You'll notice that on the cart, a blue bar will appear on top of the membership line item that shows the Membership start date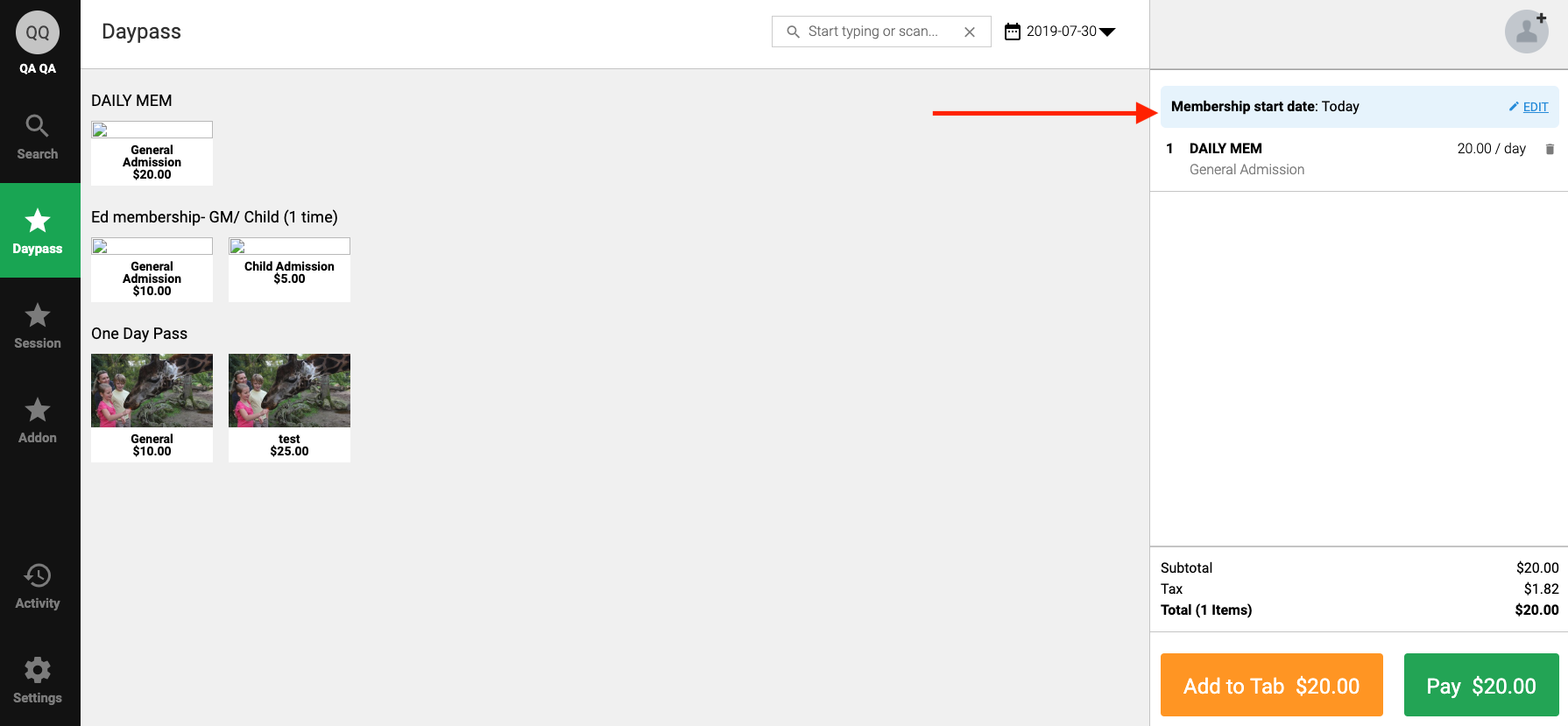 Membership start date is always going to default to today's date. If you need to change this to a future date, click on the Edit button on the blue bar next to the sentence Membership start date. A calendar modal is going to appear where you can adjust the membership start date. The start date for the membership determines when the first payment occurs and therefore when the membership can be redeemed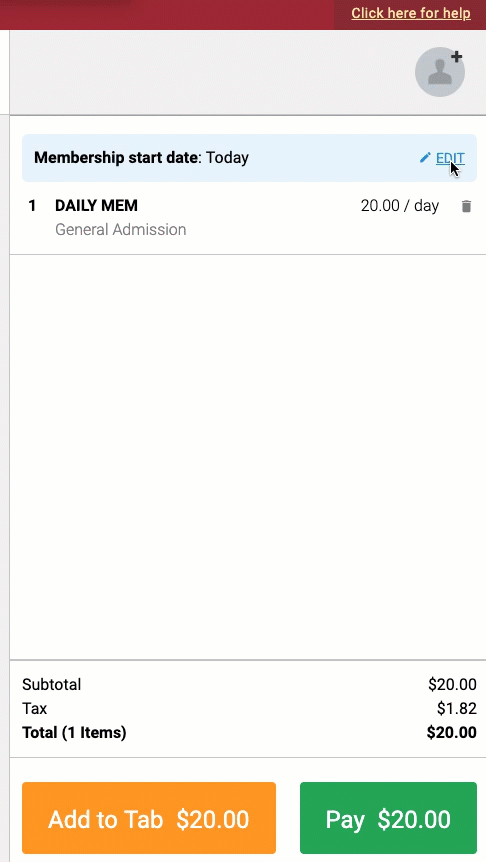 2. Click Continue to proceed with the purchase. A flyout screen will appear, taking you to the Add guest screen where you can input the membership holder's details. You can attach an existing guest profile to a booking or add a new guest profile to attach to the booking. Select Add guest to booking to proceed.
Note that a membership purchase requires a guest profile to be attached to the booking.
3. You will then be prompted to assign guests to the membership purchased by clicking the person icon. Click Pay to proceed to the payment screen.
4. Select the tender type. If you are purchasing a recurring membership, you will need to select the card Card tender option. Once the tender type is selected, click the Complete payment button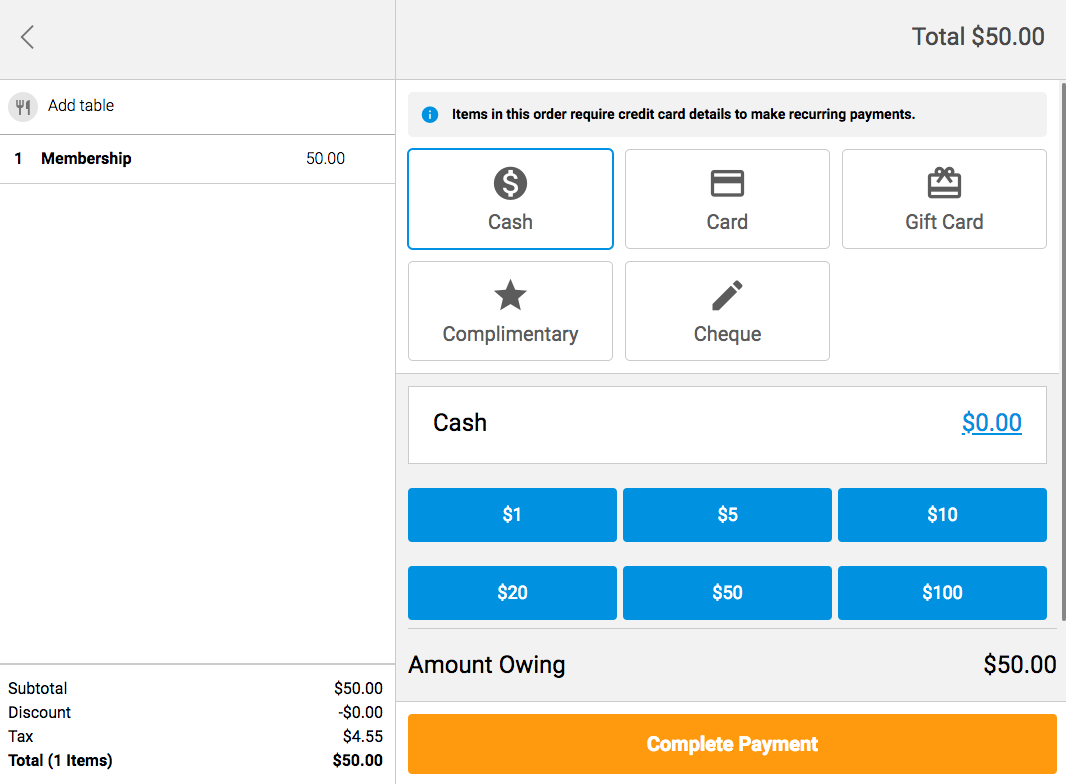 If you are purchasing a recurring membership, you will need to authorise the customer's credit card for future payments. Please note that this screen will display $0 and explicitly for authorisation purposes only
If you are integrated to a payment gateway using a third-party payment page (i.e. Worldpay), a pop-up modal will prompt this to redirect to the payment page once you click Authorise. Once card details have been captured in the new window, it will redirect to the cart screen in POS

If the payment gateway you are integrated to does not use a third-party payment page (i.e. Braintree), the Credit Card details of the guest can be entered directly in the pop-up modal - this will notify the amount, frequency and duration of the impending charges for the Membership. Click Authorise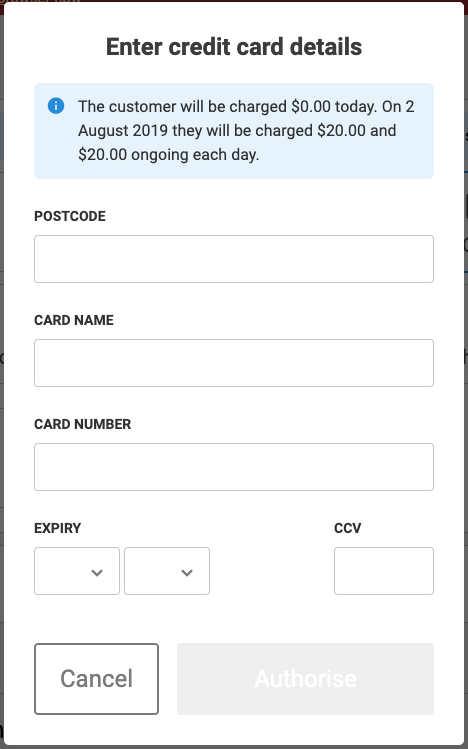 5. To finalise the transaction, take payment for all items in the cart via the payment terminal