This article shows you how to sell a recurring payment membership at POS, how to upgrade to a recurring membership and how to adjust the start date on a membership to a future date.
Recurring payment memberships are available for venues using ROLLER Payments, Worldpay and Braintree payment gateways.
In this article
Selling a membership
Upgrade to a membership
Card authorisation for recurring memberships
Worldpay payment gateway
Adyen & Braintree payment gateways
Things to know
Selling a membership
In POS, select the membership ticket to add it to your cart.

After adding a membership product to the cart, a blue bar will appear at the top of the cart line item that shows the Membership start date. This always defaults to today's date.

To change the membership start date to a future date:

In the cart panel next to Membership start date, click EDIT to open a calendar flyout screen.
Choose the new membership start, then click Change date.
The start date for the membership determines when the first payment occurs and the membership is able to be redeemed.

Click Continue to proceed with the purchase.
A Guest details flyout panel will be displayed to input the booking holder's details. You can find and attach an existing guest profile to a booking or add a new guest profile to attach to the booking.
Select Continue

.

If the membership requires a waiver, flyout panel will then prompt you to assign a waiver to the membership.
Once waivers are assigned, click Pay

to proceed to the payment screen.

Select the tender type to complete the initial payment. Then click Pay and collect card details for card authorisation of the recurring payments.
Upgrade to a membership
You can upgrade a membership product in POS.
C

ard authorisation for recurring memberships
Worldpay payment gateway
The guest is able to utilise the payment terminal to authorise their card for recurring payments.
On the payment page, select your tender type and click Pay and collect card details.

The guest will be required to authorise their card on the payment terminal to complete the transaction.
Adyen & Braintree payment gateways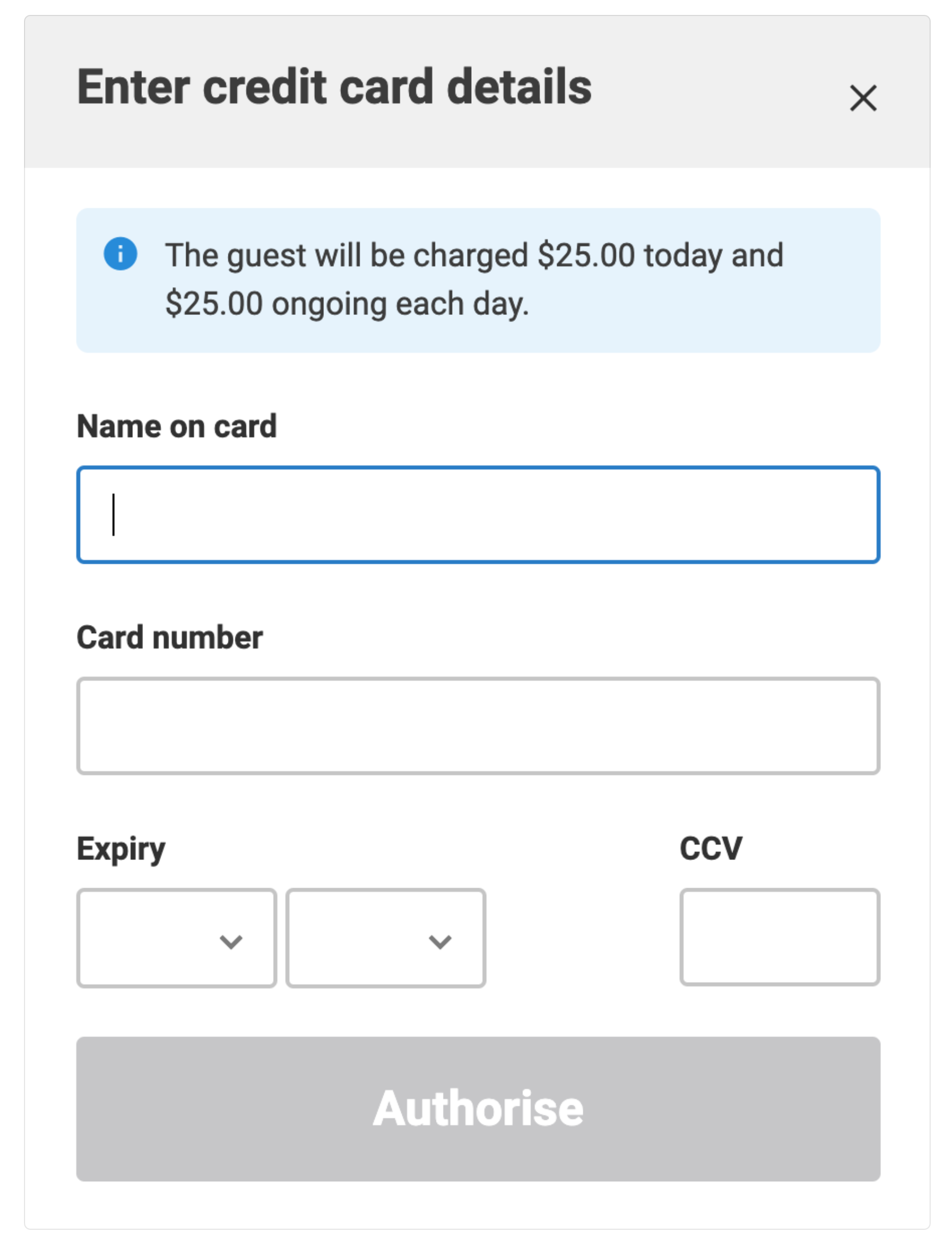 For Adyen & Braintree payment gateways, staff will need to authorise the guest's credit card for recurring payments via a pop up modal.
On the payment page, select your tender type and click Pay and collect card details.
A pop-up modal will appear to capture the guest's

card details.

Enter the guest's card details into the modal.

Click Authorise once complete.
Things to know
Memberships with a future start date will remain inactive until the future start date.