Categorize your products using General Ledger codes for accounting purposes.
Head to Reports
Hover on the 'Reports' option from the left-hand side menu and click on 'Reporting categories'
Please note, you can also access this from the Reports page, click the 'Reporting category' button located in the top right

Reporting categories
Underneath the page title will let you know the stats of:
Total products- in the platform
Unassigned- the number of active products not assigned to GL codes and categories
Unassigned (Archived) - the number of archived products not assigned to GL codes and categories
Please note: Your reporting may be ineffective if not all products are assigned GL codes

Create a Reporting category
You will be taken to a new page, if you have nothing set up, click +Add Category and if you already have existing categories, hit +New Category in the top right corner
To create a category, you need to give it:
A name
The GL code it is assigned to
Select the product(s) that it should be assigned to
Click Save to make the changes live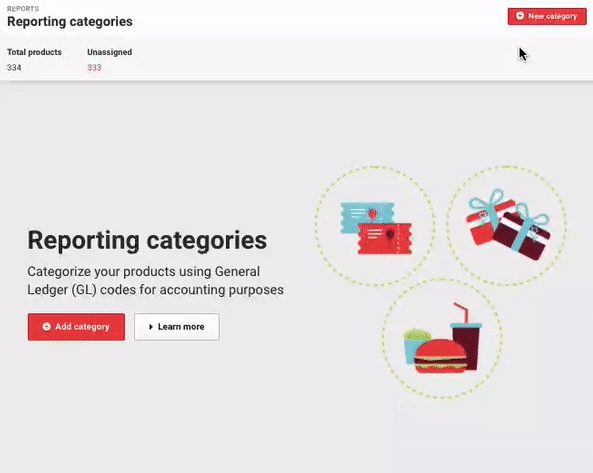 Optional: you can click the three dot icon to create subcategories under the category. If you have more GL Codes/Reporting Categories you need to add, click 'New Category' and repeat the previous steps.
Delete
Click the three dot icon in the intended category or subcategory, and select Delete from the drop-down menu. Please note this is irreversible