Now that you've activated your account, it's time to start getting set up so you can start selling! Follow this guide and you'll be up and running in no time.
The Getting started checklist
Once logged in, go to Venue Manager. From here, follow the steps in the Getting started checklist. This will help you get up and running in ROLLER, with lots of handy resources for you to help along the way.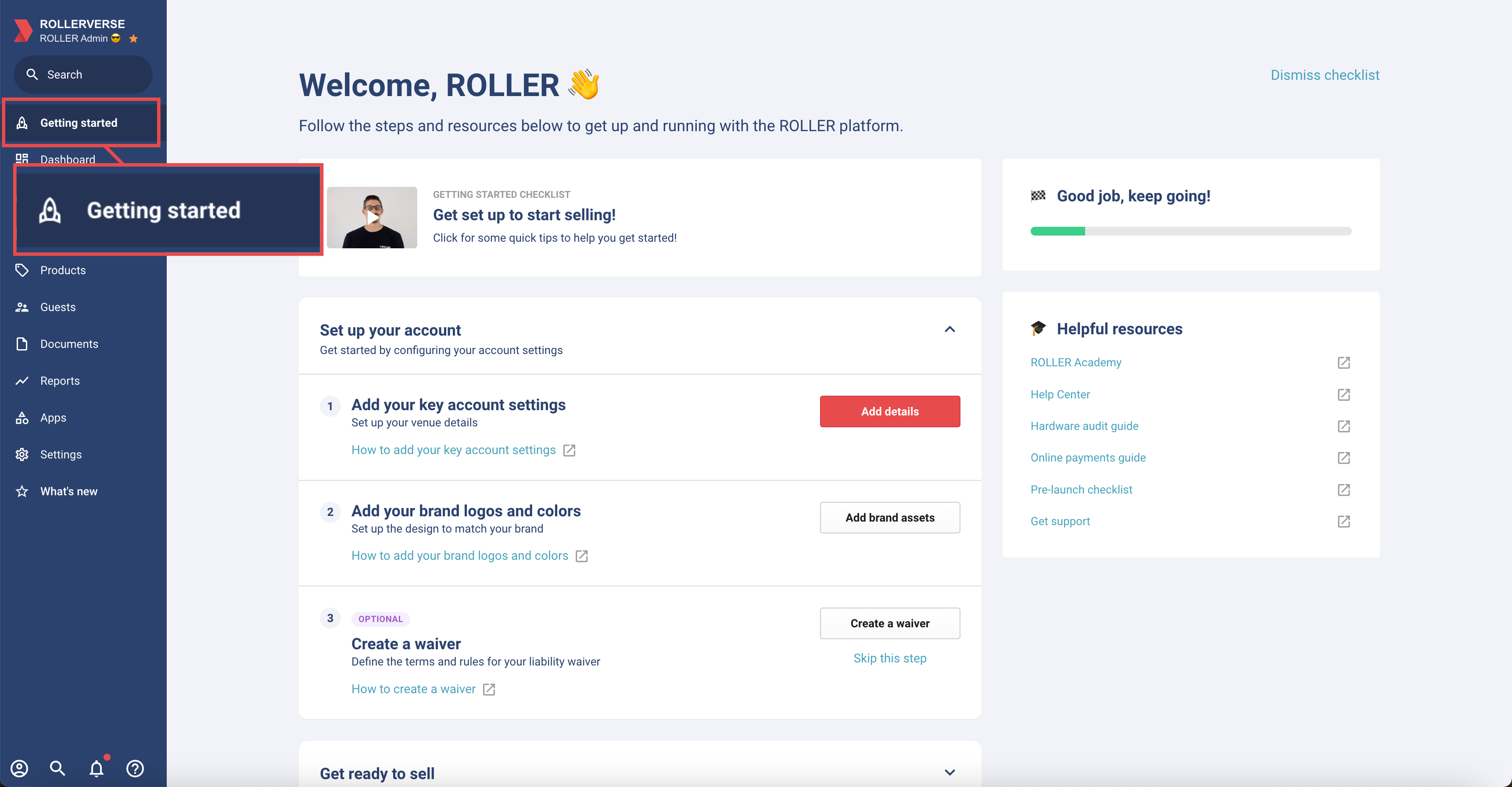 Venue Manager is what you use to configure your online checkouts and POS devices to sell your products, activities and memberships, and manage schedules, bookings, payments and more!
For some tips and tricks in getting started, play the video below. The getting started checklist steps and resources are also provided in this guide.


Have a question?
First things first, as you get started with ROLLER you might have some questions along the way, so we're here to help!
If you have a question about a topic or feature, use the search function in this Help Centre or you can also access relevant help from within ROLLER.
For more in-depth learning, check out the videos in our ROLLER Academy.
If you need more help after working through these resources, please submit a support request.
To see what level of support you have access to, review our Contacting support FAQs.
Set up your account
Now, let's get your account up and running! Start by configuring your key account settings, adding your brand logo and colors, as well as creating your first waiver (if your venue doesn't use waivers then this step is optional).
We have some Help Centre resources to guide you below.
Get ready to sell
With your account set up and ready to go, it's time to get your products and experiences ready to sell online or in person.
You'll start by creating your resources to manage venue capacity. For more information, read the guide Create your resources.
Once you have your resources ready to go, you can create your products and if offering any time-based session passes or party packages, set your operating hours and schedules. We have some Help Centre resources to guide you below.
Finally, you'll move onto creating your online checkouts and POS devices, before adding your staff members and inviting them to start learning how to use ROLLER.
To learn more about ROLLER's online checkouts, read the following guides:
To use ROLLER's progressive checkouts, your venue must be using
ROLLER Payments
.
If you're on a Premium or Enterprise plan with ROLLER, there's also the option to create a food and beverage checkout. For more information, read the guide Prepare for mobile food & beverage ordering.
And for help setting up your POS devices, read the guide Create your POS devices.
To add staff members, read the guide Create staff members.
Practice using ROLLER
Now it's time for you and your team to get hands on and practice using ROLLER.
Learn about how you'll use ROLLER day-to-day in the ROLLER Academy and then practice in your Playground.
We have some resources to guide you below.
Get ready to start trading
You're getting close to start selling now! It's time to do some final checks in preparation for a successful launch day.
Having your hardware ready to go is important. Learn how to prepare your hardware, integrate your card terminals and check that everything is working as expected in the guide Prepare and check your hardware.
Next, you'll want to share your checkouts with your guests. You can read the guide Share your progressive checkout to learn more.
Finally, Set up your GX Score survey so you can start collecting guest feedback when guests start walking through the door.
Helpful resources
ROLLER offers lots of helpful resources to get you started as well. We've listed some of our most popular guides below.
Common product setup tasks
You can also take a look at the guides below, which walk through some common setup tasks to boost revenue and optimize the guest experience.
Good luck and the team is always here to help!