In this article, learn how to set up a Discount code for promotional offers, multi-passes, and more:
Create your Discount
Hover on Products, select Discount codes and click on Create Discount code


Alternatively, you can click + Create a Discount code in the top right on the Discounts page

Discount name
Type in the discount name


Please note that this name is for internal use only. This is a required field and must be unique.

Codes
In this area, you can specify how the discount code is issued:
Manually enter codes - type the code you'd like your guests to use and press Enter on the keyboard, repeat these steps to add more codes. Click the X button to remove the code
Upload codes - upload a CSV file with each unique discount code in its own cell. Download our template and replace it with own codes.


Please note that there is a maximum limit of 1000 codes per upload

Issue codes on purchase - this allows for automatic issuing of discount codes when guests buy a certain product. Selecting this will also give you the option to use ticket ID as the discount code, where the guest will use their ticket ID number as their discount code and their purchases and ticket IDs will be attached to their confirmation email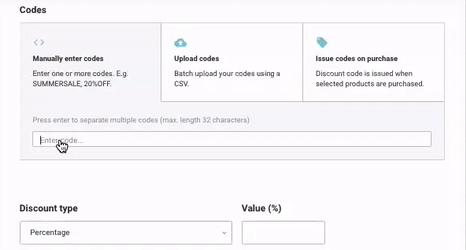 Discount type
There are 3 types and all have the option to check it as an employee discount:
Percentage - set a value (%) and ability to define a maximum possible discount e.g. the guest can get 10% off their entire booking to a maximum value of $30
Fixed amount - set value ($) that is a whole number
2 for 1 - allows you to offer a product at Buy 1, Get 1 Free or 50% off the transaction for 2 tickets

Products
Select the product(s) or ticket type(s) the discount is applicable to. For Percentage and Fixed amount discounts, All products (existing and future products) option is automatically checked. Uncheck this option to restrict the discount to specific offerings
Click the Search bar and select by product type, search for a specific product/item or click the drop downs as necessary to select what is needed. Click the Apply button when done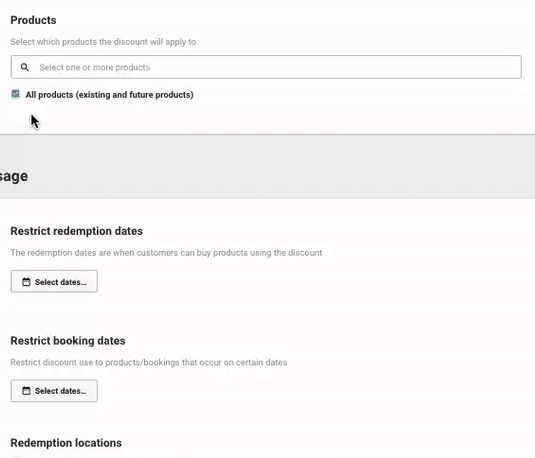 Please note - multiple products or ticket types cannot be applied when creating a 2 for 1 discount code. You must create individual codes for each product applicable in your 2 for 1 promotion
Usage
There are different types of usage restriction that can be applied to the discount code:
Restrict redemption dates - setting a date range here refers to the date(s) when a guest can actually use the code online, the transaction date in relation to the current date. For example, if you set the date range to October 2018 and the date is currently 29th September 2018, the code is not valid for use. To set this, click Select dates and select a date range from the pop up modal. Click Save to apply

Restrict booking dates - restrict discount use to products/bookings that occur on certain booking dates - for example, there is the ability allow the discount to only apply for guests who want to book their pass for the 5th of December even though the product has booking dates for the entire month of December. Click Select dates and select a date range and days from the pop up modal. You can select whether the code can be used on a certain date(s) or a range of x days/weeks/months from the date of purchase. There is also an option to restrict the time frame the discount code can be redeemed. Please note that this will only apply to session passes only. Click Save to apply

Redemption locations - restrict where redemption can occur such as Venue Manager, POS only, checkout or a combination of them

Usage limits - limit the number of times the discount can be used:

Per code - this is ideal for situations whereby you want to create urgency, e.g. First 10 people to use this discount code receive 25% off. There is also the option to create a booking rule and set a number of uses across selected products (quantity purchased counts towards uses) as well as allowing multiple uses of a code in the same booking
Per code per day - is the same as per code but can only be used to limit guests a set amount of times on each valid booking date set by the discount booking date restrictions
Per guest - to limit it so that guests aren't using it for every purchase, e.g. one use per guest
For each selected product (regardless of quantity purchased) - if a discount is configured for 10 uses over 2 different products such as a General Admission and Child's ticket. If a guest buys 5 General Admission tickets in one transaction, this will count as one single use of the 10
Across selected products (quantity purchased counts towards uses) - this means that guests can use the code a set amount of times per product. For example, if a discount has been set so it can only be used 5 times in total for a Sessions product. If they buy 3 session tickets in one transaction, it will count as 3 out of 5 uses

Please note that Discount codes cannot be set to expire a set amount of time from code generation.
Publish Discount
Click Save to publish the Discount code