Companies is a guest relationship management feature that allows venues to handle company bookings. This includes:
Creating company profiles including company details such as legal business numbers
Adding/creating company bookings to the one profile
Allocating multiple email contacts to the company
Assigning one primary contact
Assigning one billing contact
Find companies in Venue Manager
From Venue Manager, go to Guests > Companies
On the Companies page, search by Name and Email or select from the list of companies with the following columns of information (these are customisable in Column Settings):
Image
Company name
Company code
Email
Contact number
Total spend
Select the options menu (3 dots) to View or Delete Company.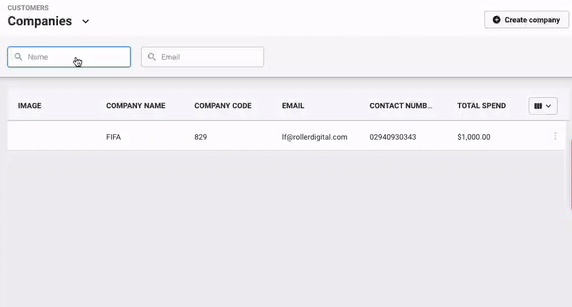 Create a company
From Venue Manager, go to Companies and select Create Company.
On the Create company page, you will need to fill out the following details. Anything with an asterisk (*) is mandatory:
Upload image - this is optional, once uploaded, you can drag crop marks to crop as desired and click Save to set the image
Primary Contact details:
First name*
Last name*
Email*
Mobile
Company details:
ABN
Tax identification number
Contact number*
Fax
Website
Address
City
State
Postal code
Country
Select Save to create the company and it will take you back to the Companies page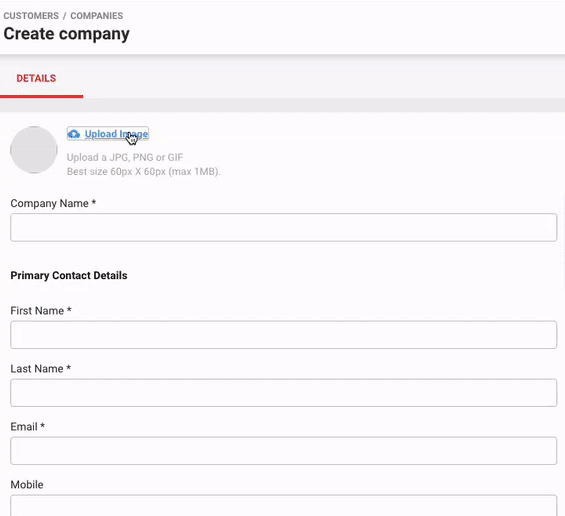 Manage companies
From the companies page you can:
Edit the Company record (click Save to make changes live)
View the Activity Stream - record any actions made against the record
View Bookings and Contacts attached to the Company
Add Contact or New Booking
Add contact
Under one company, you can have multiple contacts
Select Add Contact in the top right of the page. A pop-up modal will appear prompting to add Email, Phone number and the guest name (First and last name). If the record already exists as a guest, you can select it from the dropdown and it'll prefill with the stored details 
Click the more button to either:
View the contact
Set as Primary
Set as Billing 
Remove
Please note that there can only be one primary and one billing contact, they can be the same contact or two separate contacts. Whilst a contact has either status, it cannot be removed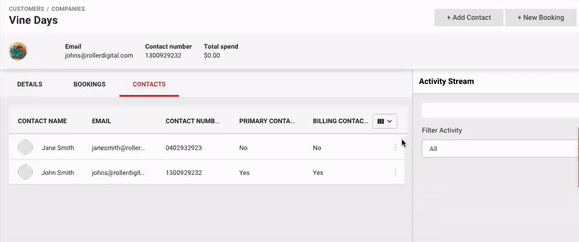 New booking
From the company, click +New Booking and it'll create a new booking prefilled with the company and primary contact's details. Follow the steps from this article to finalise the booking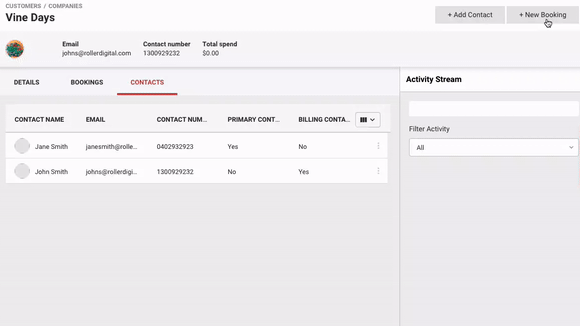 Delete company
If you select Delete company, a popup modal will appear asking for confirmation. Click 'Delete Company' to proceed or 'Cancel' if a mistake was made. Please note this action is not reversible