ROLLER has a number of email templates that are sent from ROLLER. These can be customized in Venue Manager to suit your needs.
This guide shows you what each email template includes and how it looks. To learn how to adjust them, check out the guide Customize your email and ticket templates.
Pro feature
Customize emails sent from ROLLER. To unlock this feature with a Pro plan & above, contact your account manager or the support team.
Learn more
View guest email templates
From Venue Manager, go to Settings > Design > Email templates.
Each time an email is sent to a guest, an HTML and plain text version are sent to guests.
Order confirmation
This is sent to guests once their order has been paid for and confirmed. This email contains the following information:
Venue logo
Booking ID and booking name
QR code to scan when redeeming tickets at entry
Link to print tickets
Date of booking (when the booking occurs)
Venue name
Product details - this is set in the product configuration
Order/booking items
Time
Payment information - subtotal, delivery, fees, tax and total
Receipt for download
Form link - if linked to the product purchased and set to be included in form settings
Waiver link - if linked to the product
Venue name and address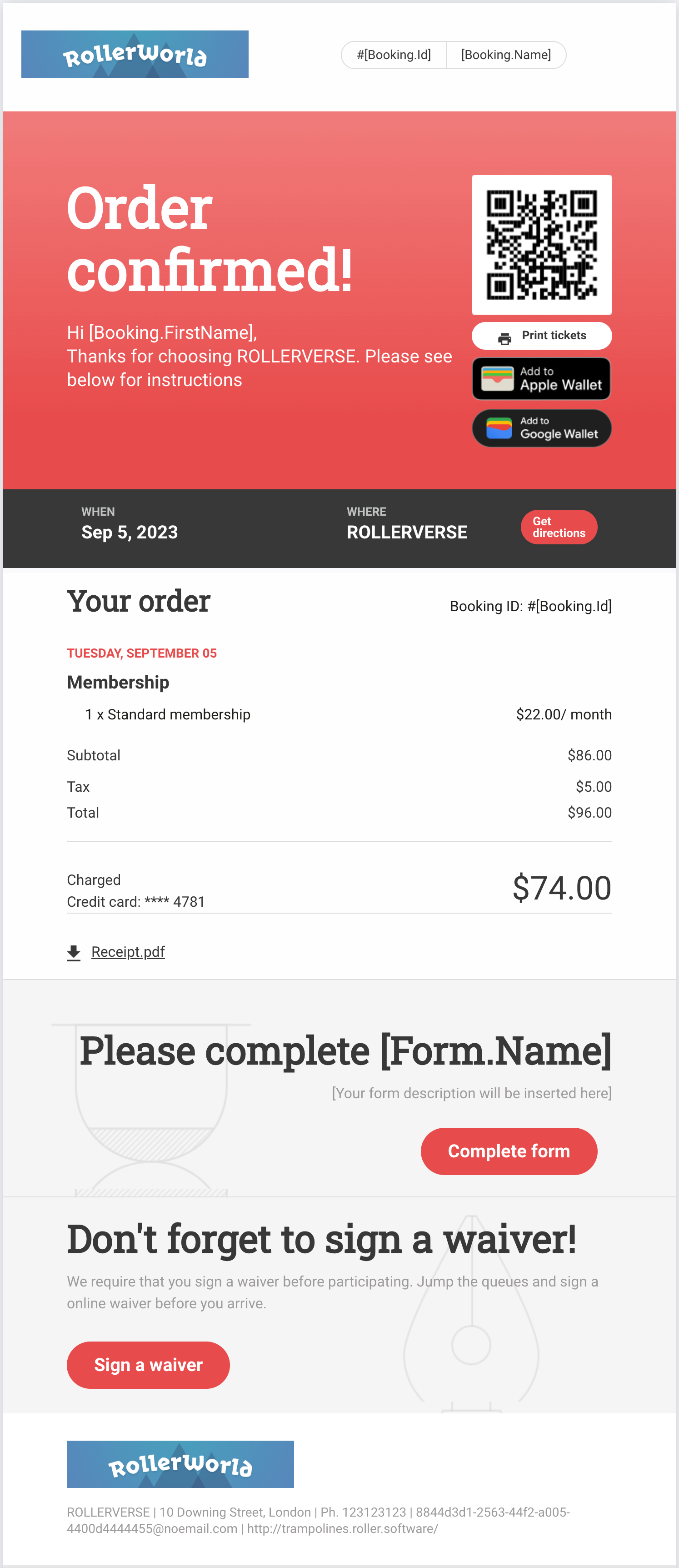 Gift card received
This email is sent to the gift card recipient (the purchaser can set their email address as the recipient) and contains the following information:
Logo of the venue
Gift card ID
Recipient name and Purchaser name
Value and expiry
QR code and link to gift card
Personalised message if set by purchaser
Venue name and details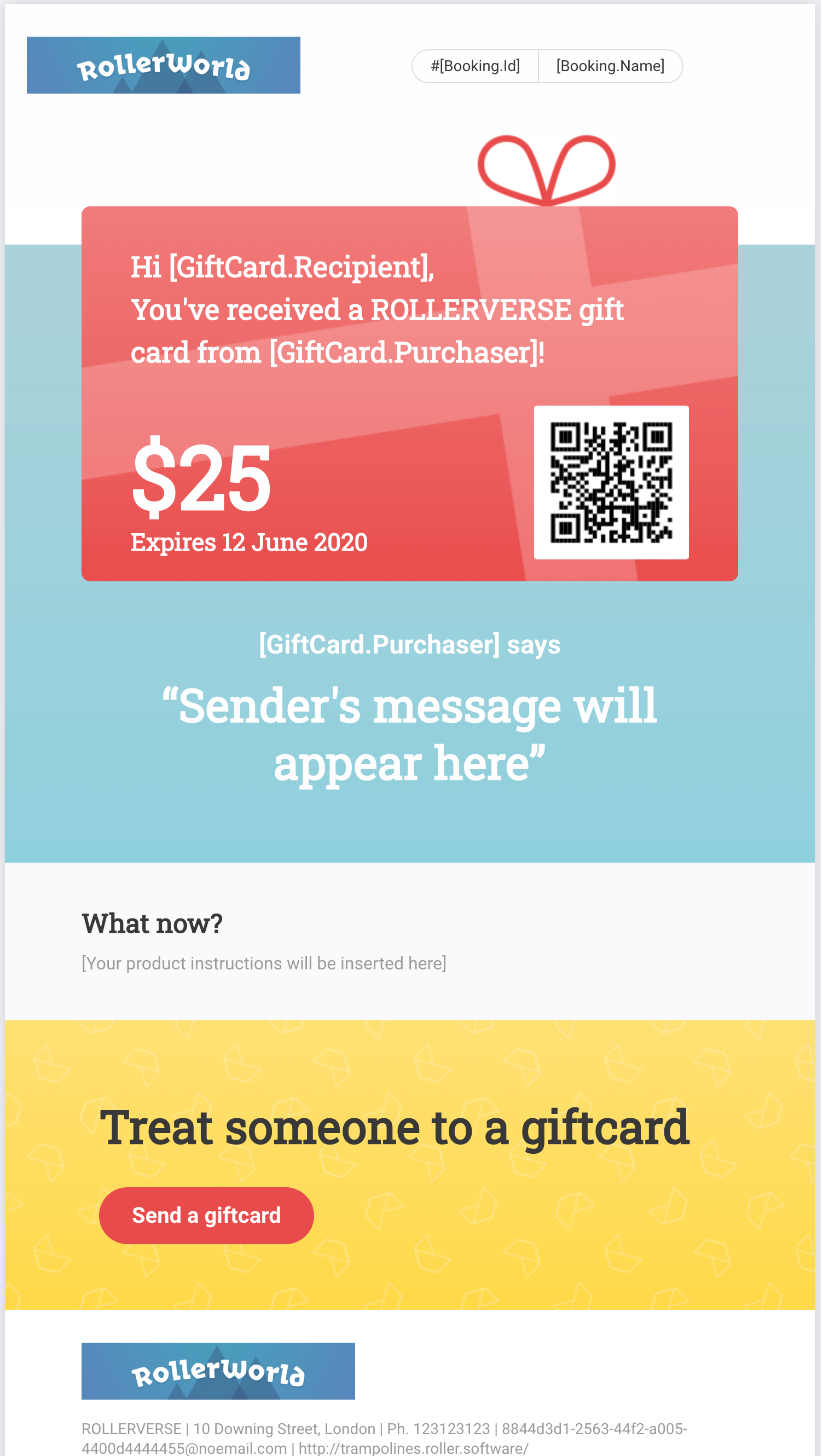 Gift card sent
This email is sent to the gift card purchaser to notify them that an email has been sent to the person they bought the gift for.
Venue logo
Gift card ID
Recipient name and email
Venue name and details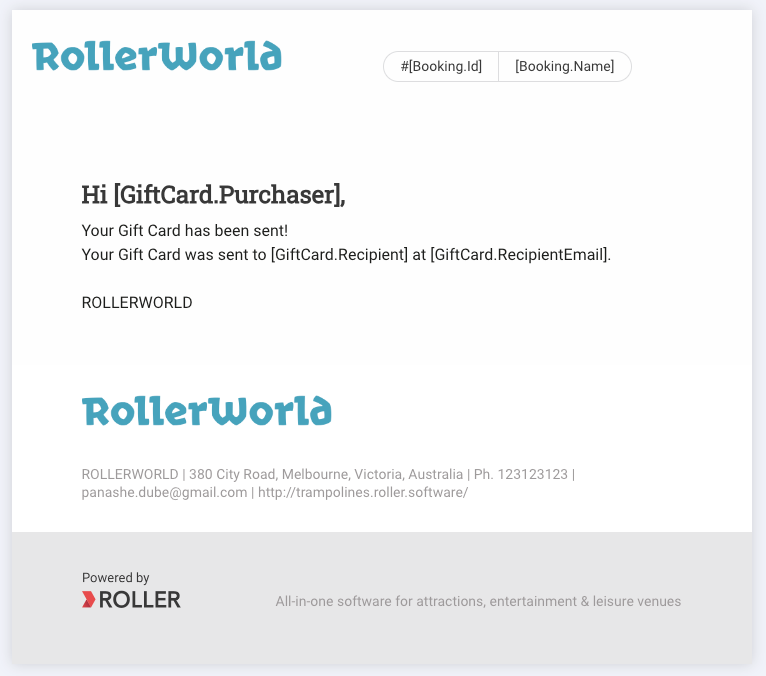 Venue Manager payment receipt
This is manually sent to a guest from POS or Venue Manager and includes the following information:
The guest's name
Thank you text including booking payment amount and booking ID
Venue information
Link to invoice PDF/Receipt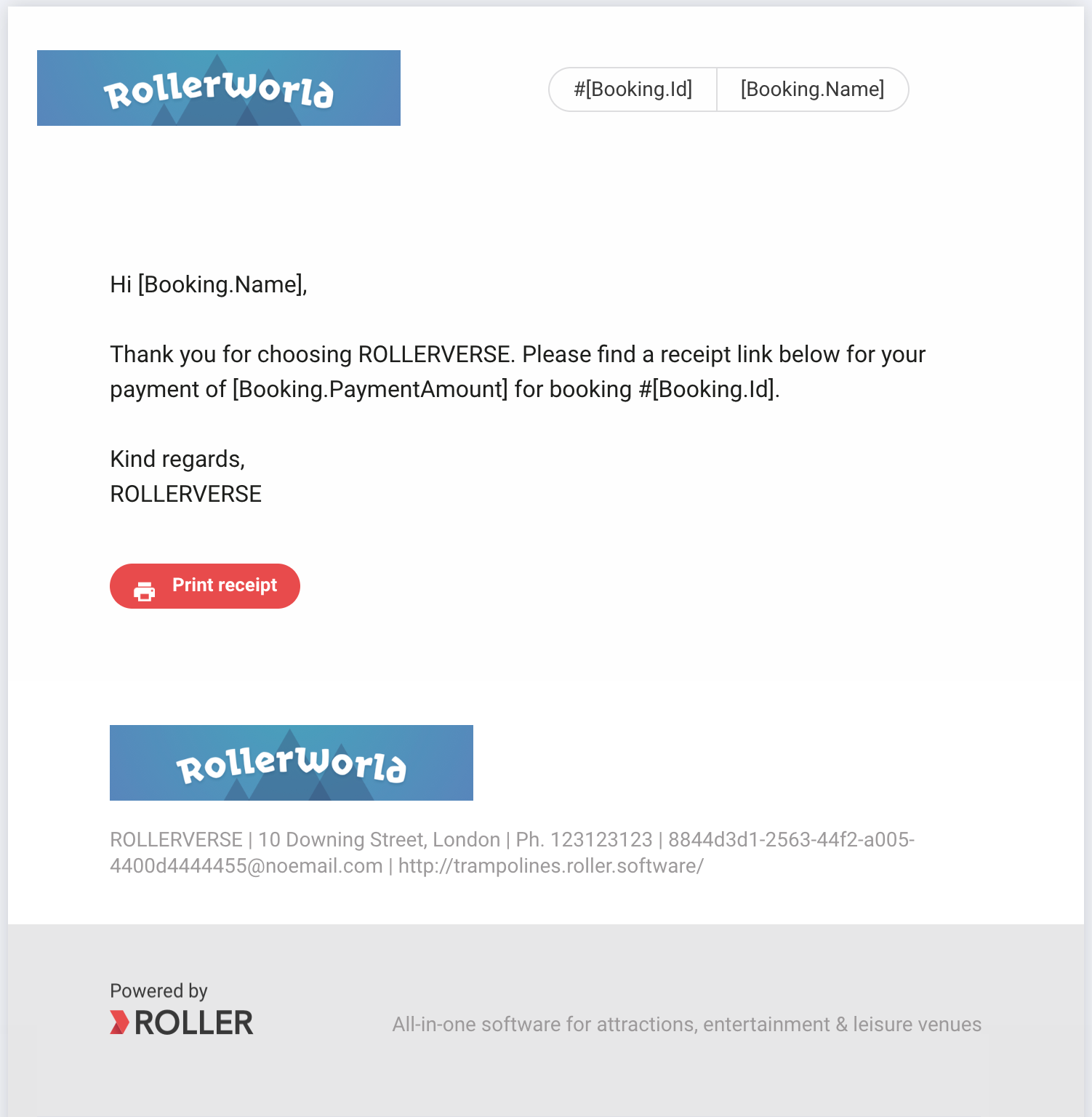 Waiver complete
Once a guest has signed a waiver, they will receive confirmation via email. The email includes the following information:
The logo
The waiver holder's name
A thank you message
Venue name and details
Link to a copy of the digital waiver they have signed as a PDF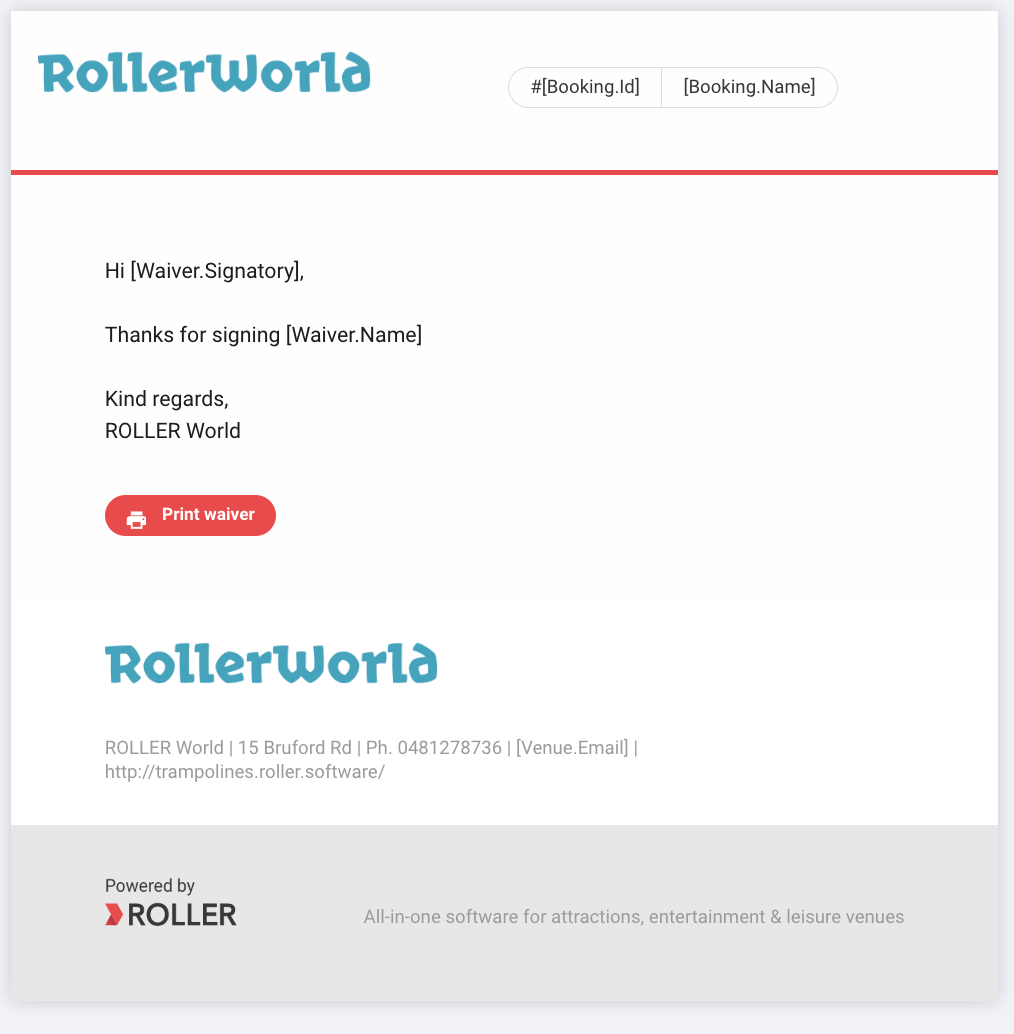 Waiver expiry reminder
Two weeks before the expiry date of a waiver, an email is automatically sent to the waiver holder to remind them to renew. This email includes the following information:
The logo
The waiver holder's name
A button linked to the waiver page
Venue name and details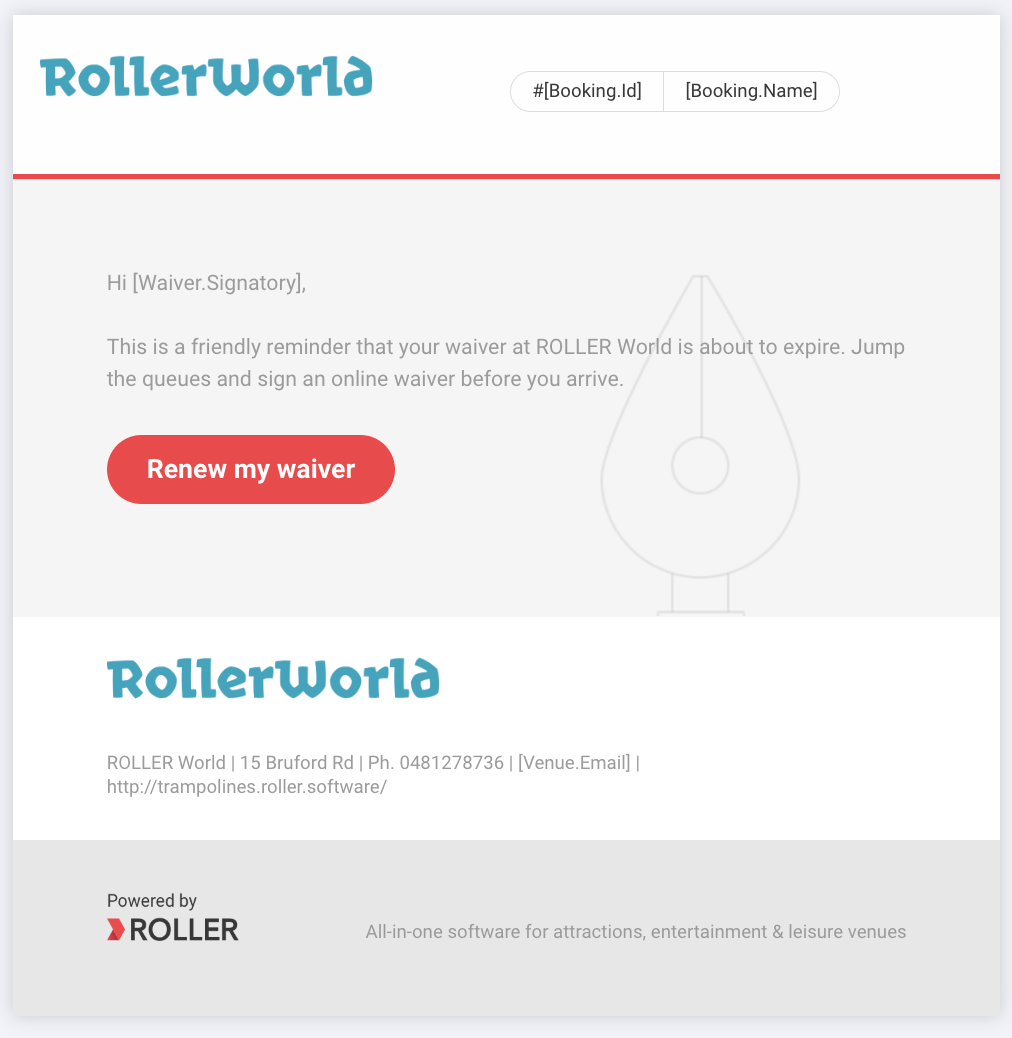 Invoice email
With bookings made from Venue Manager, staff can send invoice emails directly to guests. This email includes the following information:
The logo
The booking first name
Item information
Total booking cost
The amount required (can be full amount or deposit)
Payment methods and instructions
Payment due date
Link to download PDF
Venue details: address and contact details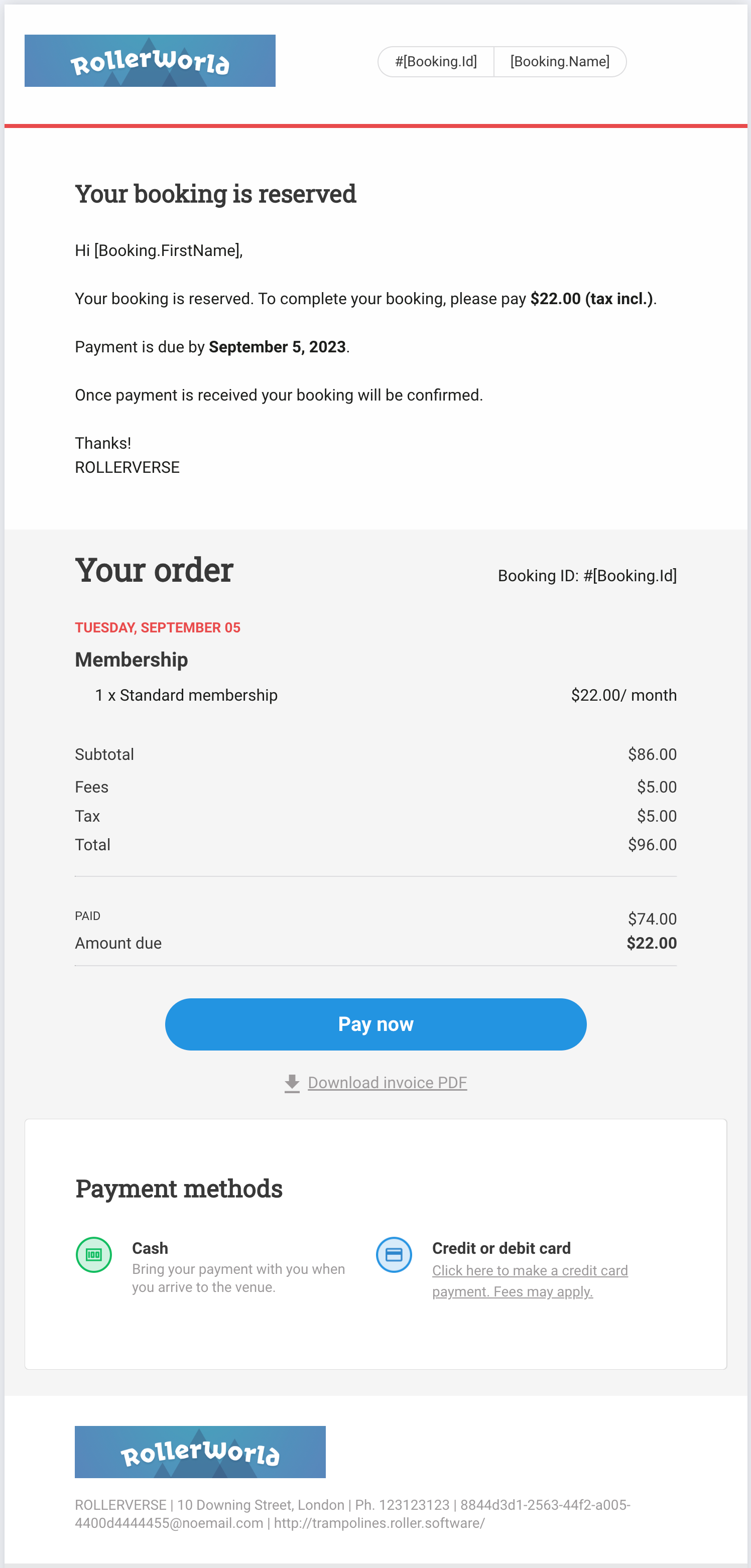 Membership details
This is sent to guests after they purchase a membership and contains details of their membership, plus the following information:
Logo of the venue
Booking ID and booking name
QR code
Membership details and description - this is set in the product configuration
Product instructions
Terms of entry
Venue name and details
Link to ticket PDF and if activated, the receipt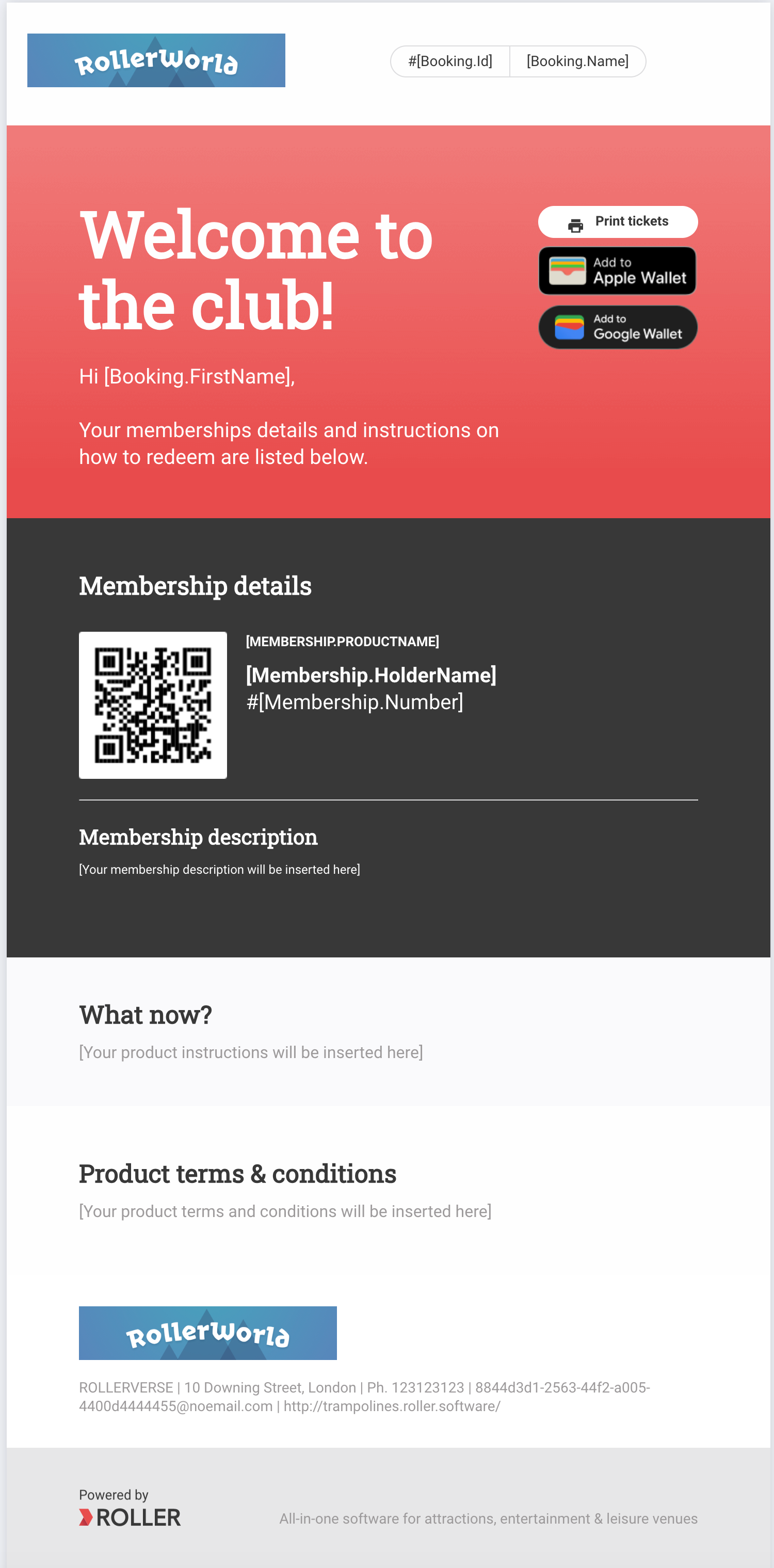 Membership 1st failed payment email
This is sent to the membership holder after 1st failed payment on recurring payment membership. One day after a failed payment, ROLLER automatically retries to charge the guest's card. If the first retry fails, this email will be sent to the guest. This email contains the following information:
Logo of the venue
Booking ID and booking name
QR code
Last 4 digit of card used to pay for the membership
Membership product name

The next retry time and instruction to change the payment details

Venue name and details
Membership 3rd failed payment email
This is sent to the membership holder after 3rd, 4th and 5th failed payment on recurring payment memberships. This email contains the following information:
Logo of the venue
Booking ID and booking name
QR code
Last 4 digit of card used to pay for the membership
Membership product name

The next retry time and instruction to change the payment details

Venue name and details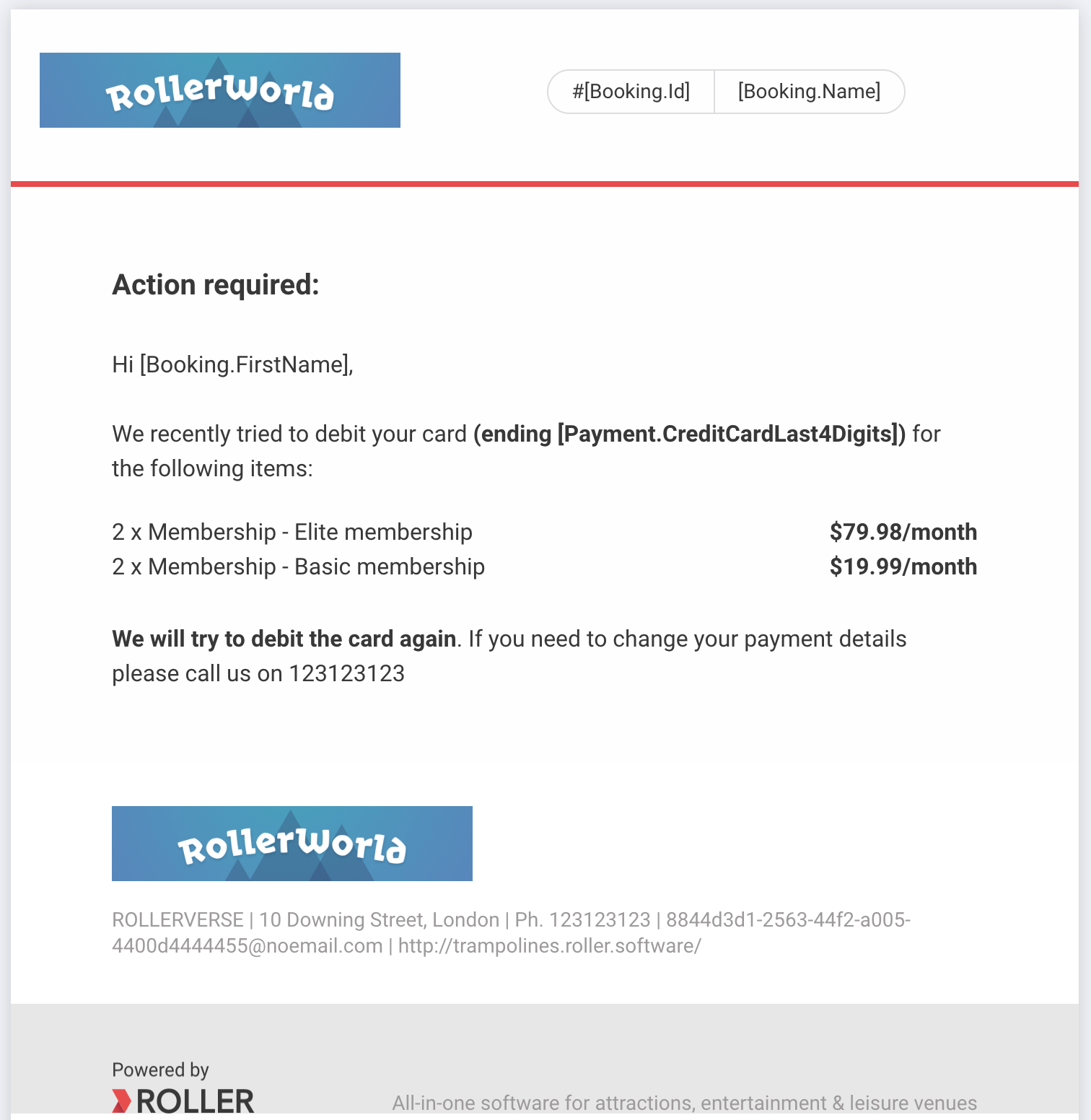 Membership suspension email
This is sent to the membership holder after the 2nd failed recurring payment notifying that their recurring membership has been suspended. Following the first failed recurring payment, ROLLER automatically tries to charge the guest's card again after 2 days. If the second retry fails, the membership suspension email will be sent to the guest. This email contains the following information:
Logo of the venue
Booking ID and booking name
QR code
Last 4 digit of card used to pay for the membership
Membership product name

Instruction to change the payment details

Venue name and details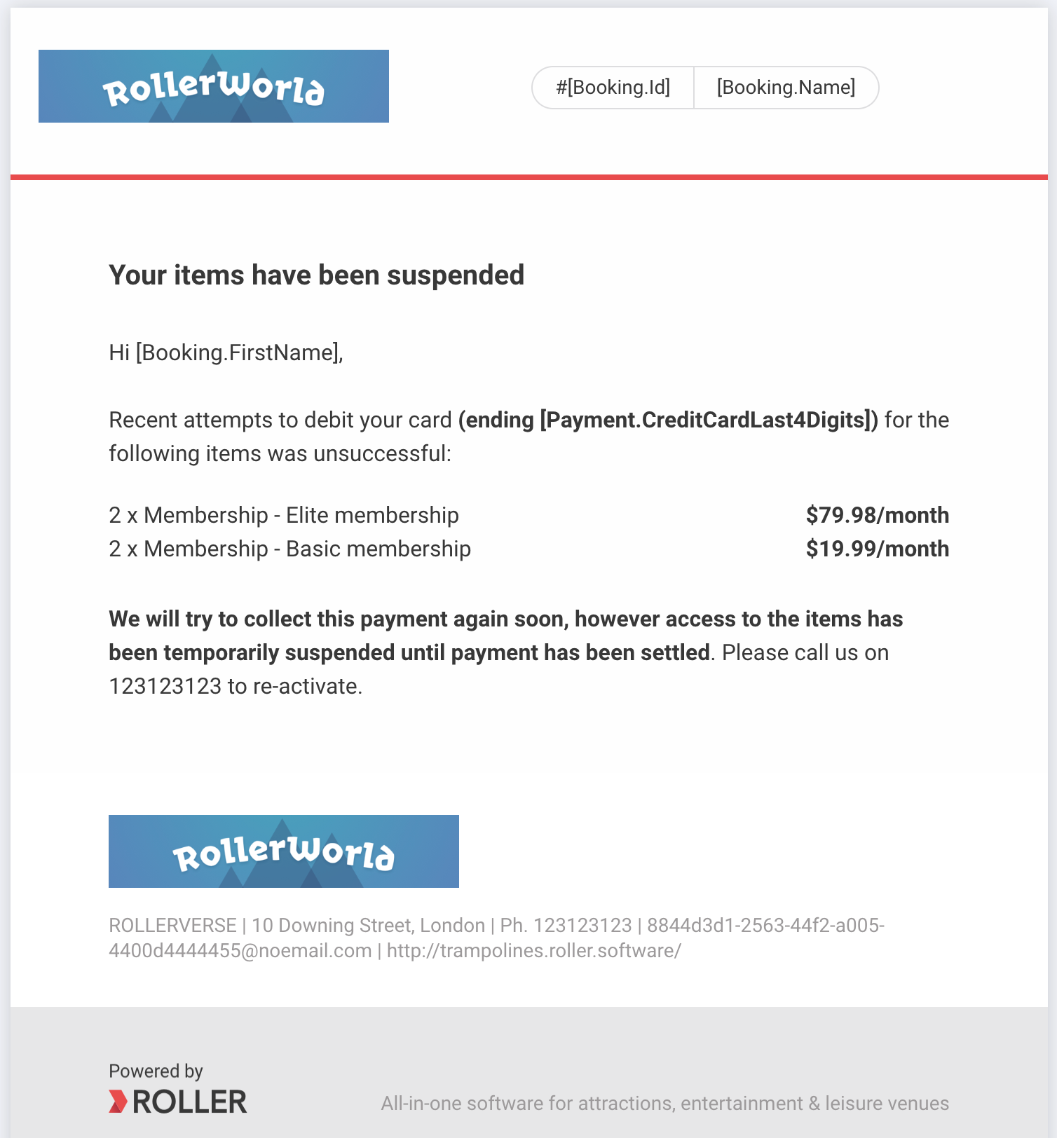 Membership successful payment
This is sent to the membership holder to notify that their membership has been re-activated after successful payment if a payment was missed in the past with 3 unsuccessful retries, which result in membership suspension. This email contains the following information:
Logo of the venue
Booking ID and booking name
QR code
Last 4 digit of card used to pay for the membership
Membership product name
Payment details

Venue name and details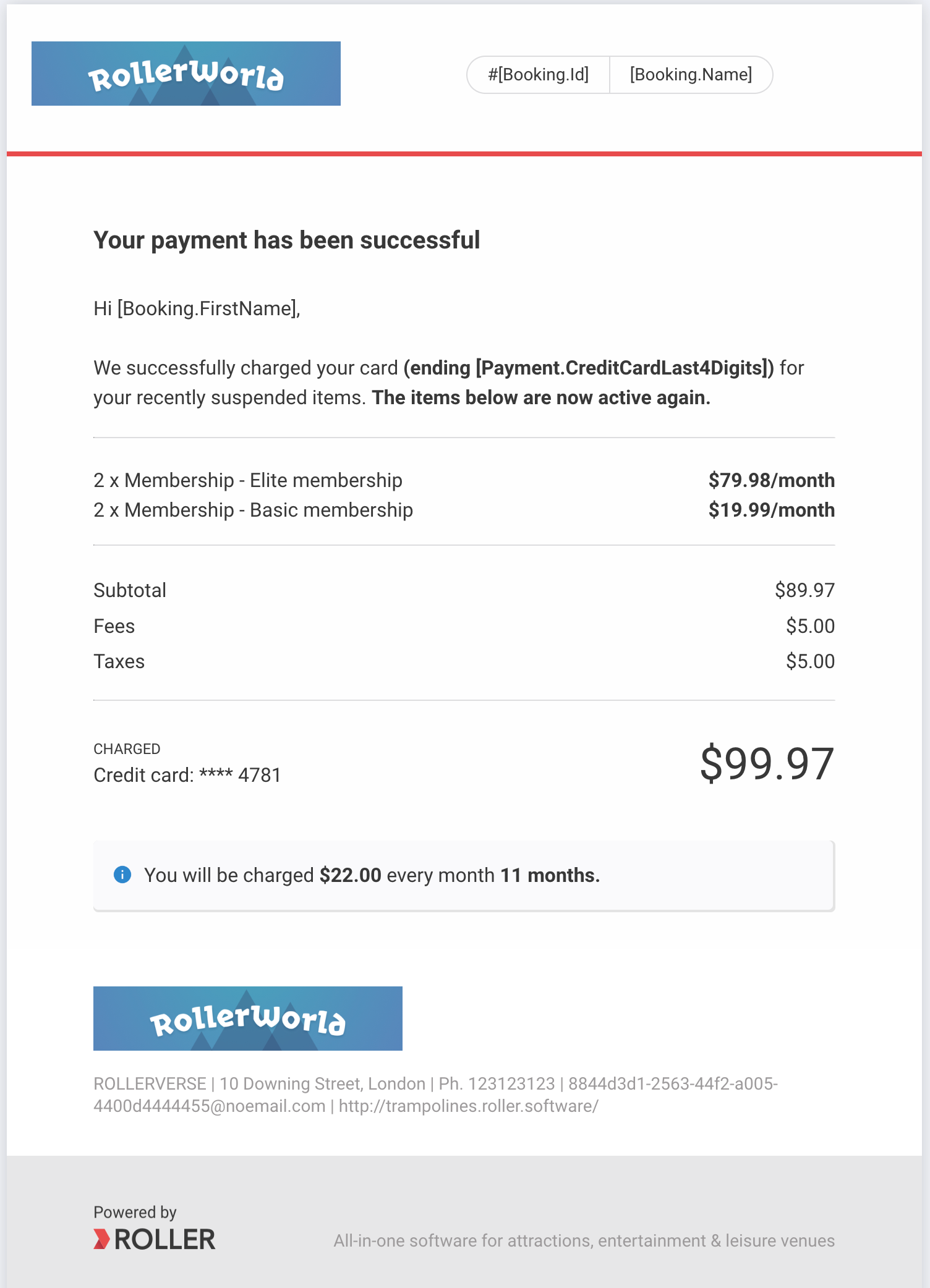 Membership cancelled
This is sent to the membership holder after they've cancelled a membership, with a prompt to renew. This email contains the following information:
Logo of the venue
Booking ID and booking name
A list of the membership/s that have been cancelled
Renew now option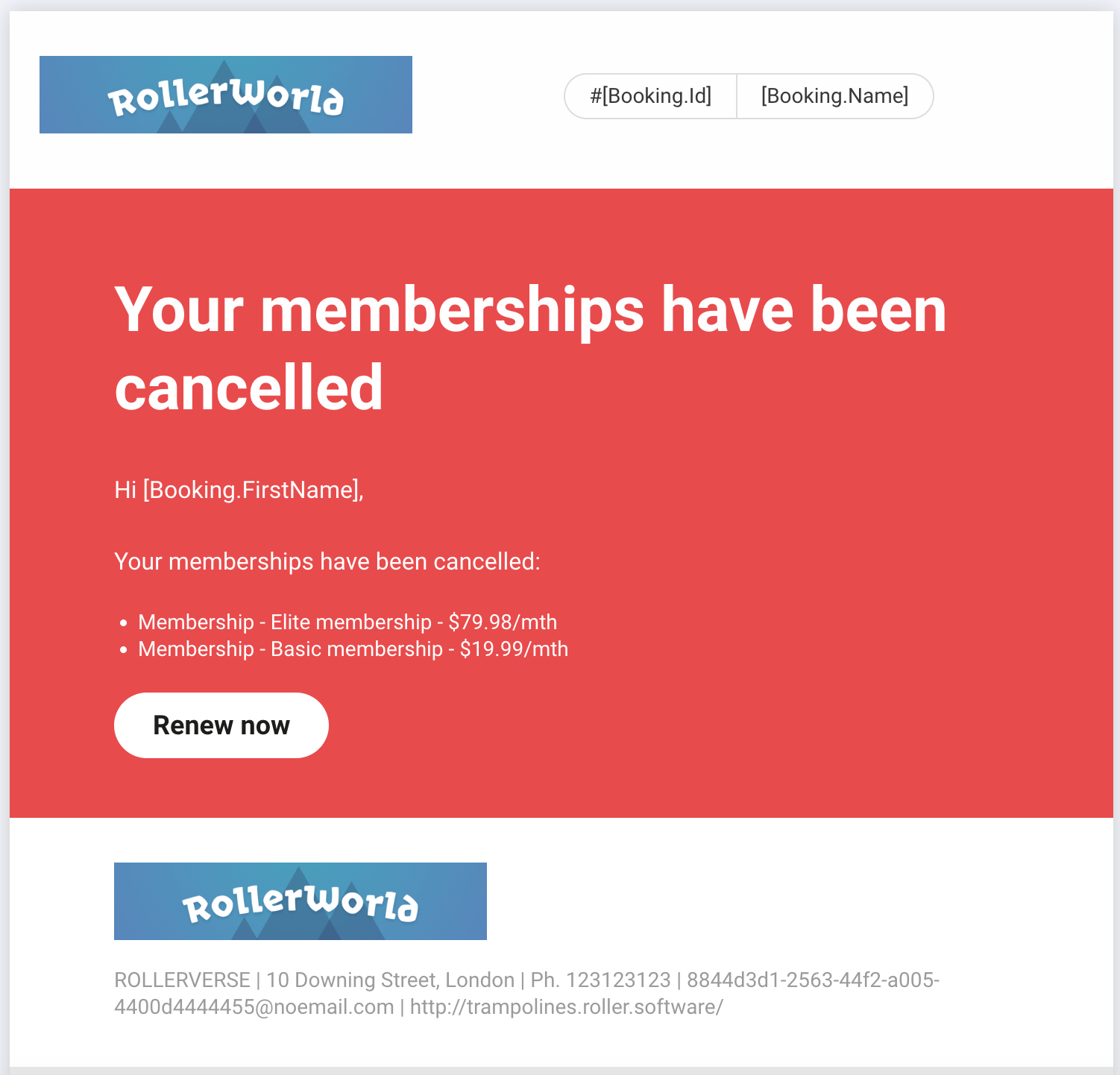 Membership expired
This is sent to the membership holder after their membership has expired, with a prompt to renew. This email contains the following information:
Logo of the venue
Booking ID and booking name
A list of the membership/s that have expired
Renew now option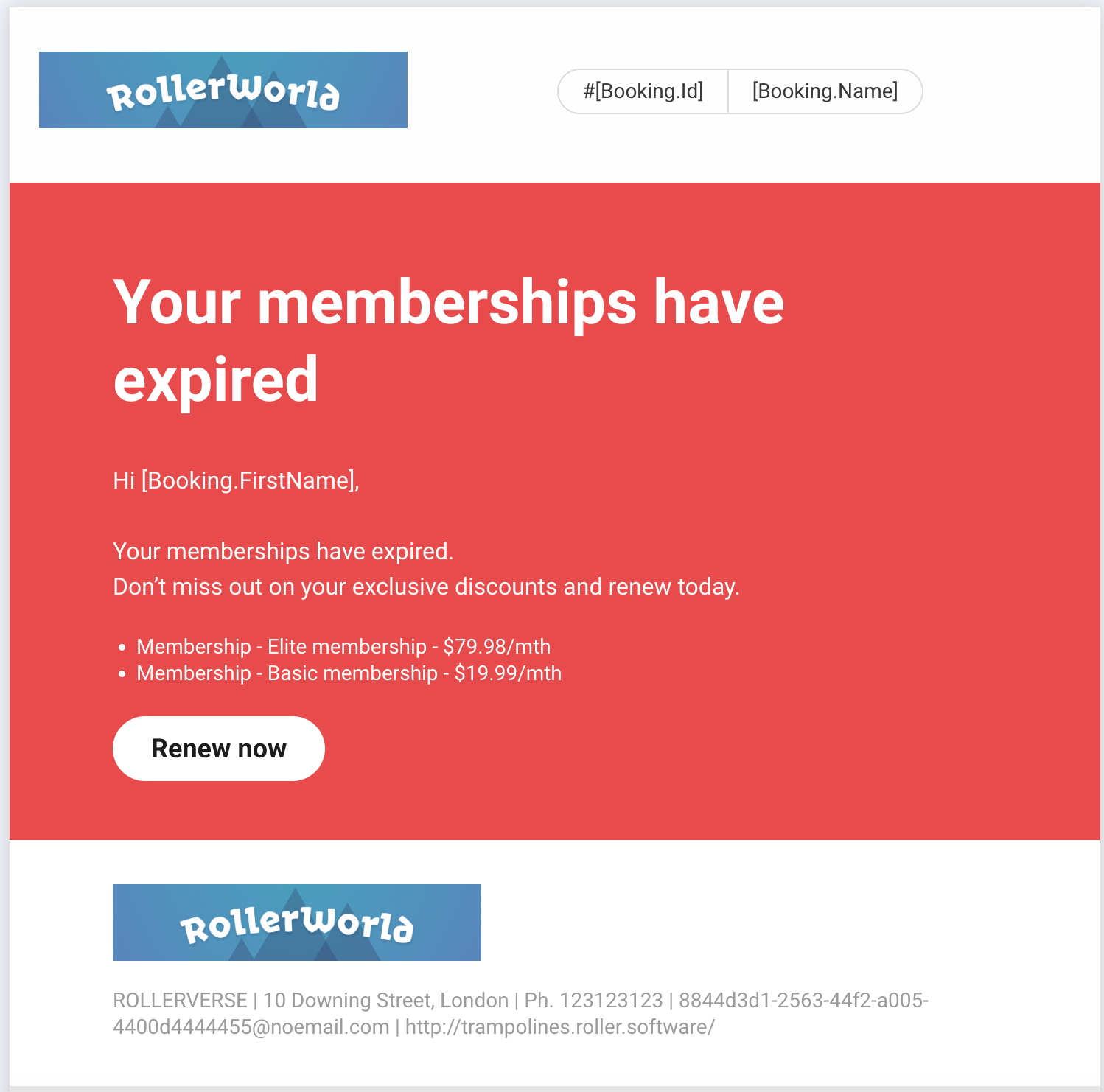 Membership renewal win-back
This is sent to the membership holder 30 and 60 days after their membership has expired, or has been cancelled, with a prompt to renew. This email contains the following information:
Logo of the venue
Booking ID and booking name
A list of the membership/s that have expired
Renew now option