Here, you'll learn how to start collecting feedback and guest sentiment data to discover what guests really think about your guest experience. With the GX Score, you can:
Automate guest feedback by email
Collect feedback from within your venue with QR codes
Rapidly respond to negative customer feedback with instant email alerts
Customize your questions to uncover why your guests have given specific ratings
Offer discount codes as a reward to encourage guest feedback and return visits
Amplify positive reviews by directing fans to public review sites
Set up your survey
To set up your survey ready to collect feedback, go to Settings > GX Score from Venue Manager.
Depending on your plan, you may not have access to all survey features. Check out our pricing page and subscription FAQs to find out which features are included in each plan and how to change your plan.
Choose your survey color scheme
Under Survey color scheme, select the preferred color scheme of your survey.
The color applies to the main elements of your survey such as the questions, the rating factors, the comment box and buttons. Click Preview at the top right of the page to see what it looks like.
Select key rating factors
Under Rating factors, select the factors that are relevant to your venue to uncover why your guests have given specific ratings for the categories: Service, Cleanliness & Safety, Facilities and Value.
For example, if a guest does not think highly of your service, rating factors can help you pinpoint where you could improve the guest experience (ie staff knowledge).
What's more, all GX Score responses are integrated with guest booking and sales data. This means you'll automatically get guest feedback for specific experiences or products (ie party bookings).
Add additional question/s
Under Additional question, you can easily gain further insights by selecting one or more questions from a bank of questions. If you select more than one question, ROLLER randomly selects one of these questions for guests to respond to.
These questions help you collect guest motivation and behavior data, such as:
The social media platforms your guests are using.
The marketing campaigns that are making a difference.
If guests are recommending you to their friends, and if not, why not?
Lite & Pro feature
Ask guests an additional survey question to gain deeper insights. Only available on Lite and Pro plans. The Lite subscription gives you one additional question, whereas Pro provides you with unlimited questions to add to your list.
Learn more
To add a question/s:
Click + Add question.
The Additional question panel appears.
Select one or more questions (only one question displayed to guests).
Customize each question with a description (optional).
Select the answer options for guests to choose from.
Preview how your guests will see the question.
Click Add question.
Click Save.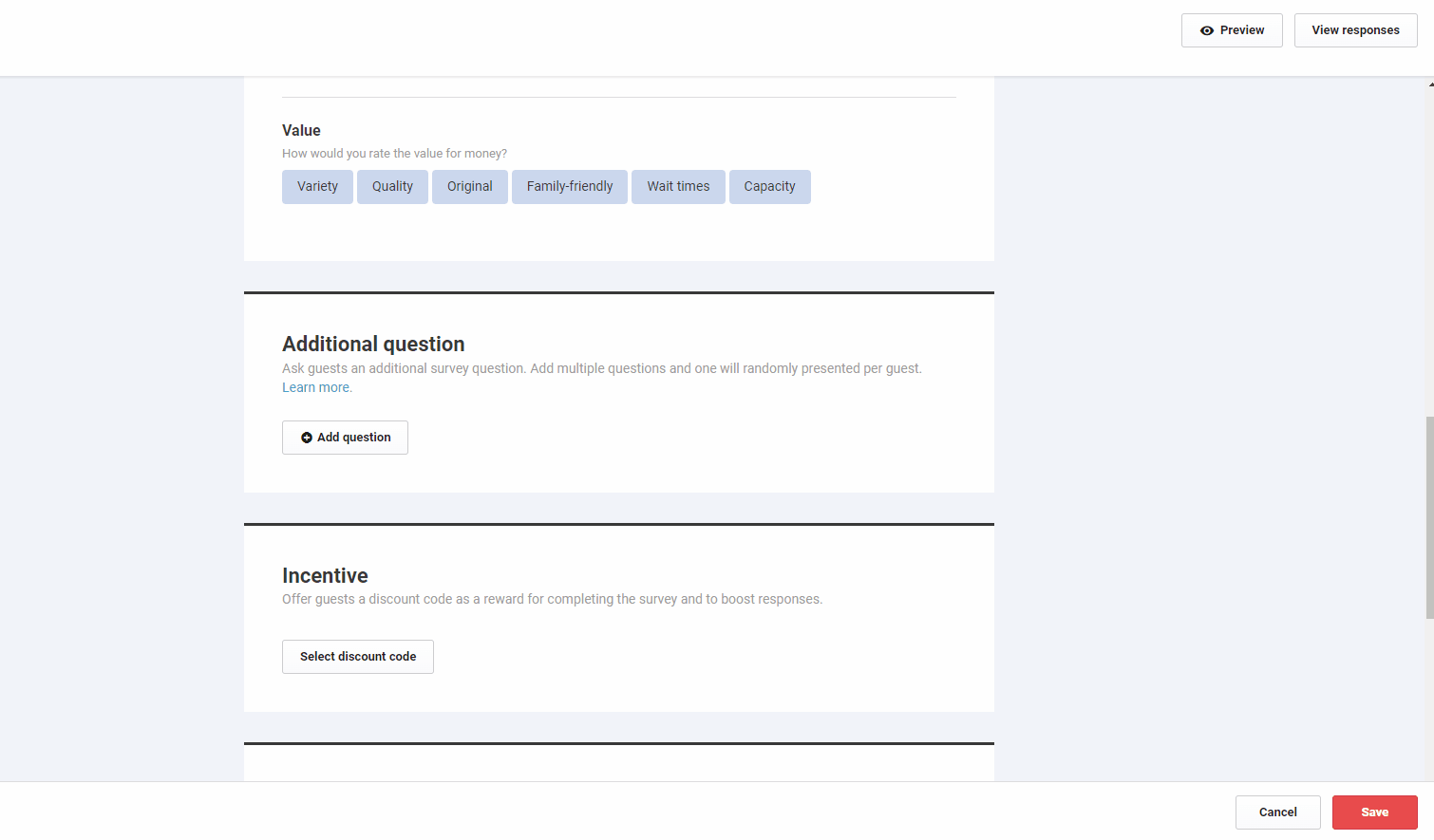 Guests will only receive one selected additional question in their survey, no matter how many you choose. This is to keep surveys at the ideal length for high response rates.
You can also edit or remove question/s from your survey at any time:
Click next to a question to edit or replace it.
Click + Add question to add one or more new questions.
Click to remove questions from future surveys. Any guest responses you have already received are still accessible to view or export for analysis under Guests > GX Scores.
Offer incentives
Under Incentive, encourage guests to give feedback and drive repeat visitation by offering a discount code as a reward for completing the survey:
Click Select discount code.
Choose an existing discount code, then click Continue.
Edit the email Subject line and Discount conditions fields to encourage customers to open the survey email.
When a guest completes the survey, they will be emailed the discount code to use on their next visit. To learn more about creating discount codes, see Create, edit or archive a discount.
Encourage public reviews
Under Public reviews, encourage guests that give positive feedback to leave a public review:
Choose the public review site logo from the dropdown menu, then enter or paste your review page URL into the field.
Click Add.
Click Save.
Once added, fans (rating 4 or above) are prompted at the end of the survey and via email to share their feedback on these public review pages.
Lite & Pro Feature
Direct fans to post on public review sites. Only available on Lite and Pro plans. Learn more
How do you get your review page URLs?
Facebook

Go to your business page on Facebook. Click the Reviews tab. Copy the Reviews page URL from the address bar.

Google

Google recommends that you use short URLs for guests to leave reviews. You can share your short URL with customers from your computer's Business Profile dashboard or on the mobile app.

Learn how to create a link for customers to write a review on Google.

Tripadvisor

Go to your business page on Tripadvisor. Click Leave a review. Copy the Leave a review page URL from the address bar.

Yelp

Go to your business page on Yelp. Click Write a Review. Copy the Write a Review page URL from the address bar.
Receive actionable notifications
Under Notifications, select staff members to receive daily updates and notifications to monitor guest feedback and manage GX score performance.
Daily update
ROLLER can email a daily snapshot of your GX Score performance to selected staff members. The email includes:

Your venue's GX Score and a a high-level breakdown of critics versus fans
Number of responses, surveys sent and comments received
How guests responded to the question, 'How did your visit compare to your expectations?'

You can select which staff members receive the daily update email from the Email to drop-down list.

Response notifications
You can set up instant response notification emails to monitor guest feedback and quickly respond to negative feedback. For example, you can enable notification emails for 1 or 2 star reviews:

The email contains the guest's survey response answers and their booking and contact details so you can quickly get in touch with the guest to turn their visit around.

You can choose which staff members receive response notification emails by selecting them in the Email to drop-down list.

Only staff members with a ROLLER account can be selected to receive response notification emails.
Lite & Pro feature
Receive notification alerts to action negative guest responses. Only available on Lite and Pro plans.
Learn more
Support a variety of languages
The GX Score survey has been translated into French, German, Spanish and Dutch:
Firstly, the language defaults to the language of the guest's browser (even if your ROLLER venue is set to English).
Then, if the guest's browser language is not supported, the survey will default to your venue's language settings, and finally English.
Guests can also choose their preferred language from a language drop-down selector at the top right of the survey.
Preview your survey
Before sharing the survey with guests, preview your survey to make sure everything looks and works as expected.
From Venue Manager, go to Settings > GX Score.
Click Preview in the top-right corner of the settings page. This will open a new window showing the survey.
Start sharing surveys
There are two ways you can start sharing surveys to collect feedback:
Send surveys automatically by email
Manually share surveys by URL or QR code
You can use both methods of collection and the combined responses will account for the total surveys you are allowed to receive according to your GX Score subscription plan.
You'll get a 30-day trial with unlimited access to the Pro GX Score subscription when you first enable sharing. If you wait to enable sharing until you have guests coming through your doors, you'll reap the full benefits of the trial!
Send surveys automatically by email
Surveys start sending from the first of each month. When you reach your GX Score subscription plan limit, ROLLER stops sending new emails with survey requests.
See the section Pause sharing surveys below to learn how to stagger these emailed surveys.
To automatically share surveys by email:
From Venue Manager, go to Settings > GX Score.
Under Share survey, enable the Auto-send surveys by email toggle.
Select how often you want guests to receive surveys.
Select the checkbox if you want to exclude guests who have opted out of marketing emails.
Click Save and start collecting feedback.
When is a survey emailed to guests?
When a ticket is redeemed in ROLLER, the survey is sent to the waiver or booking holder to complete via email. When the surveys are sent depends on the type of product:
Session pass
Survey is sent 1 hour after session end time. For example, a guest redeems a 1 hour jump ticket at 2pm. The session runs from 2pm to 3pm. The survey is sent to the guest at 4pm.
Membership and standard pass
Survey is sent at 5pm (local time) on the same day the ticket is redeemed. For example:


If a guest has a standard pass ticket and leaves before 5pm, then the email is still sent out at 5pm.
If a guest redeems a standard pass ticket after 5pm, the survey gets sent an hour after they redeem.

Surveys are not emailed to guests in the following cases:
You've configured a maximum number of surveys per guests in the GX Score settings page.
There is a cancellation, a no-show or a reschedule. A survey is only sent to a guest after they attend your venue.
There is no email associated with the booking in ROLLER.
Manually share surveys by URL or QR code
To help you capture feedback from guests who you may not have an email contact, you can share surveys by a URL or QR code.
This feature allows you to print and place QR codes at key areas within your venue, such as exits or cafe tables, encouraging guests to give feedback using their mobile devices.
To manually share surveys by QR code or URL:
From Venue Manager, go to Settings > GX Score.
Under Share survey, enable the Accept URL/QR code responses toggle.
Copy the URL to share surveys by URL.
Select Download QR code. Print the QR code and place it around your venue for guests to scan using their phones.
How does the URL or QR code work?
QR code or URL responses are automatically recorded in the GX Score responses. When you reach your GX Score subscription plan limit, ROLLER stops accepting new survey responses.
Guests who respond by QR code or URL are prompted to enter their name and contact details at the end of the survey so that you can:
Reach out to them about their feedback.
Provide any rewards as a thank you for completing the survey.
If a guest does not enter their name, it is recorded as unidentified.
It's not possible to link surveys shared by QR Code or URL to a booking that is associated with a guest record. When viewing these responses, you will not see a link to a booking ID as you do for surveys sent from ROLLER by email.
What happens when I reach my plan limit?
If you've reached your survey response limit and there are guests who have received a GX Score invite by email but have not yet responded, those guests will still be able to respond to the survey with their responses being recorded. No new survey emails will be sent until the start of the following month.
For guests accessing the GX Score survey using the URL or QR code, they will see a message saying surveys are no longer being collected at this time. You may may wish to stop displaying the URL and QR code once this response limit is reach.
You can increase your survey response limit at any time by upgrading your plan at the top of your GX Score page.
Pause sharing surveys
To pause or stop sharing surveys by email, URL or QR code:
From Venue Manager, go to Settings > GX Score.
Disable the Auto-send by email and/or Accept URL/QR code responsestoggle.
Click Save.
ROLLER will stop sharing surveys with your guests until you decide to resume. This can help you manage the number of surveys you receive. Survey sharing will also be paused automatically once the monthly response cap has been reached and will be resumed at the start of the next month.
If you are on a paid GX Score plan, pausing your survey distribution does not change your GX Score plan or deactivate your subscription. If you would like to stop using the GX Score, please review the GX Score subscription FAQ section in the GX Score subscription article.
GX Score setup FAQs
Why are the GX Score response rates so high?
The GX Score is specifically designed for experience-based businesses and are integrated with your customer booking data. This means surveys are automatically sent to guests after their visit, there's less for guests to fill out, and surveys are designed for high-impact experience categories. All of this leads to a better user experience and higher response rates.
Can I create my own survey questions?
No. The GX Score has been specifically designed to increase response rates and provide objective guest feedback on high-impact categories relating to their experience. Our choice of questions, the length of the survey, and the way in which it is delivered have been built to provide you with maximum impact, the ability to benchmark venues and a positive guest experience.
Our integration with guest booking data means that you'll automatically receive customer feedback for specific experiences or products (ie party bookings). Insights that would normally be derived from custom questions are already available in the software!
When are surveys sent to my guests?
GX Score surveys are sent based on ticket redemption in ROLLER. Once a ticket has been redeemed, the ticket will be sent to the waiver or booking holder one hour after their session ends. For membership and standard pass tickets, the survey is sent at 5:00pm local time on the same day. If you wish to change the frequency of surveys sent to guests, you can edit this in the Share survey settings when auto-send surveys by email is enabled.
How many survey responses will I use?
Survey responses vary considerably based on industry and business. As a general rule of thumb, you can expect a ~15-30% response rate to surveys sent to your guests by email. During the free trial, ROLLER allows unlimited survey responses, so it will not stop sending emails due to response limits.
Now start collecting feedback! Then once you get your first responses, go to the Analyze data and action guest insights article to learn how to analyze and action your guest feedback.