We're thrilled to be rolling out our Progressive Checkout experience as we know how much impact it will have for you in converting more prospects to paying guests.
COVID has accelerated the transition to online purchasing and it has become more important than ever to provide guests with an exceptional, mobile-optimized experience. Our data shows that 80% of guests accessing online checkouts are using mobile devices.
While ROLLER's legacy checkout conversion rates are industry-leading, the ROLLER Progressive Checkout application takes the guest experience to a whole new level.
Results from our beta customers show a 5%+ increase in conversion rates!
Improve your sales & the guest experience
We've designed and built the new online checkout experience with several key goals in mind.
Maximizing conversion rates and average transaction value by optimizing for mobile and adopting best practice conversion patterns
Greater flexibility in checkout configuration, providing you with more dynamic ways to display and promote your experiences
Providing return guest functionality, such as logged-in experiences that enable guests to manage their memberships, waivers and payment methods
Enabling online food and beverage ordering, alleviating staffing challenges, and making it more efficient to manage the service of food and beverage
Phased rollout of features
We are delivering this new checkout experience in three key phases, with phase 1 completed and ready to use!
.
Phase 1 - completed: Core checkout functionality and conversion optimization ✅

A complete redevelopment of our online checkout application with the latest technology to support legacy core checkout functionality and live testing with several beta venues to measure and optimize conversion rates.

Phase 2: Personalized, logged in guest experiences

This will allow guests to create passwordless accounts, access their bookings and tickets, and manage their memberships, waivers and saved payment methods.

Phase 3: Online food and beverage ordering 

This will help alleviate staffing challenges and make it more efficient to manage the service of food and beverage. This progressive checkout feature will be available on a Premium plan.
The ROLLER Progressive Checkout currently supports venues using ROLLER Payments to process payments. If you'd like to switch to our Progressive Checkout, contact your account manager or the
support team
.
What's available right now?
.
New mobile optimized design

A mobile-first design given that over 80% of guest traffic is via mobile.



Tracking online guest behavior & conversion rates

You can easily track and send events to connected tools such as Google Analytics, Meta Pixel, Tik Tok Pixel and Google Tag Manager, making it really easy to share marketing data with the platforms you're working with. 

Support for custom online checkout domains

You can host ROLLER checkouts on custom domains such as tickets.trampolinepark.com to optimize conversion and tracking data capture. This feature is available on a Premium plan.

More control over your checkout

The progressive checkout gives you greater flexibility and much more control over your checkout design and configuration based on your business's particular needs including more dynamic ways to display and promote your products and offerings.
You have control over the following design and configuration features:
A full-page checkout experience
A home page can act as the starting point for your checkout and provides a full-page checkout experience for your guests. You can also toggle off the home page and start the full-page experience on your checkout products page.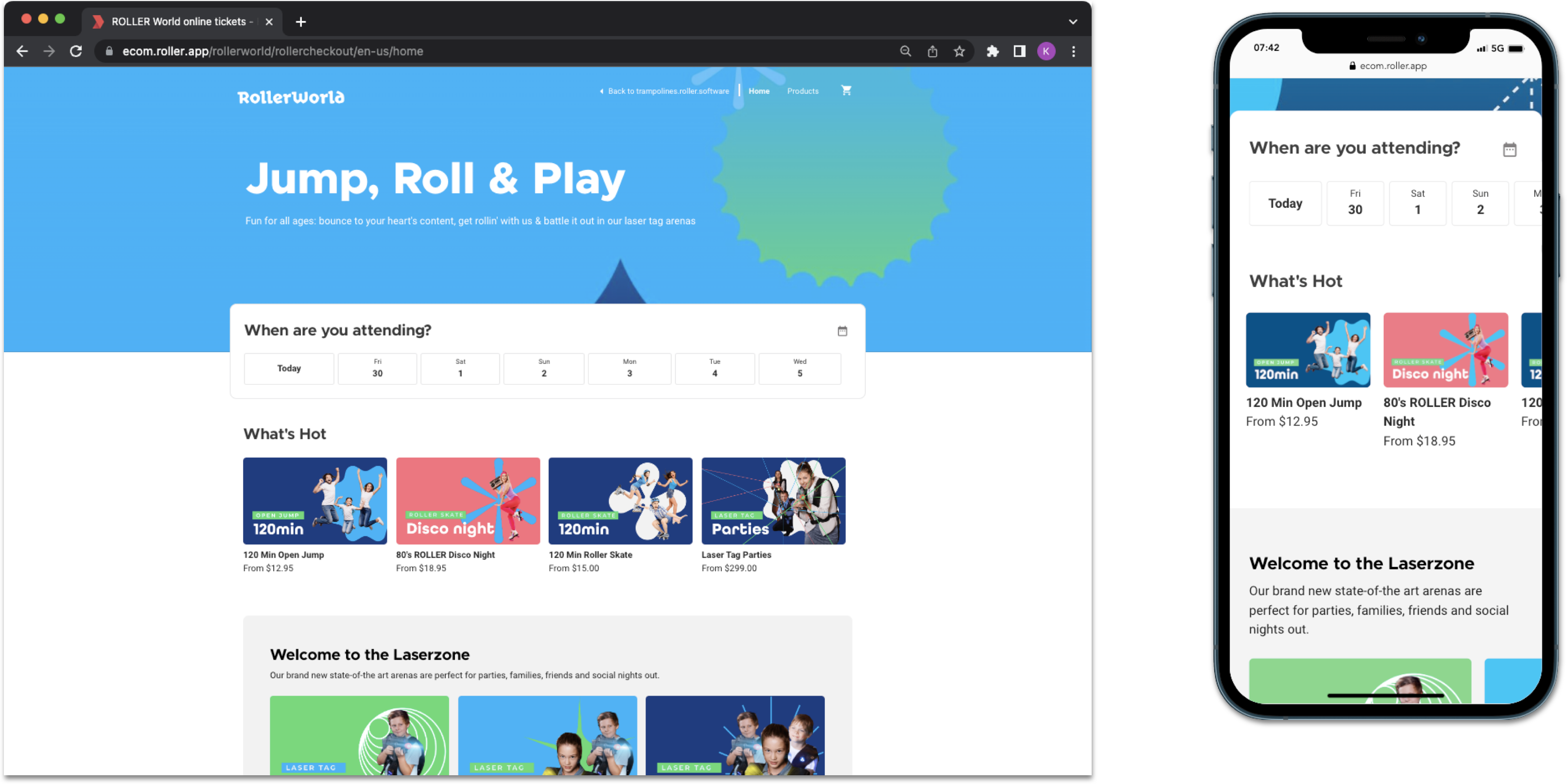 Home page widgets
Home page widgets allow you to dynamically control the products and offerings that you promote on your checkout home page. They allow you to showcase a group of product offerings using categories and can have clear call-to-actions to products in your checkout or external web pages such as upsell items, memberships, parties, discounts, food & beverage and more.
An overlay checkout experience
If you already have a website that gets a lot of guest traffic, or are currently using the legacy embedded checkout, this option may be a better fit for you. This allows you to integrate your checkout with your website and launch it as an overlay experience on your website. You can also link to specific products on your checkout from different pages in your website, removing the need to maintain multiple checkouts.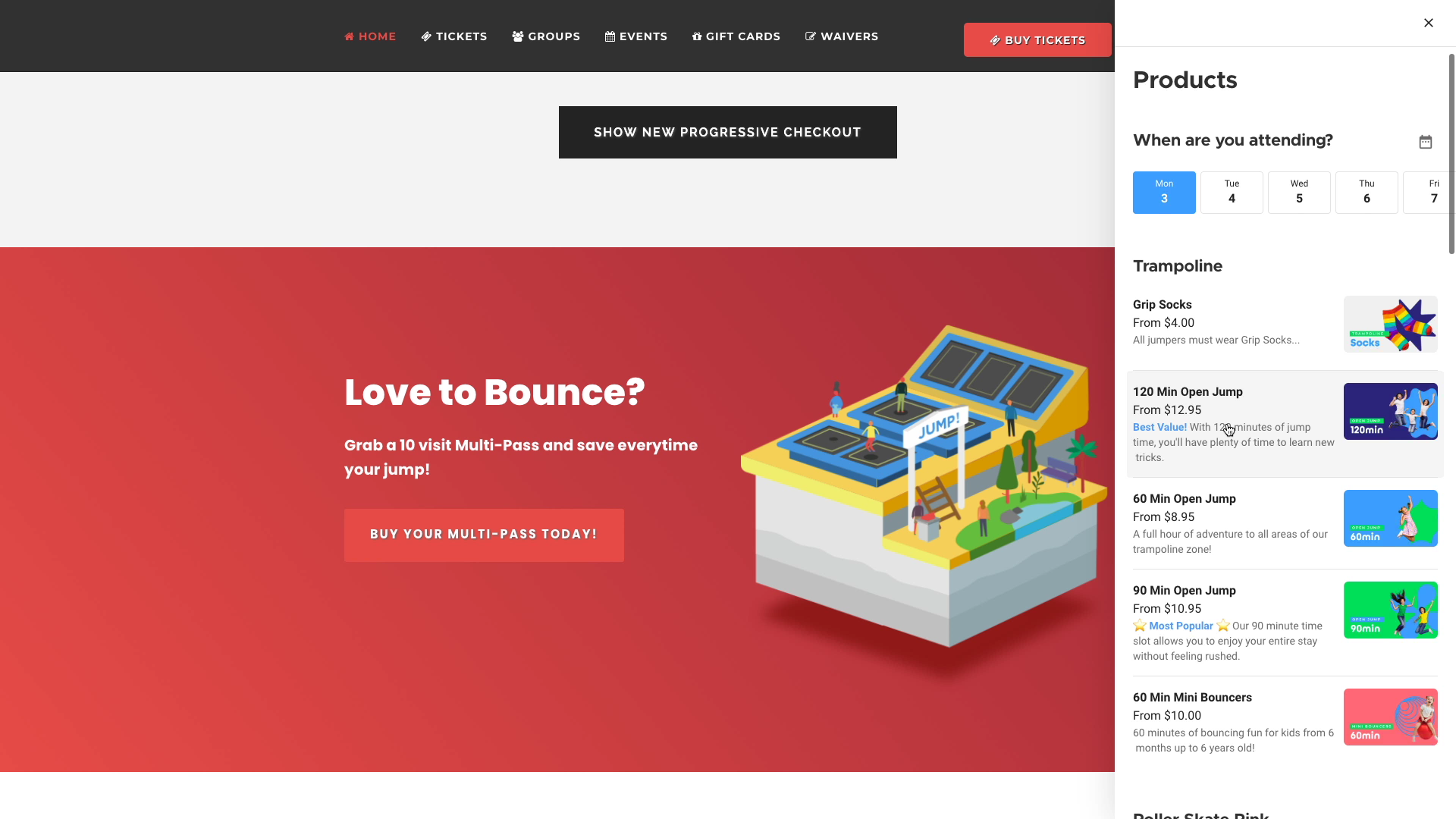 Categories on your products page
You can control how your products display to guests on your products page including grouping your products into categories. Once you've set up your product categories, when you add a new product to a category, it automatically shows up in the checkout, making it really easy to set up and manage your checkout.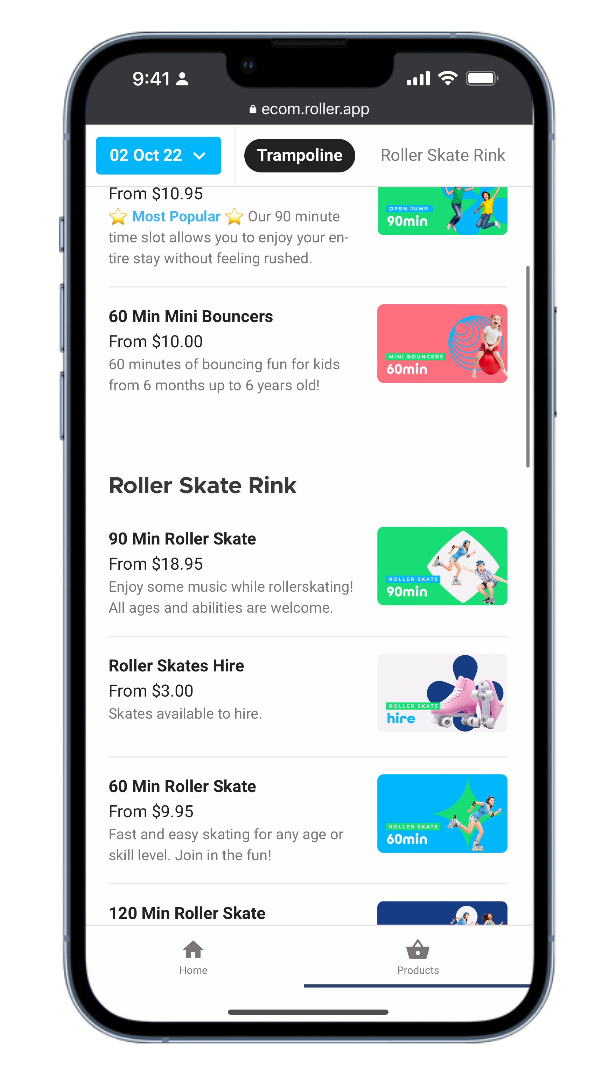 Contextual add-ons
You can configure add-ons to be shown with the product that the guest chooses, on a dedicated page before checkout, or in both positions in your checkout.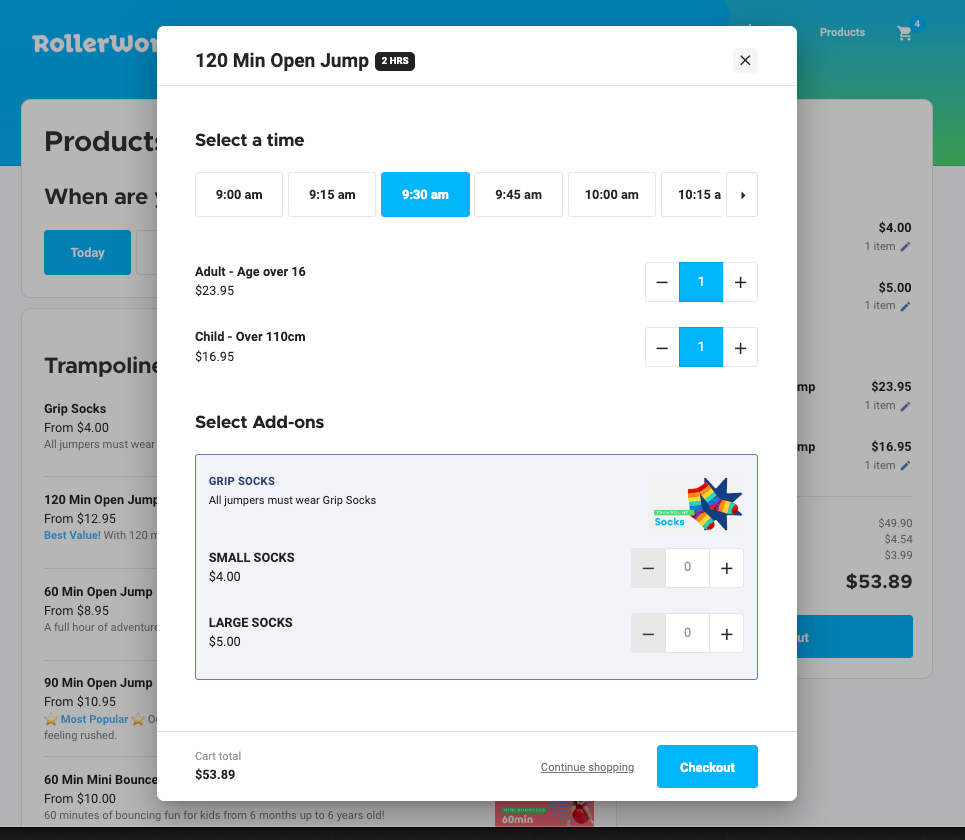 Appearance
You have several options to set the look and feel of your checkout, how your products appear in the checkout and other options for customizing your products, details and payment pages.
How do I get started?
Take a look at the following guides:
And check out the videos on our Academy to learn how to prepare for, create and share your Progressive Checkout.