This article will show you how to perform a full or partial refund of a booking in Venue Manager.
Bear in mind
Cancelling a booking cannot be reversed.
You cannot refund more than the purchase amount.
Credit card refunds can take 3-5 business days to return the funds to the cardholder's account.
For bookings with a past booking date, a custom amount refund will cancel the booking. Refund specific items if you do not wish to cancel.
Issue a refund from Venue Manager
The role permission Can refund is required to issue a refund in Venue Manager. This role permission is enabled by default for Administrator and Manager roles.
In Venue Manager, open the booking that requires a refund.
Click the 3 dots in the top right corner and select Refund... from the menu options.
A pop-up modal will appear, where you can select the Refund type:

Selecting Refund booking items enables you to select specific booking items to refund.
Selecting Refund Amount enables you to refund a custom value. Note: Refunding a past booking will force booking cancellation to correctly update revenue data.

Click Continue
Under Refund payment, select your Refund method from the dropdown list - we recommend using the same method as the original purchase: 
[Optional] We recommend adding a Note describing the reason for the refund.
Once you have confirmed the total value of the refund, click Refund.
Refund online payments
Payments via ROLLER Payments, Adyen and WorldPay
You can refund an online transaction received from an integrated partner such as ROLLER Payments, Adyen or Worldpay directly to the cardholder's account.
In the Refund payment pop-up modal (see step 5 above) select Credit Card from the refund method dropdown list
Under Refund via gateway (Adyen/Worldpay) select the transaction $XX.XX (ref) as shown below:

Confirm the refund amount and click Refund
This action will issue the refund to the card that was used to process the original transaction. For more information, refer to Refund Adyen and WorldPay credit card payments in VM.
Payments via other payment gateways
For all other payment gateways, refunding a credit card will not refund the guest. This action will only mark the booking as refunded for reporting purposes. Guests will still require to be refunded manually from within the payment gateway's portal. To learn more about refunding from the payment gateways portal, click on the links below:
Once the refund has been processed in the payment gateway's portal, process the refund in Venue Manager following the steps listed above, see Issuing a refund through Venue Manager.
Issue refunds to new or existing gift cards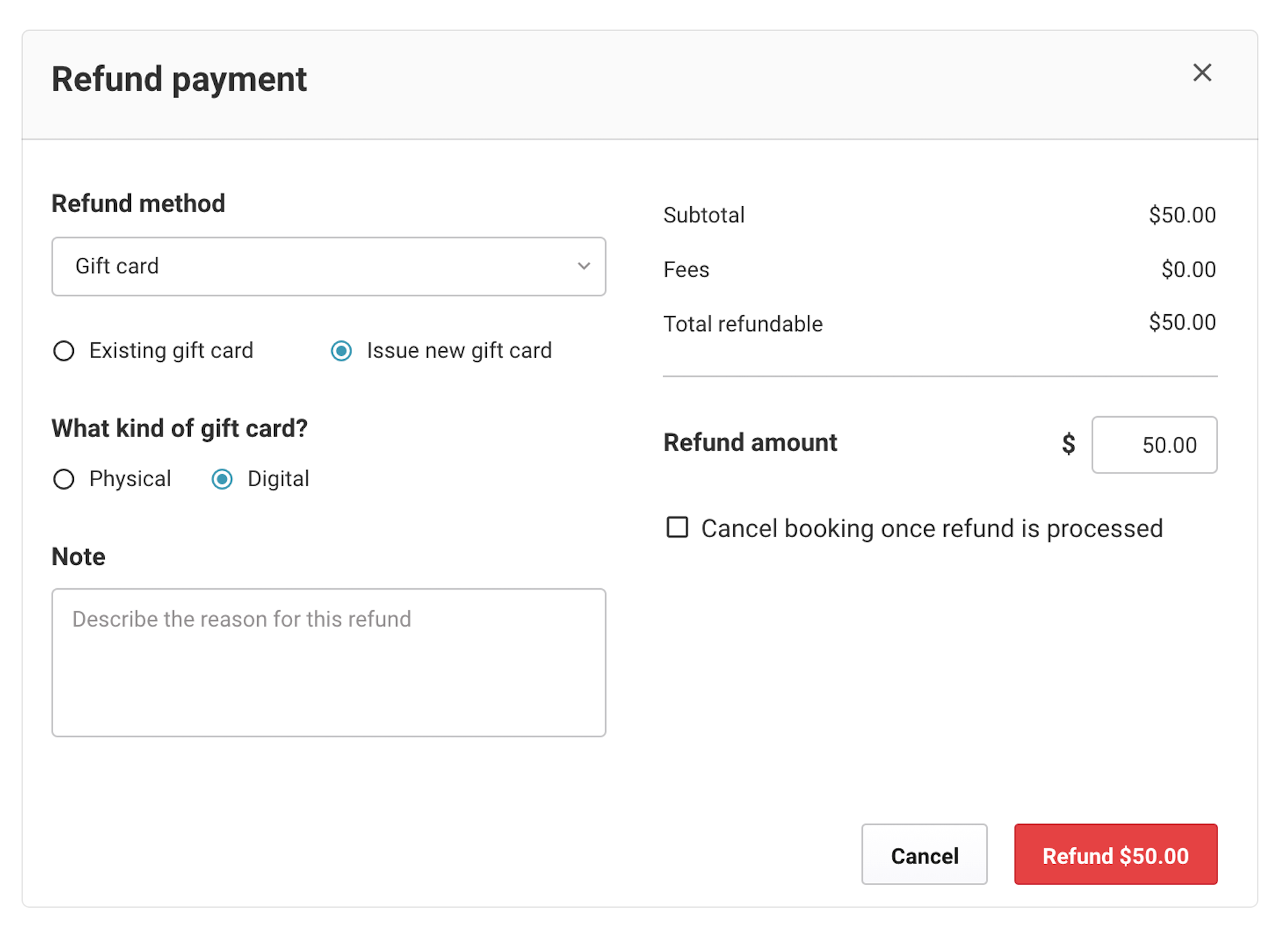 You can issue refunds to new or existing gift cards.
Issue refund to new gift card
Ensure your venue has enabled issuing refunds to new gift cards.
Note: Booking holder details are required for refunds to digital gift card.
Issue refund to existing gift card

If the gift card has expired, the refund will be applied but is unusable without an extension of the expiry date.
View a refund
View refunds in the booking activity stream
In Venue Manager, the refund will be included in the booking activity stream.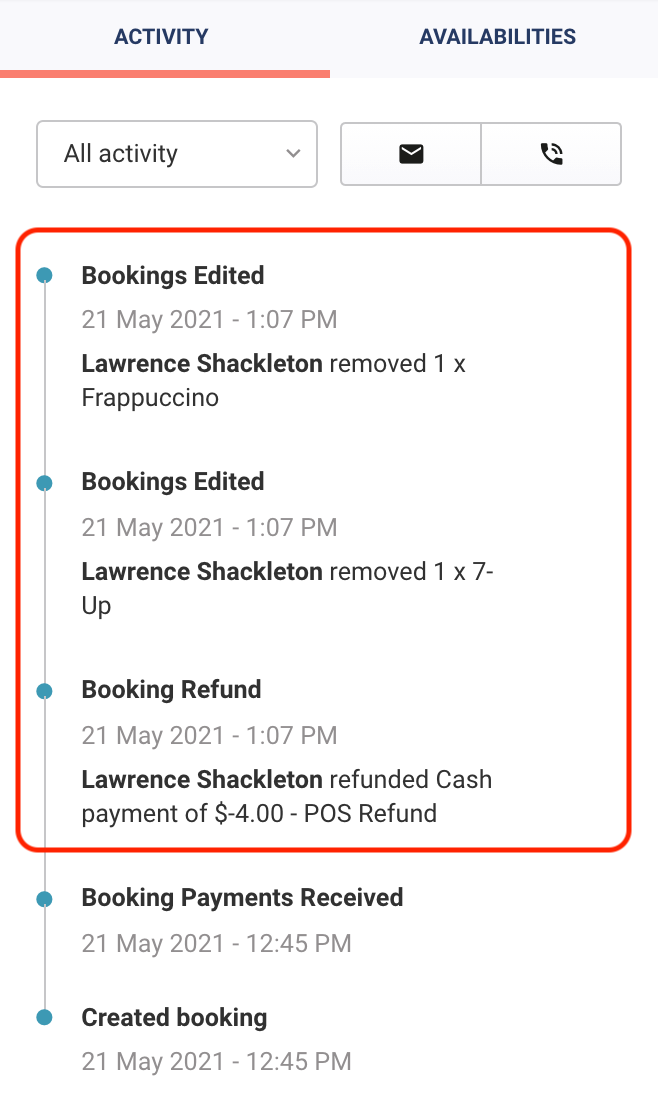 View refunds in reports
Refunds are listed in reports including Refunds by staff export and Detailed transactions report.