In this article, learn how to make the following changes to a product within a booking:
Before you can make changes to a booking, you will first need to find it in the Venue Manager. Click
here
to learn how
Change the date of the booking
1. From the booking details page, click on the Order tab
2. Under the booking items section, you can change the date by selecting a new date from the drop-down calendar. You will need to ensure this product is available on that new date you are selecting
If you are using the Sessions product, please note you won't be able to change the time using this method, please read 
this article
 if you require to change a Session time.

Change ticket quantities
1. From the booking details page, click on the Order tab
2. Under the booking items section, click on the text box for Qty for the tickets/products you want to adjust, and type in the ticket quantity it's being adjusted to. You can also use the arrows to adjust the quantity of the ticket

 
Remove a product/item completely
1. From the booking details page, click on the Order tab
2. Click the trash can / bin icon next to the product to remove it from the order. An undo button is going to appear in the bottom right of the screen that you can click if you've removed the item by mistake. Please note that this option will disappear once you finalize the change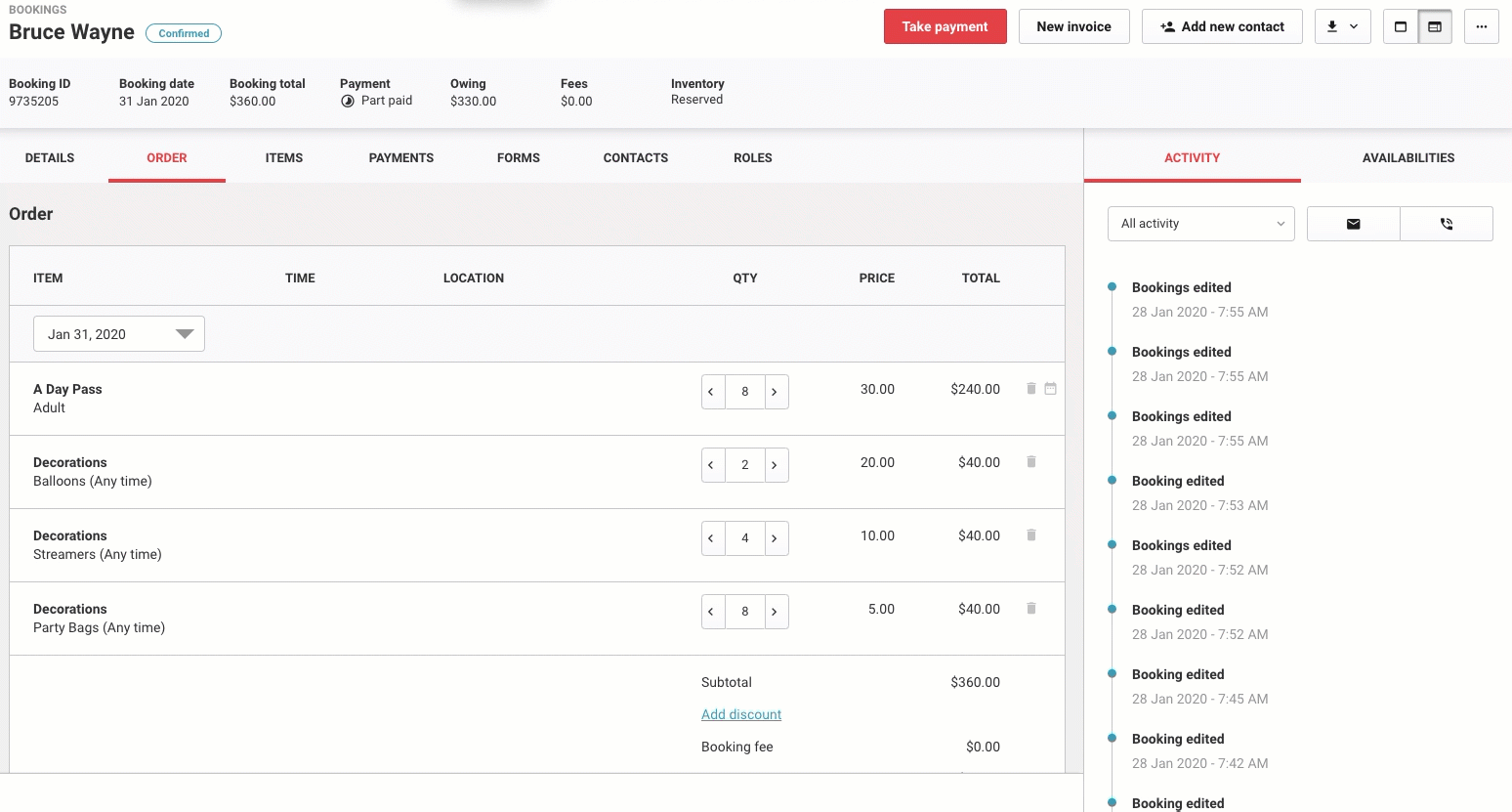 Finalize the change
Save changes
Press Save & Reserve to finalize changes to the booking
Adjust booking payment
If you have added more to the order, it will update the booking total and let you know next to the payment the figure that is owing. It will also have buttons prompting to Take payment or create a New invoice. Click here to learn more about adding payments to an existing booking. 
 If you are reducing the order total, the amount under owing will state overpaid. Click here to learn more about refunding a payment in Venue Manager. 
Add booking note
This optional but we highly recommend making this part of your staff processes. Click on the Details tab, and click Add Booking Notes -  e.g. "Originally booked 8th April- changed booking to 20th May by Staff Name DD/MM/YYYY". Click Save so that in future, it can be referred to by yourself or other staff members. 
 
Send new email confirmation
If you need to send an email confirmation to your customer, click the more button in the top right corner of the screen and click Send confirmation email, a pop-up modal will prompt you to confirm the email address.