This article explains the reports available for venues using ROLLER Payments for ecommerce and point of sale transactions.
In this article:
ROLLER Pay Daily Summary
This report shows a daily summary of your ROLLER Payment authorisations, refunds, chargebacks and fees grouped by day, channel and payment method.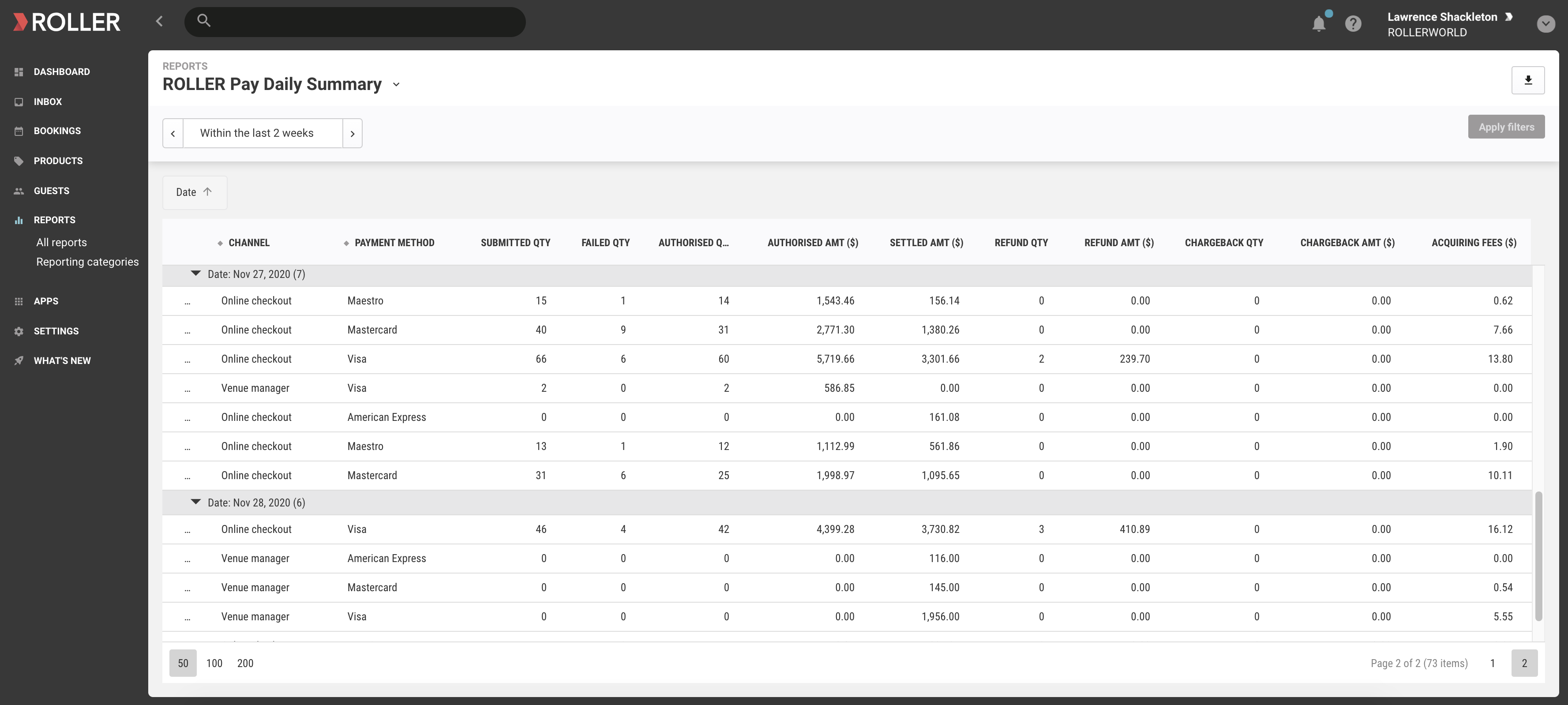 For each payment method you will see:
Submitted quantity - Total count of transactions submitted for authorisation.
Failed Quantity - Total count of submitted transactions that failed to be authorised.
Authorised Quantity - Total quantity of authorised transactions.
Authorised Amount - Total value of authorised transactions.
Settled Amount - Total value of settled transactions.
Refund Quantity - Total quantity of refunded transactions.
Refund Amount - Total value of refunded transactions.
Chargeback Quantity - Total quantity of chargeback transactions.
Chargeback Amount - Total value of chargeback transactions.
Acquiring fees - Scheme and interchange fees levied by acquirers on settled funds.
The amount paid out to your account (Settled amount - refund amount - chargeback amount = payout).
Use case
View acquiring fees for each payment type. Note your processing fees are not displayed here but can be found on your monthly invoice.
View a summary of transactions occurring on your account on a specific day.
ROLLER Pay Daily Balance
This report will show you all of your settled funds and pending transactions in a summary view. Use this report to see the funds that are settled and are going to be paid out to you. When a payment is made, you can view the status of the individual transactions using the ROLLER Pay Transactions report. Then, use the Daily Balance report to confirm that the settled funds have been paid out to your nominated bank account.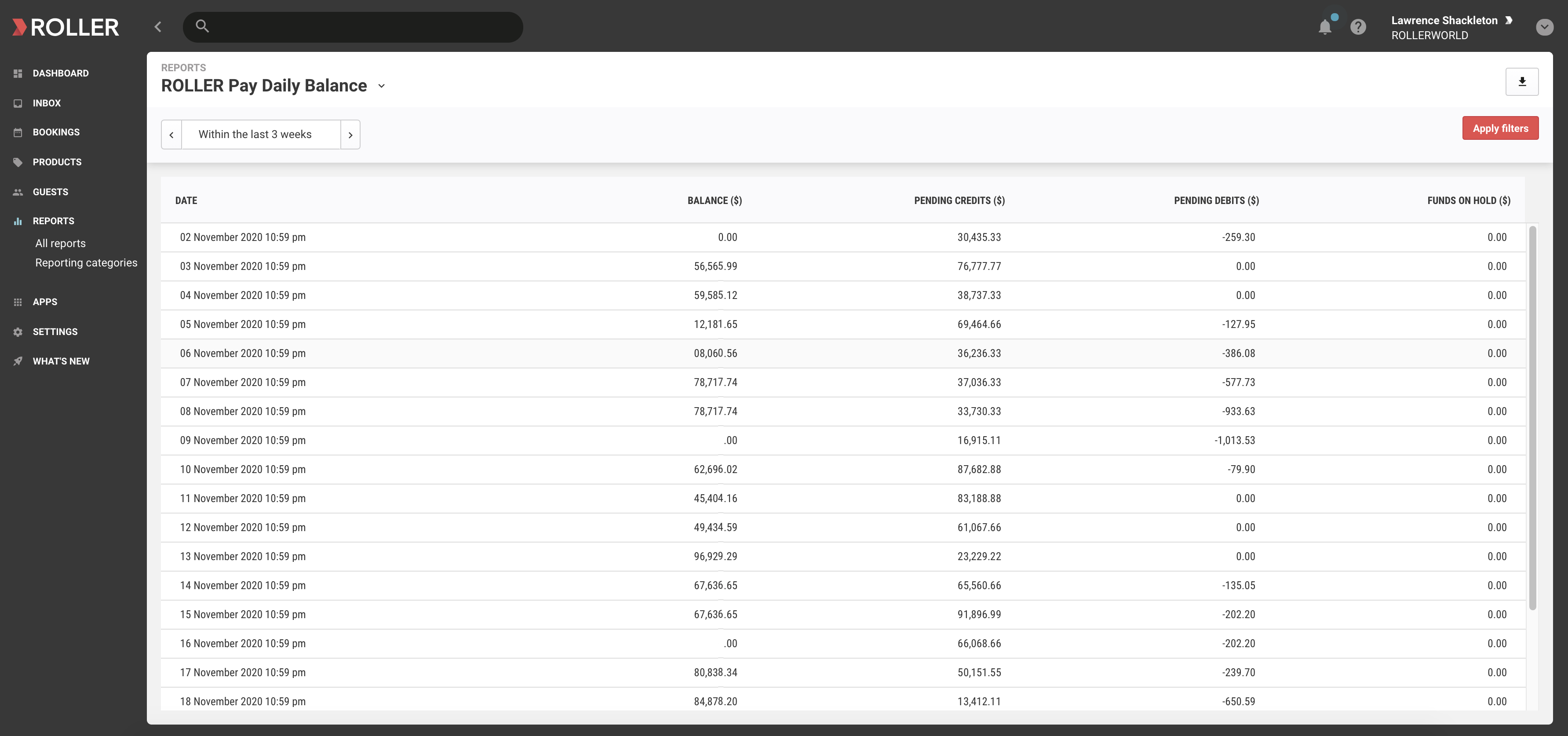 Paid out funds are deposited within your nominated bank account within 1 to 3 business days from the date listed on this report (does not include weekends or public holidays).
Balance - This is the sum of settled funds in your ROLLER Payments account available for payout. When you receive a payout the balance will decrease by the amount of the payout.
Pending Credits - This is the value of authorised transactions that are yet to be settled.
Pending Debits - This refers to refunds, chargebacks and associated fees.
Funds on hold - Funds ready to be paid out at the next payout.
Use case
Work out exactly how much you will receive in your bank account.
View amounts and dates of historical payouts.
ROLLER Pay Transactions report
This report will show you a detailed list of transactions, settlements and payouts according to the filters, date range and any search parameters you may have entered.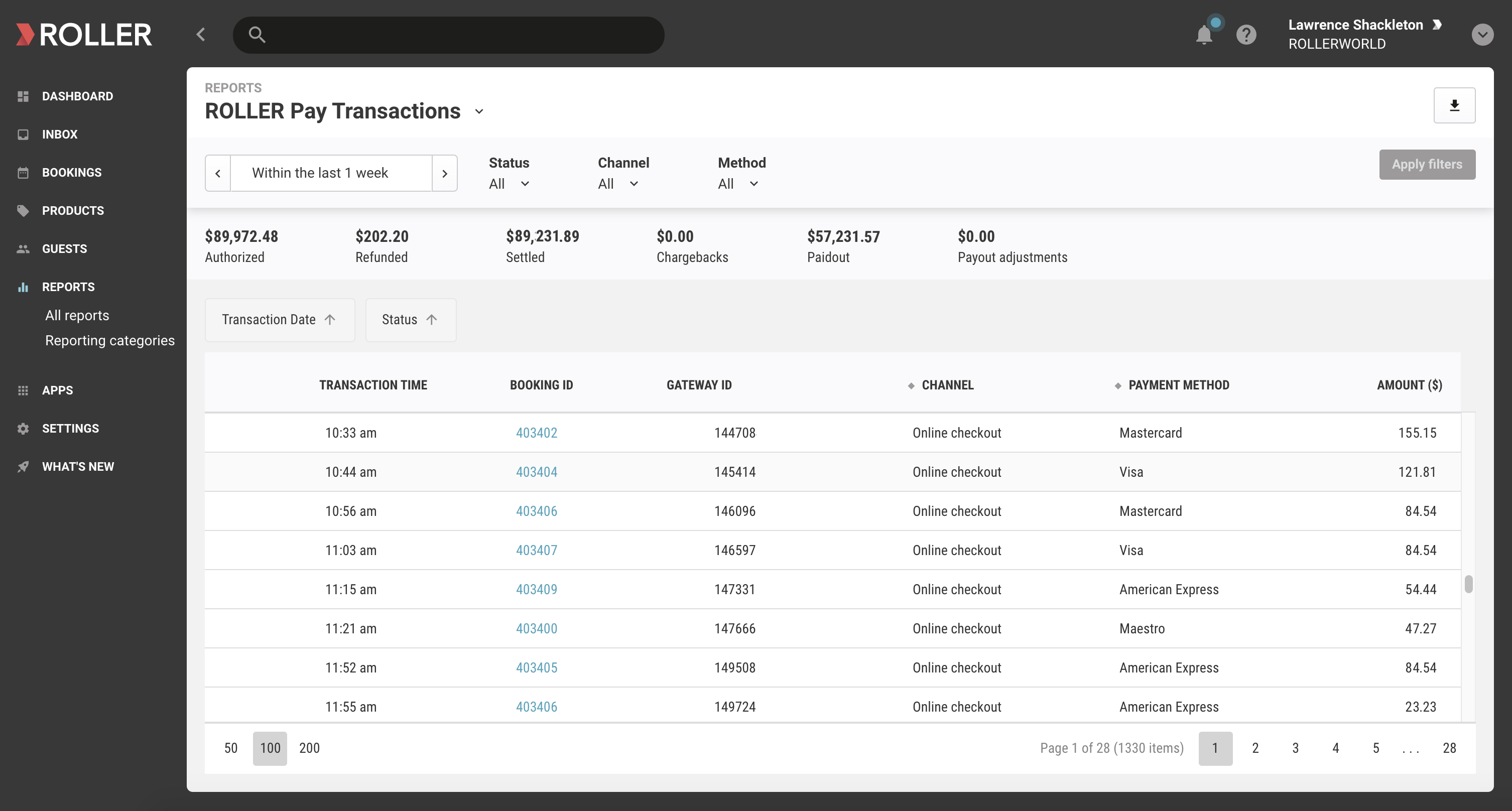 For each transaction, you'll see:
The date and time the transaction took place
The booking ID
The gateway ID
What payment method was used (e.g. Mastercard, Visa, Sofort, iDEAL)
The status of the transaction (e.g. Authorized, Refunded, Settled, Chargeback, Paid out)
The channel the transaction took place at (e.g. POS, Online checkout, Venue manager, Recurring billing, API, Data import)
The dollar amount of the transaction
Use cases
View which guest processed a specific transaction
Click on the booking ID of any transaction to open the booking side panel with information on the booking holder associated with the payment and to navigate to the booking.
Identify the current state of transactions
Use status filter or group the transactions by status
View settled funds that are going to be paid out to you.
Use this report along with the ROLLER Pay Daily Balance to track and reconcile transactions and payouts.
Identify which transactions are included in each payout. To do this, ensure your date range is for the payout schedule (i.e. 1 week) and filter the data in the report by 'Paid Out' status.
See how to video here.
Things to know
The balance of funds are paid out in accordance with the payout schedule in your ROLLER Payments contract. Typically this is weekly on a Monday.
Paid out funds are deposited within your nominated bank account within 1 to 3 business days from the date listed on this report (does not include weekends or public holidays).

All data is provided directly from our payments partner, Adyen.

Data is populated/updated daily.

If this report is missing, contact support