Production management is currently in Beta and is only available to Beta customers. If you'd like to take part in the Beta, reach out to your account manager or the
support team
for more information.
Print stations in ROLLER allow you to easily manage production docket and receipt printing at POS from one central place in Venue Manager.
Simply create a print station for each of your printers to set where your printed production dockets and receipts (and tickets) go each and every time a transaction is made at POS. You can even set specific food and beverage dockets to be automatically sent to a production area's print station and set up a backup docket printer.
This guide will walk you through how to create your print stations for production management.
What you'll need
Production management is available for customers using ROLLER Payments on all plans.
To complete the print station setup, you'll need to finish configuring printers for production management. This includes configuring the printer's static IP address to enter into its print station.
You can, however, start setting up your print stations first, and enter the static IP address when you've finished configuring your printers.
Learn how to configure printers for production management
Plan the print station setup
Setting up print stations in Venue Manager can help you plan production management at your venue. For example, a common scenario for cafe order printers could be:
A cafe print station for receipts
A hot drinks print station for dockets
A production area print station for hot food order dockets
The cafe print station set as the backup docket printer for the hot drinks and production area printers
When planning your print station setup, consider the following points:
A POS device can print receipts to one printer only. If the POS device is configured to print tickets, they are also printed to this printer.
A POS device can print dockets to multiple different docket printers. For example, a coffee docket to a hot drinks print station and a hamburger docket to a production area print station.
One printer can have many POS devices connected to it. For example, you can have one centralized printer, with all POS devices at your venue connected to it, which prints dockets, receipts and tickets.
Backup printers can only be set for docket printers.
Set up your print stations
Follow the steps outlined below to create each of your print stations in Venue Manager.
From Venue Manager, go to Settings > Print stations.
Select Add printer.
Complete your printer Settings.



Name

Add a unique name for your print station. This name will appear on your production dockets. If a docket is printed to a back up printer then BACKUP will be appended to the printer name.

Model

Select your printer model from the drop-down. Currently ROLLER supports three EPSON ePOS models, and these are listed in the drop-down. Learn more

Printer IP address

Enter the printer's static IP address if you've already configured your printers, then select Test print to check the connection with the printer.

If you haven't configured your printers yet, you can leave this field blank, continue with the setup, then enter and test this connection later. Read on for more information.

Function

Select either Receipt printer or Production docket printer (or both).

If you've selected Production docket printer, it's also recommended that you set up a Backup printer for dockets.

This is an important backup in case the primary printer has problems. Printing switches to the backup automatically, so orders are still printed, and guests get what they ordered. For example, a cafe receipt printer can be the backup for a production area printer.


If you select Production docket printer in the step above, then you will also need to specify the food and beverage items (stock products) you'd like to print to this print station.

Under the heading Docket printing, select either All stock items in order or Selected stock items only. For example, you could have a docket printer next to your coffee machine that only prints hot drink orders.


Select the POS devices you want to connect with the printer. You can select multiple POS devices to print to the same printer. Then select Apply.
When creating or editing a stock product, you can also add the print station you want the docket to print to in its product settings, and it will automatically update in the corresponding print station in Venue Manager.
Learn more
Test the connection to the printer
Once you enter the static IP address into its print station, you can run a test print to confirm that the printer is connected. You can do this at anytime to check the connection with the printer.
Next to the Printer IP address you've entered, select Test print. You will then receive one of the below messages.


Printer is ready
to use

Connected

Cannot connect to
printer. Check IP
address.

Not connected. This error message means that the set up is not correct. To troubleshoot, learn more

Incorrect IP address
format. Please review.

Not connected. This error message means that your IP address doesn't follow the expected format. To troubleshoot, learn more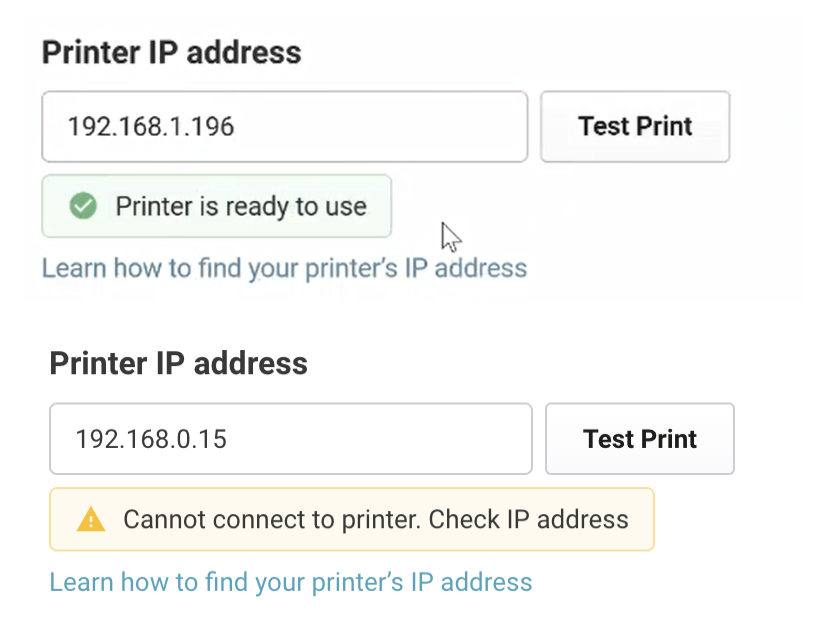 Customize receipt and ticket templates
Before using production management, you can fully customize your receipt and ticket templates. Personalized receipts help guests recognize receipts, prevent payment disputes, and allow you to include promotions to encourage repeat visits. Learn more
Configure POS settings
You'll also need to check and confirm global and individual POS receipt, tipping, docket and cash drawer settings. Learn more
All printers are ready to use
When all print stations and corresponding printers are connected and ready to use, reach out to the support team to switch production management on at POS. You must have:
Created your print stations and completed successful test prints in Venue Manager.
Customized your receipt and ticket templates for printing from POS.
Confirmed global and individual POS and cash drawer device settings important for production management. Note that the individual POS device setting for opening the cash drawer for cash payments only appears once production management is switched on at POS. The default is set to YES.
Keep in mind
When switching on production management at POS, it will take over the printing of receipts, tickets, dockets and till reports.
Once production management has been enabled at POS, perform test prints from POS to confirm receipts and dockets are printing to the right place.
If you're an existing customer and any issues occur, the support team can switch off production management and printing will revert to your previous setup using ROLLER Connect.
Error handling at POS
Once production management is all set up and enabled for your venue, you and your staff will be able to troubleshoot docket printing issues directly from POS. Learn more