This article shows the guest (recipient) experience when receiving a digital gift card from ROLLER.
When purchasing a digital gift card in ROLLER, the recipient receives an email notifying them that they have received a gift card from the purchaser (time set by the purchaser).
What the digital gift card email looks like
The email will look exactly how you've customized the Gift card received email template (Pro plan & above) from email templates in Venue Manager.
Here's an example digital gift card email below.
The gift card number (#) is in the top right of the email.
Gift card QR code for redemption in venue at POS.
Expiry date.
Gift card written or video message.
Product instructions (ie how to redeem the gift card). When configuring the gift card, point out in the product instructions where the recipient can find the gift card number and how they can redeem the gift card number online for bookings. You can also include a link to the online checkout as shown in example below.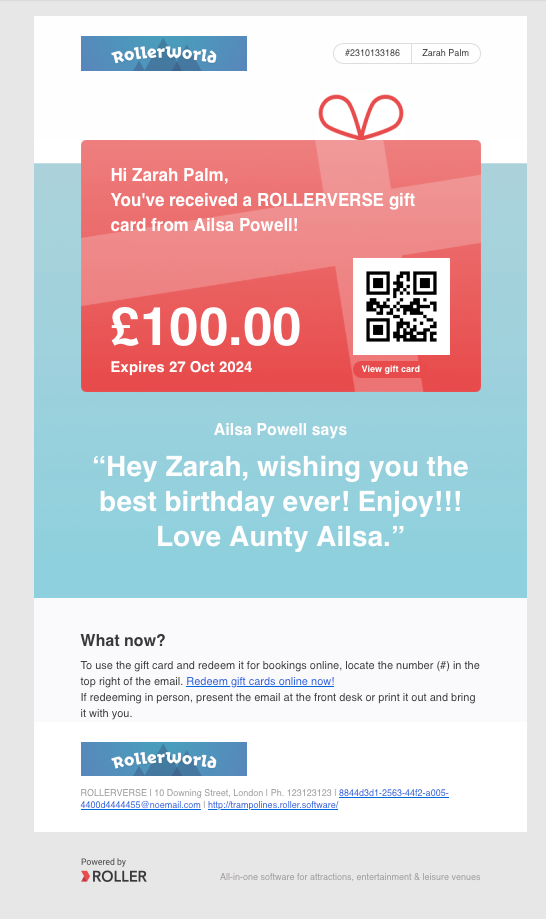 View gift card
When the recipient selects View gift card in the email above, they will be taken to a new page for the digital gift card showing the following details:
Gift card redemption message

Gift card number under the QR code. The guest uses this number to redeem the gift card for bookings through the online checkout.

Expiry date

The gift card balance which updates automatically.

Any written or video message from the gift card purchaser.

Terms and conditions
You can customize the redemption message that appears here in the gift card product settings. The recipient can also print a PDF friendly version of the gift card.