The Revenue Recognition report shows your venue's revenue position in terms of accrual accounting practices. Accrual accounting reports are available on Pro and Enterprise plans.
The
role permission
Can access Accounting reports
is required for staff to access the Revenue Recognition report. Administrators and managers have this permission enabled by default.
What is this report used for?
The purpose of using this report is to see the financial position of your venue with regards to specific accrual accounting metrics, where revenue is recognised when you provide the service (ie when a guest goes to your venue and gets checked in).
This report is quite complex and requires knowledge of accrual accounting practices to understand. If you'd like to learn how to use the report, contact your account manager or our support team to arrange a custom training session.
How does it work?
There are three types of entry:

Transaction - Any time you take a payment or issue a refund this will generate either a positive or a negative transaction event

Redemptions - When an item is checked-in at POS this will show as a redemption event

Expiration - If an item becomes no longer valid and has not been redeemed, this will show as an expiration event on the expiry date. For example if you book a jump session but do not show up/get checked in, the ticket will expire at the end of the session and the revenue will be recognised

Every single ticket is broken down to each line and it will always have a positive and negative entry, which balances out

In the case of gift cards, if someone buys a gift card and uses that gift card to buy something today, it will immediately go from gift card deferred revenue to revenue. However, if it is for something to be used next week, it will move from gift card deferred revenue to deferred revenue, and then once that booking is redeemed/expires the revenue will be recognised against that product

The matrix on the top shows the changes in deferred revenue and not the actual deferred revenue for that particular time frame. We are currently working on a separate report for this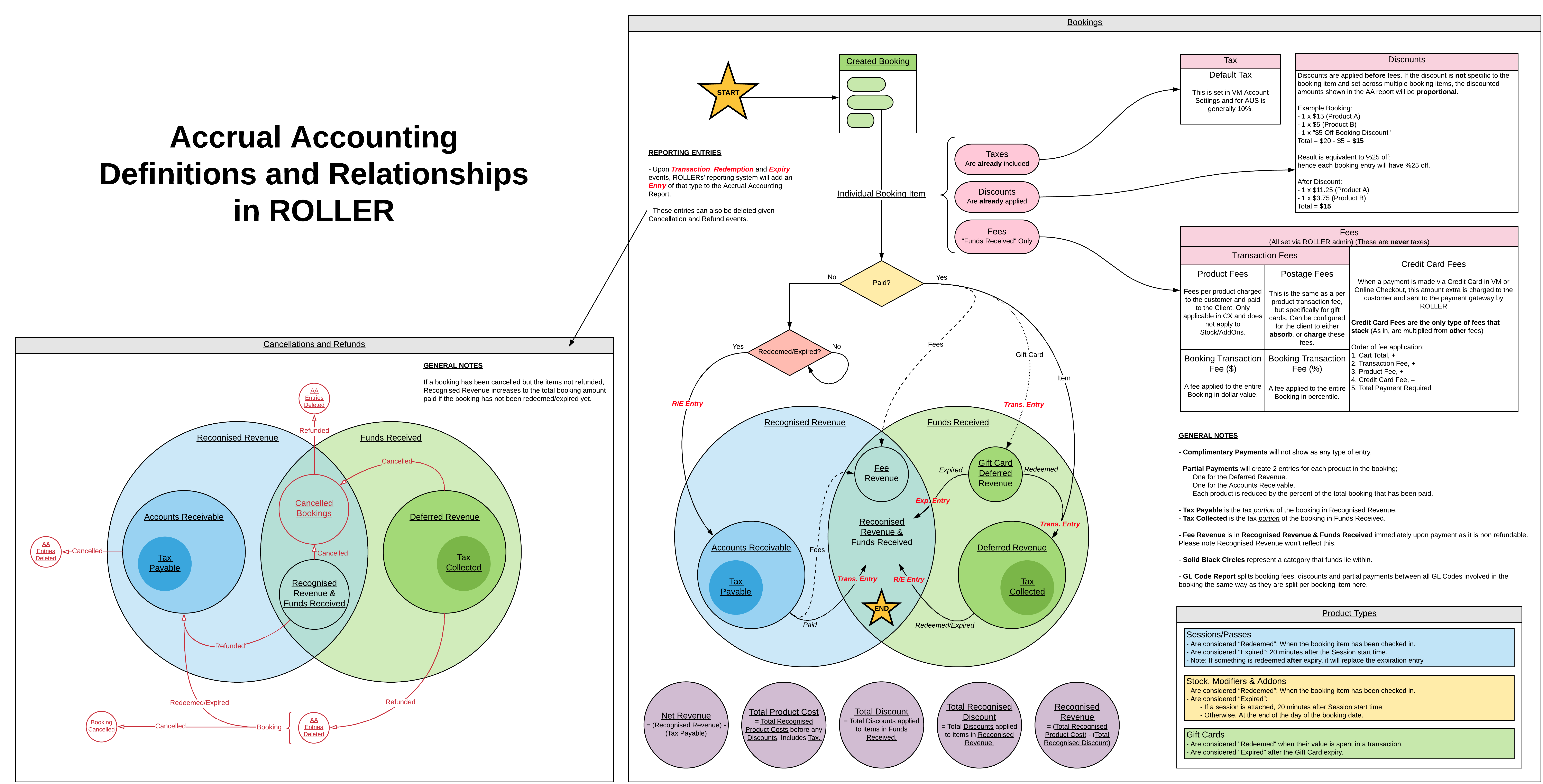 Click here to download detailed diagram on how accrual accounting definitions and relationships in ROLLER.
What data can you see?
You can filter the report by booking device, product, payment type, and redemption device.
Channel - this filter is used to select where the transaction was processed. Some things to note:

Online Bookings Only

refers to transactions made via your online checkout, and will go through your online payment gateway. These will all be either Credit Card or Paypal

POS

refers to transactions made via ROLLER Point of Sale at the venue. You can select individual POS devices with this filter

Venue Manager refers to transactions processed by staff members in the ROLLER Venue Manager
Kiosk refers to transactions processed through the Self-Serve Kiosk

Product - this filter is used to include or exclude certain products from appearing on the report. Leaving it blank will include all products including archived product if there is a booking for that product on the selected date range. If you click "select all", it will only include products that are active as at the day you run the report
Payment Method - this allows you to select the tender type used in transactions

Credit Card covers all online and POS Credit/Debit card transactions taken
Credit Card Auth are pre-authorised credit card transactions. Note that this is a very uncommon method of payment
Cash is all cash transactions processed in POS and any transaction marked as paid by cash in Venue Management/Admin
Eftpos is all Eftpos transactions processed in POS and any transaction marked as paid by Eftpos in Venue Management/Admin
PayPal is all transaction paid via PayPal (only if you have PayPal enabled in your venue)
Other is when you mark the payment made by "other" avenues in Venue Management/Admin
Gift Card tender type refers to bookings that have been paid for via redeeming a gift card. This is not actually money received, as the gift card have been paid for separately at the time of purchase
Bank Transfer refers to all the transactions marked by paid by Bank Transfer in Venue Management/Admin
BPay refers to all the transactions marked by paid by BPay in Venue Management/Admin
Cheque refers to all the transactions marked by paid by Cheque in Venue Management/Admin
Prepaid is only relevant if you have tickets from a third-party provider

Redemption Device - this filter is used to view the redemptions on specific POS devices.
To adjust the column displayed on the report, right click the list of items. The columns available are:
Record Date is the time at which the transaction, redemption or expiry entry occurred
Entry Type is whether the entry is a Transaction, Redemption or Expiry
Product Name is the name of the Product the entry is from
Ticket Name is the name of the specific ticket type the entry is from
Gross Revenue is the amount of revenue that was recognised on the entry including tax and fees, and excluding any discounts applied. Revenue is recognised when a ticket is redeemed or expires. For example, if a booking is expired and there is a partial payment, the amount that is paid goes from deferred revenue to recognised revenue and the balance that is not yet paid goes to accounts receivable
Fee Revenue is the amount of fee revenue included in the recognised revenue
Deferred Revenue is the amount of deferred revenue on the entry. Revenue is deferred when you have received the funds for a booking/ticket however it has not been redeemed or expired yet.
Deferred Revenue (Gift Cards) is the value of deferred revenue shifted to a gift card from that entry. Gift Card deferred revenue is when you have received the funds for the purchase of the Gift Card but it has not yet been redeemed or expired.
Discount is the discount applied on the ticket in the entry
Accounts Receivable is the amount of accounts receivable on the entry. Accounts receivable is when a ticket has been redeemed or expired but you have not yet received the funds from the guest. Accounts receivable is the balance outstanding
Funds Received is the amount of money received on the entry. Total funds received includes tax and discount
Booking ID is the booking reference number in ROLLER that the transaction was against
Payment Status is the current status of the booking, eg. Fully paid, partially paid, cancelled
Payment Type is the tender type used to pay for the booking
Payment Gateway ID is the identifier from the online gateway your venue uses
Location is where on the ROLLER system the booking was made, eg. Online vs POS
Redemption Device is which POS device the ticket was redeemed on
Ticket ID is the unique ID number for the ticket. If custom ticket ID is used, it will not show the custom ticket ID number and will still show the original ticket ID number
GL Code is the GL code assigned to that ticket type (if applicable)
Tax Percent is the tax rate that product is charged at
Tax on Funds Received

is tax on the funds of all the money taken today. This should mirror the Tax Collected

Tax Payable

is tax on recognised revenue for the day

Net revenue

is your after-tax revenue

Redemption Device

is a filter used to view the redemptions on specific POS devices



FAQs
What is the difference between accounts receivable and deferred revenue?

Accounts receivable is the amount owing on a booking that has been redeemed or has expired, deferred revenue is the amount paid on a booking that has not yet been redeemed or expired

What is the difference between total recognised discount and total discount?

Total recognised discount is the discounted amounts on recognised item only, whereas total discount is the value of discounts on funds received

Why is the difference between tax payable and tax collected? Tax payable is the tax on your recognised revenue (redeemed and expired items) and tax collected is the tax on funds received (regardless of whether the items have been recognised or not)
How are multi-use passes recognised in this reporting? Currently, all revenue for multi passes will be recognised on the 1st redemption. So if you have a 10 use pass worth $100, all $100 will move from deferred revenue to recognised revenue upon the first check-in