The Gift Card Sales report shows the amount of gift card sales within a selected date range and aggregated total per gift card denomination per date. The date filter is based on the date the transaction is made

What is this report used for?
The purpose of using this report is to see the total sales per gift card value per date for the dates within a selected range. Venues will use this to track gift card sales for specific periods for reporting and tax purposes.
Summary metrics at the top will display total value of gift cards and the total discounts applied.
What data can you see?
In order to adjust the column displayed on the report, select the columns icon:
​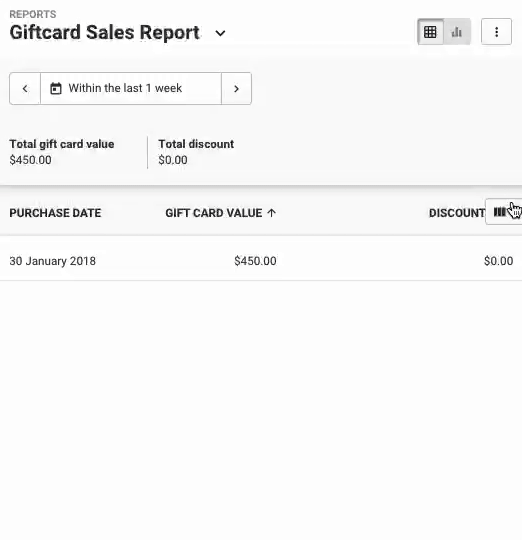 The columns available are:
Purchase Date - the date for which the sales occurred
Quantity - numbers of gift cards sold
Gift Card Value - the total combined value of all gift cards sold on this date
Discounts - value of discounts which includes complimentary amounts for gift cards

How do you adjust the Report?
Click on the date button and select the date, date range or time period you want to run the report for. Click Apply and the Apply Filters
The Total gift card value and Total discount summary will update accordingly, you can also sort each column in Ascending and Descending order 
​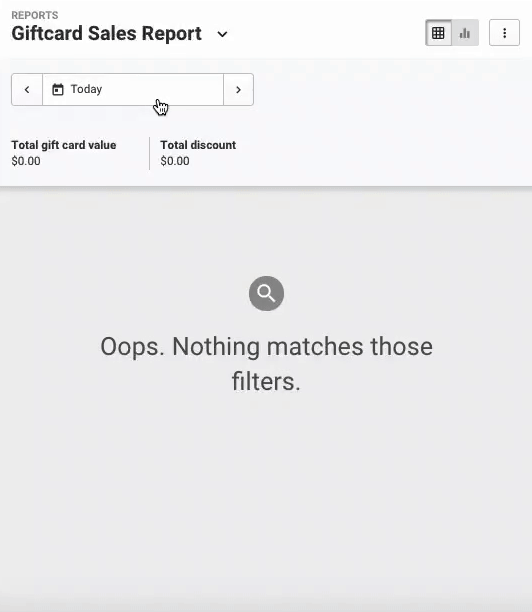 ​
The filter available for this report is:
Date
This filter allows you to see the transactional value within a set date range:  
Today
Tomorrow
Yesterday
On - choose a specific date
Between - allows you to select on the calendar
Within the last... - lets you allocate a number to Day, Week, Month or Year 


Frequently Asked Questions
How is this report different to the View Gift Cards page in ROLLER Venue Manager?
This report is very similar to the Gift Cards page and brings in the same data, however this report allows you to filter to specific dates as opposed to showing all records of the Gift Card sales, it also allows you to get the total sales amount for that period