A Checkout is an online tool used to sell selected products. You can customize which products to sell on the checkout flow and either embed into the website using an iFrame code or use a click-off solution
It is important to note that you are publishing a product to be for sale on a live checkout it will be immediately available to guests online.
How to create a Checkout
1. Go to Apps > Create Checkout


2. Give the Checkout a unique name and this will automatically generate the URL- do not use special characters or punctuation


3. Configure the Date Settings:
The use date selector setting is automatically checked and should remain this way if you want to give guests the ability to select a date for their intended visit. If the product is only available on one set date, we highly recommend unchecking this setting. See example here.
Set checkout date - check this if the product(s) on the checkout are only on sale for a particular date. Once selected, choose a date from the calendar that the product occurs on. See example here.
The Donations option is available if the Donations module is activated, it allows to create Donations using the add on functionality. This option allows you to create a Donation-only checkout or automatically add donations to each product
If the product is not displaying after adding it successfully to a checkout, we highly recommend checking the product configuration to see what date/s the product is available for as well as any sales settings
4. Fill in the Products Page Details, the next few options are all optional:
Page title - introduce the guests to your product offerings, this can only be set at a maximum of 60 characters. The page title will only appear if you add a description too.
Image -

(640 x 390 pixels, format: GIF, JPG or PNG, must be less than 1MB). This will appear above existing products, under Page Title and next to the description

Description/instructions -

use the WYSIWYG editor to input a description. This area can be used to promote a special offer with a link to another checkout flow/webpage
Click here
for an example of how these settings will look
5. Set and select products by clicking on the Search box, type in the product name and from the drop-down, select the product to add. To rearrange the hierarchy, hover over the product and use the arrow icons to change the order or hit the delete button to remove
Use groups in product listing setting allows grouping products into categories such as Tickets, Multi-passes and Gift Cards. Give the group a name and rearrange your products using the arrow icons accordingly, click 'Add Product Group' if you need to add more groups. Please note that all product listings in the checkout flow must be either grouped or ungrouped as it is not possible to group some and have others ungrouped. See above video for advice on configuring groups.
A checkout that contains a single product will be expanded by default, however if there is more than one product, each product in the list is collapsed to save space. To choose a ticket type, a guest must first click the product to expand it. Checking the Expand products setting will eliminate this step, but bear in mind that the page could become very long if the checkout contains many products and ticket types.
6. Add another Product Page (optional) to upsell or create an even more profitable guest journey, add a second page to your checkout flow to sell more Passes, Sessions or Gift Cards, this page is not applicable to add ons.
For example, you may decide to promote one type of product on the first page and then on the second page, sell other products such as special events, offers or gift cards.
You will not be able to access the second page, without first purchasing an item on the first page.
Click Add another product page and create it as per previous instructions:
​​
You can only have
one additional page per checkout flow
.
To remove this, click the
Remove product page 2
button
.
A pop-up dialog will appear and ask to confirm deletion of the group
7. Configure Additional Settings, these settings apply to all product pages: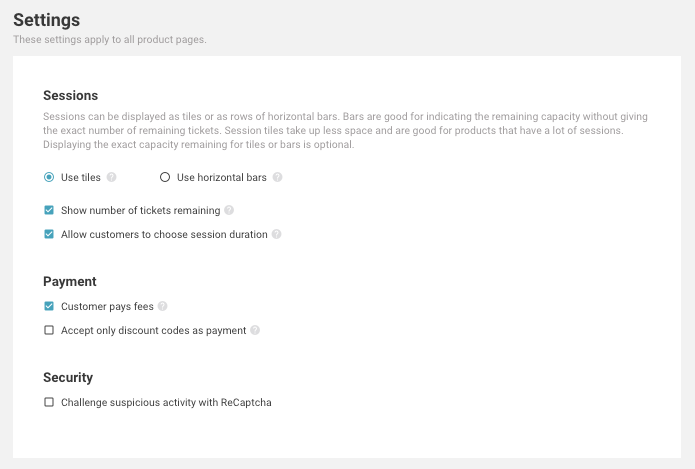 Use tiles or use horizontal bars are used to display the remaining capacity
Ability to show the number of tickets remaining - this gives guests the actual figure of spots or rooms available
Guests to choose their session duration - allows guests to select multiple hours if you are using consecutive sessions, this has to be configured in your sessions products to display on the checkout
Guests pays fees - override fee settings and ensure that guests pay fees in the checkout flow
If you want a visual explanation on how all these settings will look to the guest click here.
Accept only discount codes as payments - for example if using Multi-pass discount code functionality, you can have set it up so the check out flow can only be paid using a Discount Code.


Remember this option does not accept any payments via credit card or gift card, so please ensure this is the functionality required- if you select this method and have products that do not accept payments via discount code, this will prevent your guests from purchasing the product

Override URL (will only appear before saving for the 1st time) - if you don't want the pre-populated name at the end of your checkout flow link, highlight the text and type in the new name accordingly. The override URL can only have alphanumeric characters or dashes & can't be altered again once the checkout has been saved.

8. Publish the checkout by clicking Save
​​
Click here if you want to learn how to integrate your Checkout with your website.