This article will outline the requirements for using sticker ticket printers with ROLLER POS.
If you're using
production management
to manage printing at your venue, you can't print stickers from ROLLER POS.
Sticker printer requirements
Operating system: Windows 10 Pro.
Pro is required in order for us to be able to custom set the paper size.
Supported printers: Boca Lemur S
See FAQ for comments about other printers.
Template size: 12cm x 7cm (4.72inch x 2.75inch).
The dimensions of your sticker paper can be slightly larger however the size of the template is fixed so you will have blank spaces. If your paper is too small, parts of the sticker may be cut off.
Paper orientation: Portrait (see illustration)
The orientation of the paper MUST be portrait as it is not possible to rotate the template. The paper roll should be oriented so that the short edge feeds through the printer, see the illustration below as an example.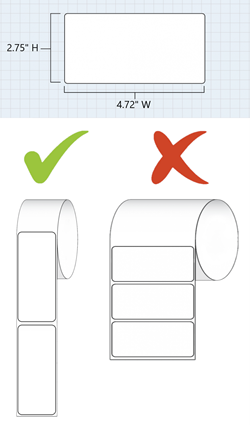 The sticker ticket template
Supported pass types: Session passes only
Standard passes, packages & annual passes are not supported for sticker ticket printing.
Information displayed:
Waiver name (Guests name)
Session start & end time
Pass name (not ticket type name)
Session date
Guest's age category (calculated using DOB from waiver)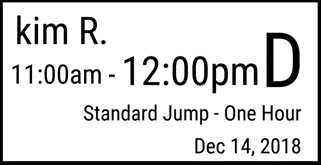 What does the 'D' mean?
The letters refer to different age categories of the guest:
A - Ages 0-4
B - Ages 5-10
C - Ages 11-15
D - Ages 16+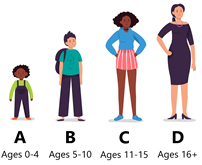 Customize your stickers
The sticker ticket template printed by ROLLER is fixed and cannot be customized or configured; however by using custom sticker paper rolls you are able to add your branding to the paper itself. When designing your sticker paper, please be careful around the placement of logos & text on the paper to ensure readability when the ticket template is printed over the top.
FAQs
Can I use a printer that is not on the list of supported printers?
We can print to other sticker printers however we will not be able to offer you support with them as we do not have experience working with them. It will be your responsibility to ensure that the paper size is correct and it will be your responsibility to install, configure & test the printers. We are not able to guarantee success with any other printers, and this is why we would always recommend that you use one of our tried & tested sticker printers listed above.
Will ROLLER set up my sticker printers for me?
It is your responsibility to install the drivers for the printer and to get the printer to the point where you are able to print a test page. Once the printer is installed, a ROLLER technical services team member will configure the necessary settings for ROLLER's sticker ticket printing.
Is the cost of the sticker printer setup included when I open an account?
The setup of any sticker printer is completed by our technical services team and is charged by the hour. You do get a number of training consultation hours that are included in your subscription, however these are for training consultations only.
Can the sticker ticket template be configured? I.e. Can I change what is printed on the sticker?
The template is fixed and nothing can be added, removed or adjusted. Any changes to the template will require a custom template to be created. Any requests are subject to our product committee review/approval and will incur a development fee.
Can I print sticker tickets for only specific session products?
Yes. Sticker ticket printing is set up on a per-product basis so can be configured for as few or as many session passes as you like. Note however that sticker ticket printing can't be enabled/disabled for specific ticket types within the same pass.
Can I connect multiple POS computers to the same sticker printer?
Yes, as long as your sticker printer supports this. Each POS device is individually linked to a sticker printer, so they can all print to the same printer or they can all have their own printer.
Can I connect one POS computer to multiple sticker printers (eg different printers for different products or session times?)
No, each POS device can only be configured to print to one printer. If you require tickets to be printed to different printers based on session time then our wristband ticket printing solution might be better suited to your business.