You can use the Daily Capacity view to get an overview of the number of bookings you have in each of your locations throughout the day.
Skip to:
Daily Capacity filters
To access the Daily Capacity View, within Venue Manager navigate to Bookings > Daily Capacity. When filtering the Daily Capacity view you have the following options:
Date selector - select the date you wish to view (default is today's date).
Locations - choose which locations are displayed.
Start time and End time - narrow to a specific time frame.
Products - view available time slots for a particular product or group of products. This will visually block out unavailable times.
The Daily Capacity view displays two categories of locations:
Multi-booking location
and
Single-booking location
, which can be displayed or hidden by clicking the toggle switch arrow. You can read more about creating locations
here
.

Once filters have been selected, the page will update to show real-time figures. Hovering over the colored tiles will display how many people are booked in and how much capacity is still available for that time slot against the location.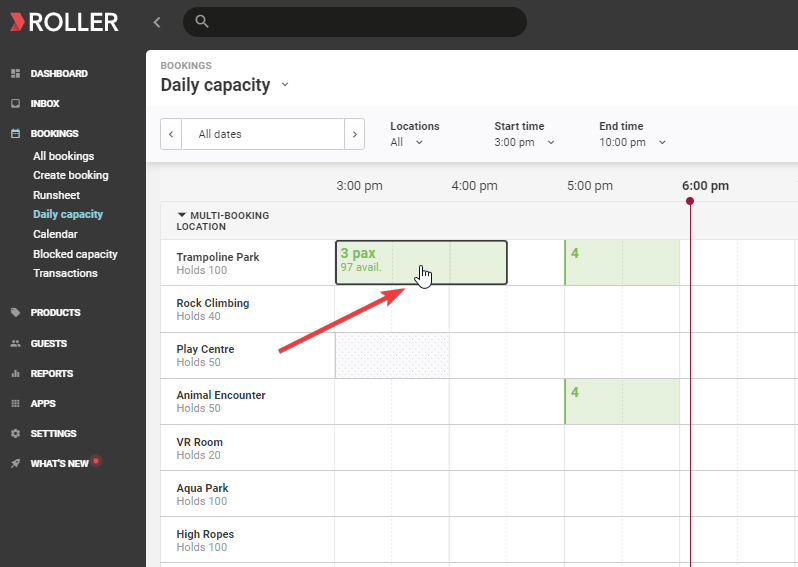 Key

Viewing bookings
By clicking on a location, a side panel will slide out to show all bookings for that location for the date selected.
Clicking on a timeslot for a location will show a list of bookings for that location for that time frame.
If there is only one booking for the time slot, it'll automatically show the booking details for that specific booking.
If there is a list, clicking on a specific booking will give an overview of the booking with the option to view the booking ID in full detail.
Create a new booking
Filter to display the products you wish to book.
Hover over a timeslot in a location that has no bookings and click the Add button (+) - this method can only be used for single-booking locations.
This will prompt to add items and navigate to the booking flow to finalize the booking.


Save view
If you're consistently using the same filters when viewing the Daily Capacity view we recommend saving views to save time.
To save a view click the drop-down arrow next to the Daily Capacity heading.
Click Save new view.

Clicking Reset will change it back to the default view.





Give the view a name and click

Save.


Export
To export the Daily Capacity view into a CSV file - click the Export (.csv) option and it will automatically download the file.