This article will show you how to use the daily capacity page to get an overview of the number of bookings, redemptions and available capacity you have in each of your resources throughout the day.
Overview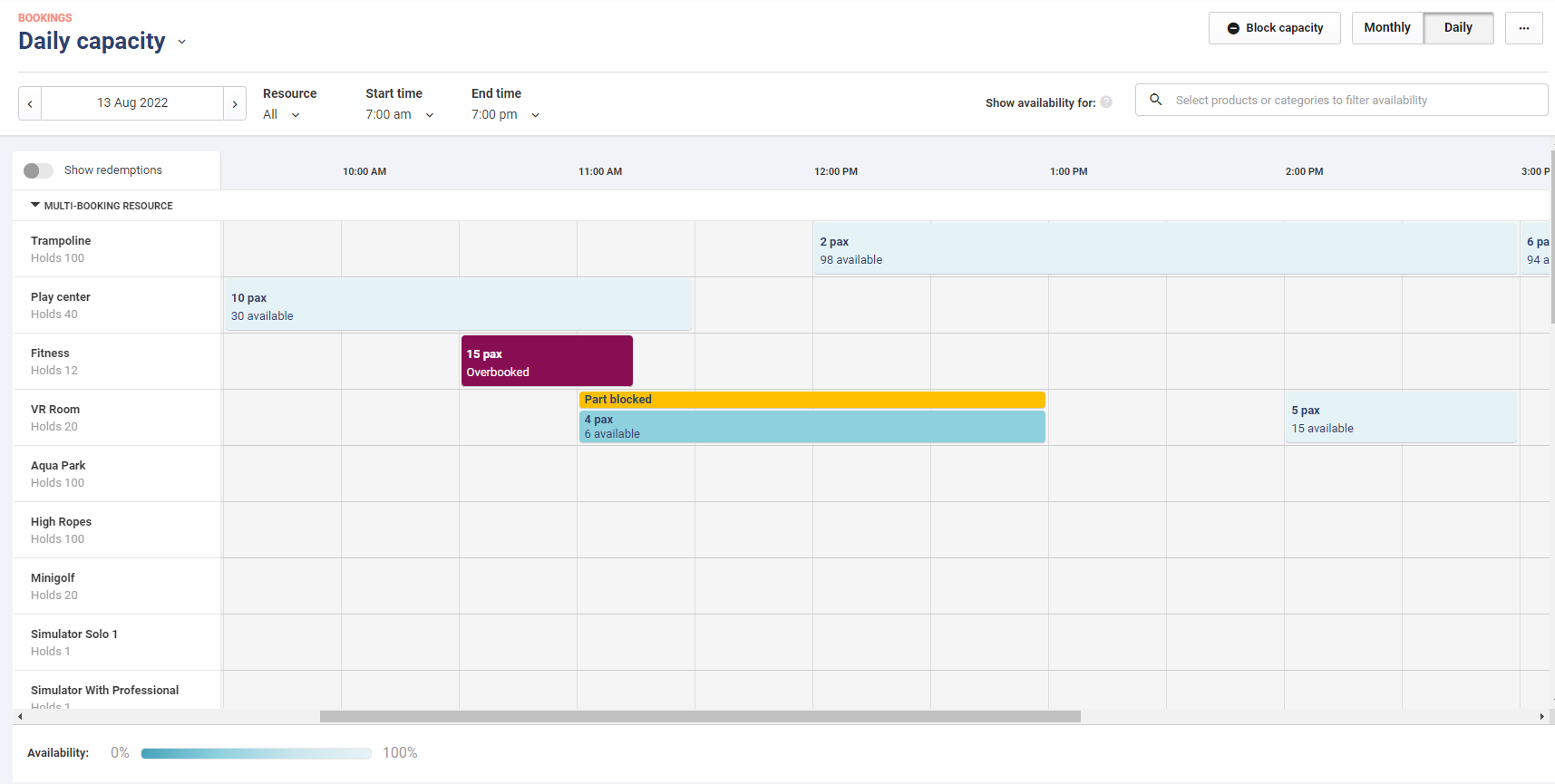 To access the Daily capacity, go to Venue Manager > Bookings > Daily Capacity.
The Daily capacity page displays the capacity and redemptions for your venue based on resources in your venue and the time during the day. You can also drill down into specific resources to access individual booking data as well as begin the create booking process.
Viewing capacity
By default, you can see the capacity for each resource in your venue, which includes:
Number of people (pax) booked per resource per time period
Number of individual bookings
Remaining availability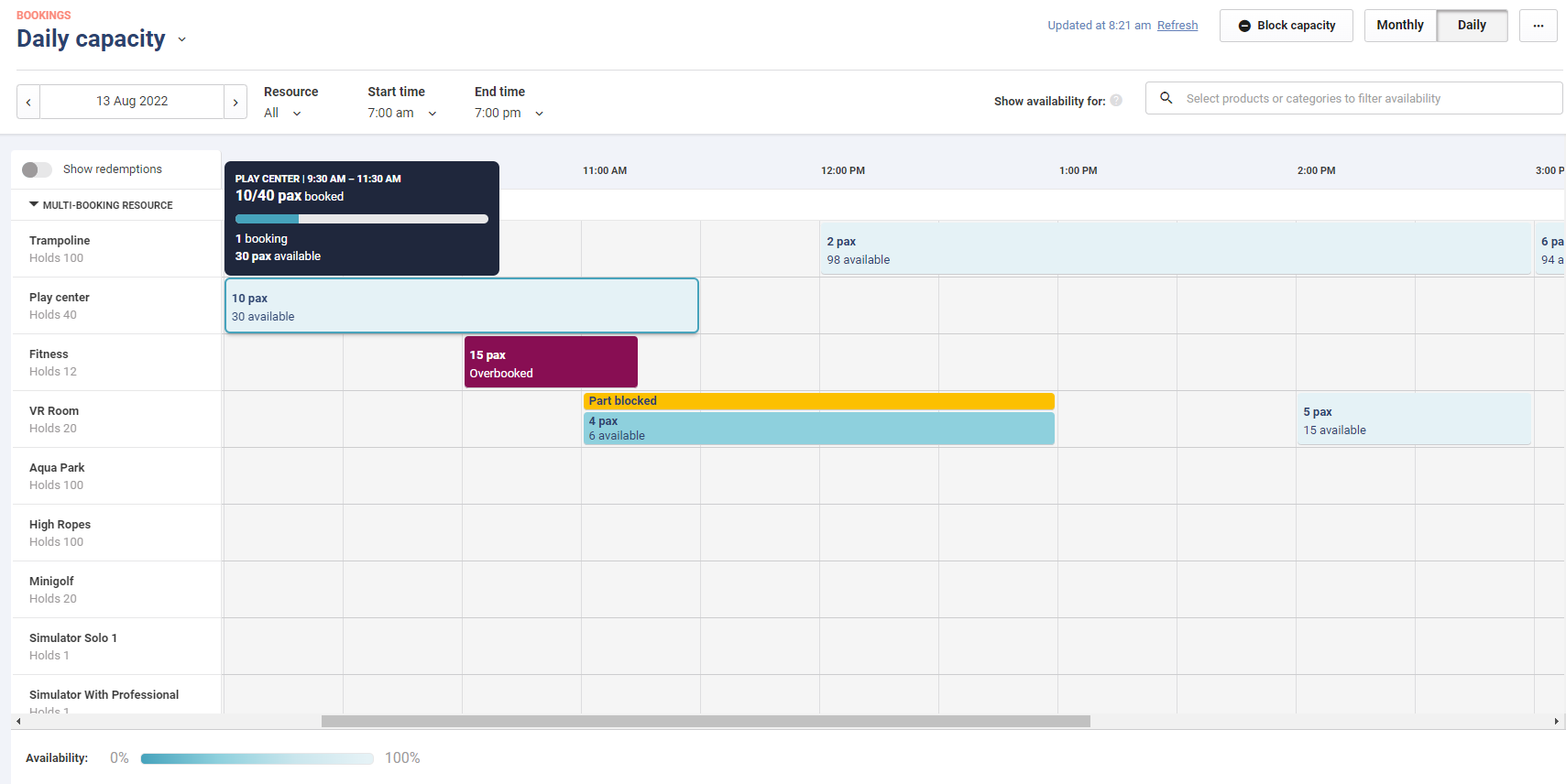 Viewing redemptions
Enabling Show redemptions toggle adds redemption data (the number of tickets redeemed) to the page. When redemptions view is enabled, this will show:
Number of tickets redeemed per resource per time period
Number of bookings
Remaining availability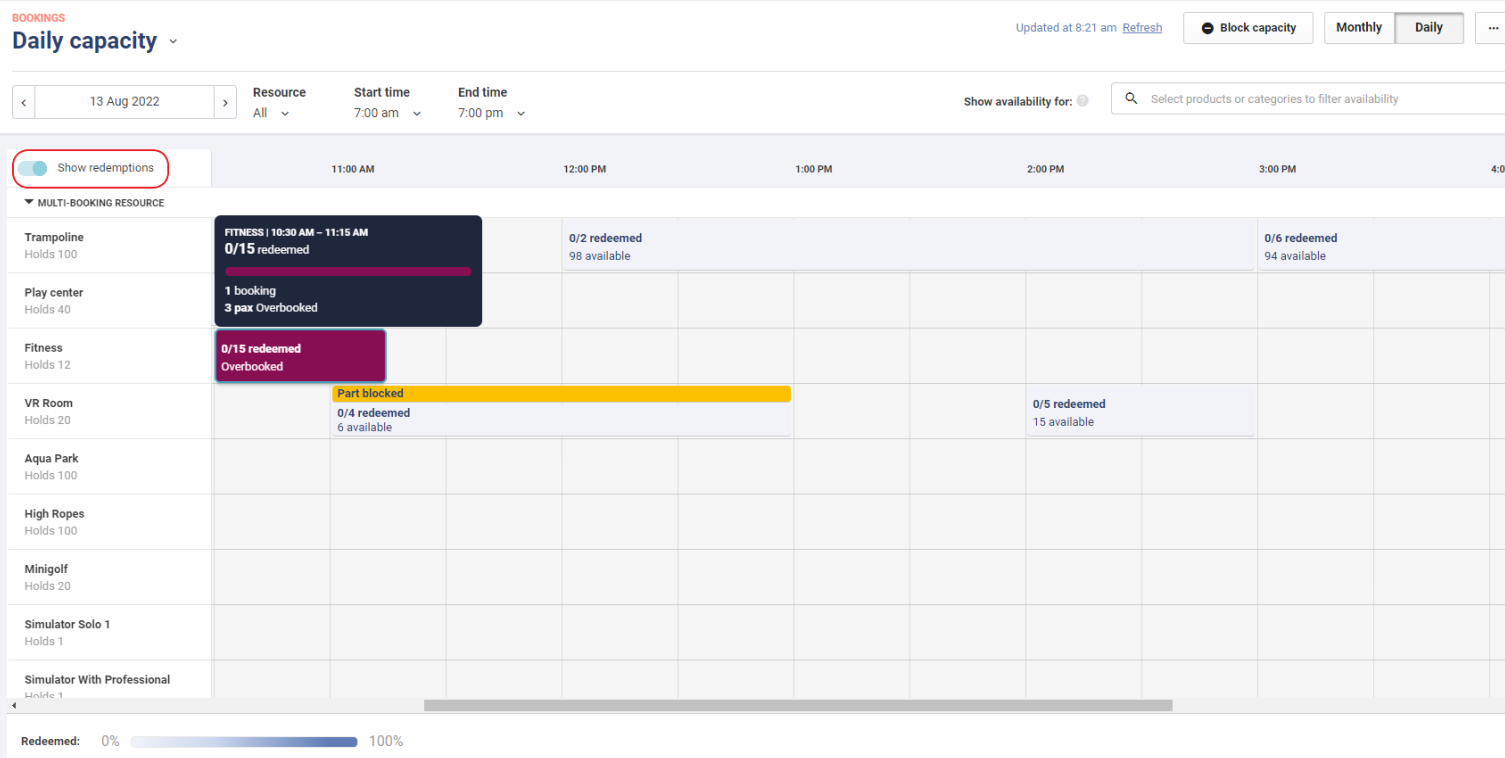 Navigating daily capacity view
To see capacity or redemption information about a particular time or resource, hover or click on a resource or capacity block.
Hovering on capacity block or resource
Displays number of people (pax), number of bookings and current availabilities.
If Show redemptions toggle is enabled, hovering on the capacity block will display the number of redemptions for that time timeslot or resource.
Clicking on capacity block or resource

Exposes a slide out panel with a list of bookings for that resource during that time period. The list of bookings can be filtered to show All bookings, Redeemed or Not redeemed.

If there is only one booking for the time slot or resource, it'll automatically show details for that specific booking.

Clicking on an individual booking

Displays booking data including the number of redemptions.
Quick glance using the color gradient
You can see key capacity and redemption information at a glance using the color gradient of capacity blocks. The darker the color, the more bookings or redemptions in that capacity block.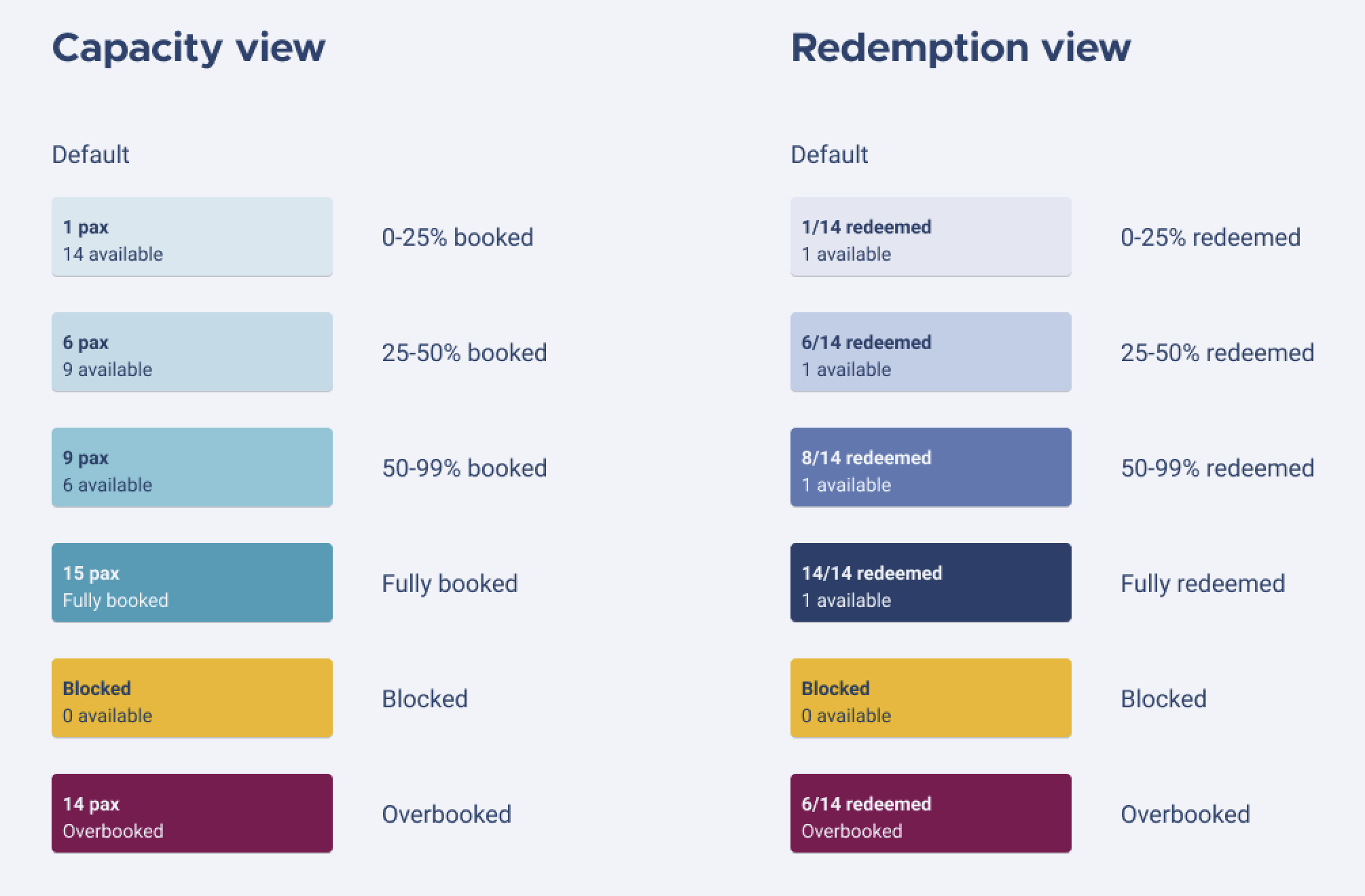 Filtering and customising view
When filtering the Daily capacity view you have the following options:
| | |
| --- | --- |
| Date selector | Select the date you wish to view (default is today's date). |
| Resources | Choose which resources are displayed. |
| Start time and End time | Choose a specific time period during the day to view capacity |
| Show availability for: (Applies to products with single booking resources only) | View available time slots for a particular product or group of products such as party products. This will visually block out unavailable times allowing you to view availability and begin the create booking process from this view. |
You can further customise the view of the Daily capacity page:
| | |
| --- | --- |
| Show redemptions toggle | Enabling "show redemptions" toggle adds redemption data (the number of tickets redeemed) to the page. Hovering on blocks will also display redemptions. |
| Minimise / expand Multi-booking & Single-booking resources | Click on the arrow next to the headings Multi-booking resource and Single-booking resource to quickly minimise these resources. |
Save custom view
If you frequently use the same filters to customize the Daily Capacity we recommend saving a custom view.
For example, create a custom view with your main resources (e.g. trampoline and party rooms) and a set start and end time (e.g. 10am to 8pm)
Creating a new booking
You can view the availability of products configured with a single-booking resource.
Click on Show availability for and select the products you wish to book.
The Daily capacity will display available and unavailable times. Hover over a timeslot in a resource that has no availability and click the Add button (+)
This will prompt you to add items and navigate to the booking flow to finalize the booking.
Blocking capacity of a resource
Create blockout of capacity
To block the capacity of a resource:
Click the Block capacity button on the top right hand corner of the screen to open the block capacity flyout panel. Add in details of the blockout
Click Save once done
Viewing and editing blocked capacity
Blocked capacity is clearly displayed on a day by day basis in the Daily capacity view.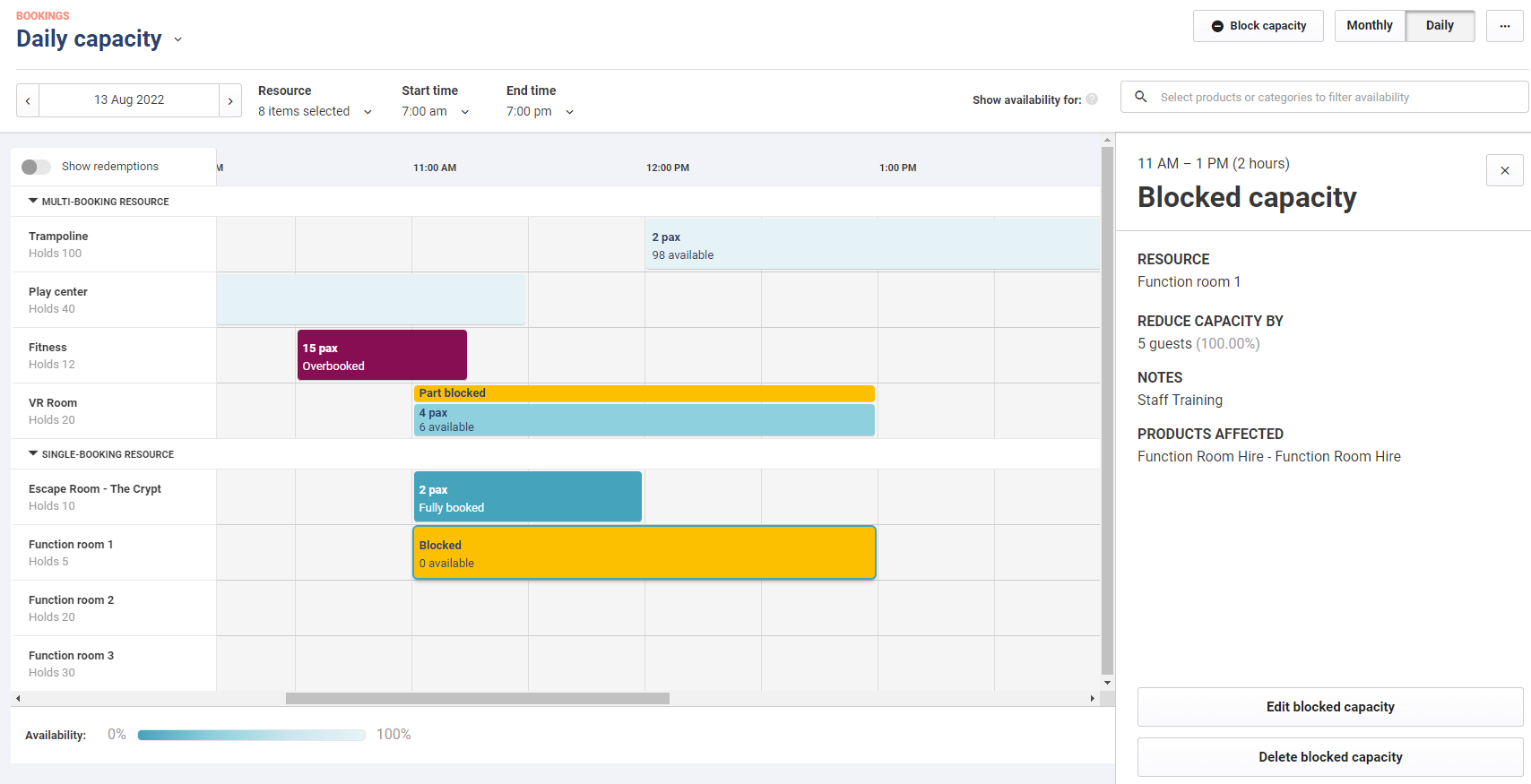 Click on the blocked capacity block to open the flyout panel which shows:
| | |
| --- | --- |
| Resource | The blocked resource |
| Reduce capacity by | The amount of capacity reduced, displayed as a number and a percentage of total capacity. |
| Products affected | Lists products that are affected by the blocked capacity. For example, if the Trampoline resource has blocked capacity entry of 20 from 10am to 10:30am, any products that are linked to that resource will have their availability reduced by 20 between 10am and 10:30am. |
| Edit blocked capacity | Allows user to edit the blocked capacity entry. |
| Delete blocked capacity | Deletes the blocked capacity entry. |
Export
To export the Daily Capacity view into a CSV file, click on the 2 dots on the top right corner of the screen > Select Export (.csv) option and it will automatically download the file.
The fields included:
Date
Time (5 min increments)
Resource capacity (5 min increments)