Staff accounts provide staff at your venue with access to ROLLER. This article shows you how to create a staff member account.
The
permission
Can access staff settings
is required to create staff accounts.
Create a staff account
From Venue Manager, go to Settings > Staff > Add a staff member
Complete the following fields [* required fields]:
Name*

First name and last name of the staff member

Email*

Email address of the staff member which must be unique.

Role*

Assign a staff role. The role assigned determines which areas of ROLLER staff have have access to.

System roles you can assign are Administrator, Manager, Booking agent, POS operator and Dashboard, each with its own set of default permissions that you can't modify.

Administrator: Can access everything in ROLLER
Manager: Can access everything except for online checkout settings, reconciled till sessions editing, account details, staff settings, payment settings, integration settings, GX score settings and scheduled reports.
Booking agent: Can manage bookings in Venue Manager and access POS
POS operator: Can only access and use POS to serve your guests and process transactions.
Dashboard: Can view the dashboard in Venue Manager which contains booking overviews, revenue generated and available products for sale.

If you're on a Pro plan and above, you can create custom staff roles with their own set of permissions.

Display name

Nickname used in ROLLER applications

POS PIN

A unique numeric code for a staff member to quickly log in to POS. This code is autogenerated but can be modified.
Once complete, click Save and send invite.
ROLLER sends an invite to the staff member's email address asking them to activate their account.
A note about email addresses
Email addresses must be unique in ROLLER. No two staff member accounts (even in unrelated venues) can use the same email address. If a staff record with the same email address exists, a pop up appears asking if you want to give the existing staff member access to your venue. Select Confirm to grant access to your venue. The staff member can use their existing credentials to log in.
Email invite and account activation
ROLLER emails the staff member a welcome email with the subject line "Invitation from [Your Venue Name]". The staff member must select Activate account in the email to activate their account. They'll be taken to the account activation screen. From here, they'll be asked to:
Enter a contact number and set a new password.
Select Activate account, which takes them to the login page.
Enter their email and password they set to access ROLLER.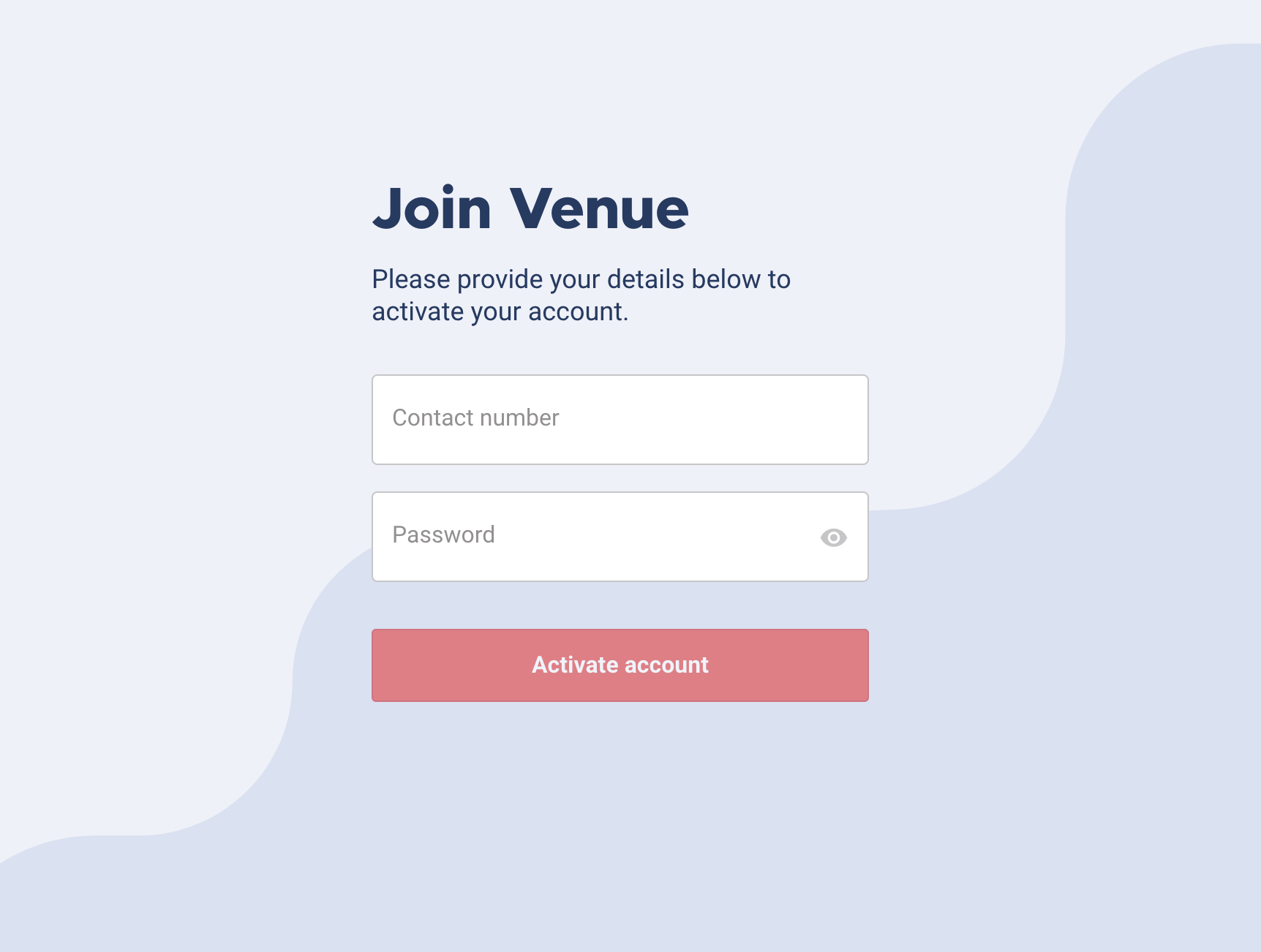 Edit or remove a staff account
Refer to the guide Edit and delete staff member accounts
Reset a password or POS pin
Refer to the guide Change staff passwords and POS PINs
HQ multi-location staff access
If you operate multiple ROLLER accounts, you can configure a staff member's access to different accounts. For information on setting up HQ staff access, see Managing HQ staff and roles