This article will show you how an Administrator role can create a staff member account. Staff accounts enable access to ROLLER applications & define the access permissions of the user.
In this article:
Create a staff member account
Email invite to activate staff account
Things to know
Create a staff member account
In Venue Manager, navigate to Settings > Staff
Click Add a staff member or Create staff member
Complete Personal details
Complete the form fields [* required fields]:
First name* - given name of the staff member
Last name* - surname of the staff member
Email * - email address of the staff member which must be unique
Contact number - phone number of the staff member
Display name - displayed on receipts & some apps
Role * - defines the access level & associated permissions, find out more about access levels & permissions
Complete Security details
Password - do one of the following:

Enter a password (min 9 characters long)
Leave this field blank. When the staff account is created, an email invite will be sent to the staff member's email address, inviting them to activate their staff account and set a password.

POS PIN - enter a unique numeric code to enable to staff member to use a POS PIN to quickly ROLLER POS.
Save by clicking 'Save and send invite'.
For
ROLLER POS
you can add staff as
POS Operator role
and assign them a
POS-only staff PIN.
This role and POS PIN do not give staff access to ROLLER Venue Manager. Staff created in your ROLLER Venue Manager must have appropriate access to use ROLLER Venue Manager in addition to the ROLLER POS.
Email invite to activate staff account
If the password field is left blank, ROLLER will email the staff member a welcome email with the subject line "Invitation from [YourVenueName]".

Click on the link, to proceed to account activation screen.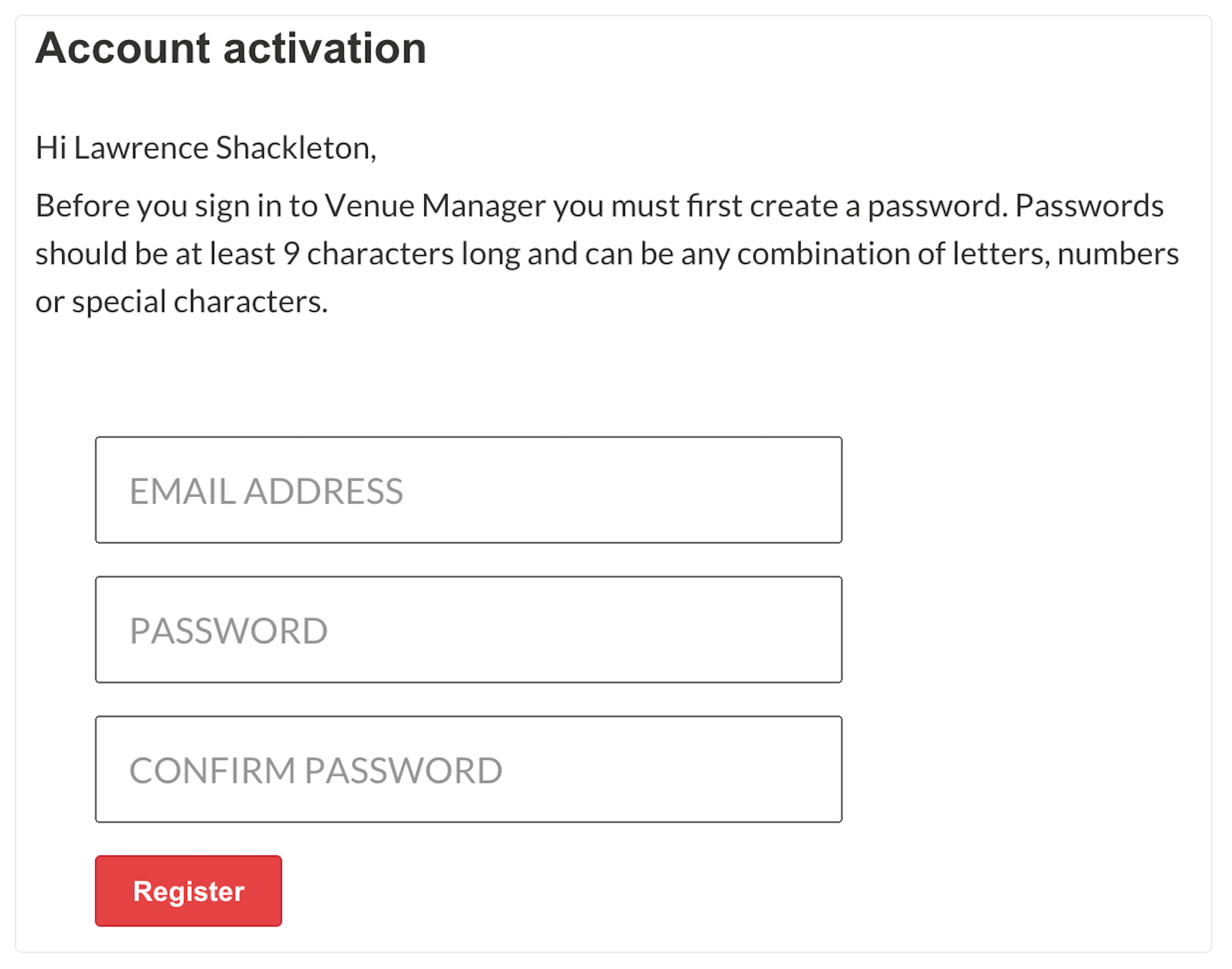 Enter your email address then set up a new password.
Things to know
Defining a password
If the password field is left blank, the staff account cannot be accessed until a password is defined.
Duplicate Email Addresses
The email address must be unique in the ROLLER platform, no two staff member accounts (even in unrelated venues) can use the same email address. Attempting to add an existing staff member will result in an error message stating "Email already in use" will be displayed if this is the case.
HQ Staff access
See this article Managing HQ staff & roles for information on setting up HQ staff access.