Staff roles enable venues to manage the access permissions and privileges of Staff Members using ROLLER apps. By assigning a Staff Member a role, you enable and restrict their access to functionality of the related app.
Staff Roles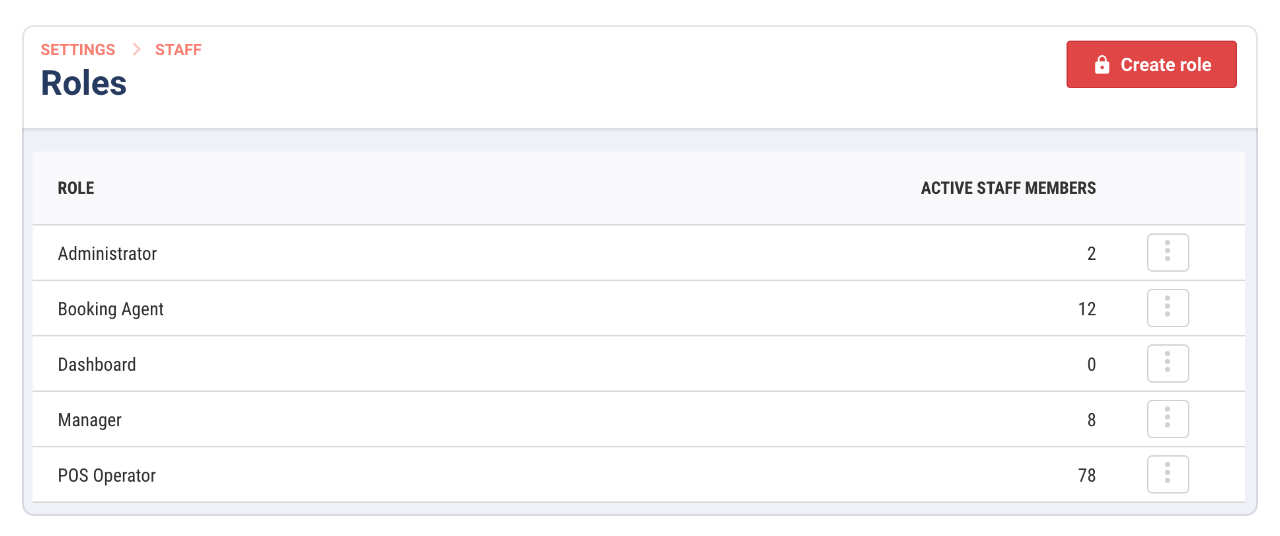 In Venue Manager, click Settings > Staff > Roles
The staff roles page will display a list of roles and the quantity of active staff members per role.
Creating a Custom Role
Click on the + Create role button in the top right

Name the new role and select an Associated role to a default Role (Administrator, Manager, Booking Agent, POS operator, or Dashboard). This association is used to inherit any future role permissions that are created and to provide the Staff Members with appropriate system notifications and announcements.


Modify the permissions of the Role as required. You can select or deselect a group of permissions using the Select: All / None toggle options.


Once complete, click Save Changes at the bottom of the page to publish the role.


Role Permissions
The sections below explain each permission option.
Venue Manager
| | |
| --- | --- |
| Can create products | Staff member can create and publish any product type from within the Venue Manager |
| Can edit products | Staff member can edit any exisiting product type from within the Venue Manager |
| Can access reports | Staff member can access and view the reporting menu from within the Venue Manager |
| Can access waivers | Staff member can access and view exisiting waivers, and send new waivers from within the Venue Manager |
| Can access Time Tracker | Venue manager can access shift tracker |
| Can access checkout builder | Staff member can access and use Checkout Builder from within the Venue Manager |
| Can access inbox | Staff Member can access and view inbox messages from within the Venue Manager |
| Can access dashboard | Staff Member can access and view the Venue Manager Dashboard which contains booking overviews, revenue generated and available products for sale |
| Can hide (make private) and close off products | Staff member can hide products from the sales pages or close them off from further bookings |
| Can archive products | Staff member can archive products making them unavailable for sale and hidden from the products list under 'Manage' |
| Can edit email templates | Staff member can change email templates in Venue Manager |
Bookings
| | |
| --- | --- |
| Can view and export bookings | Staff member can access and view all current bookings and export them as .csv files |
| Can make bookings | Staff member can access and make new bookings for any product |
| Can edit bookings | Staff member can access and edit any exisiting bookings |
| Can edit past bookings | Staff member can edit any past bookings |
| Can cancel bookings | Staff member can cancel any existing bookings |
| Can resend booking emails | Staff member can trigger email notifications to be resent for a guests booking |
| Can manage memberships | Staff member can manage membership bookings, including applying credits, cancelling and pausing memberships. |
| Can adjust contacts | Staff member can make adjustments to any contacts within a booking |
| Can create invoices | Staff member can generate and email invoices to guests for their booking(s) |
| Can edit booking product cost | Staff member can change product cost on booking items |
| Can refund | Staff member can issue a refund for a booking within the VM |
| Can overbook capacity | Staff member can overbook capacity without manager authorization |
POS
| | |
| --- | --- |
| POS Admin | Staff member can administer POS |
| Require strong POS PIN | POS PIN must be at least 8 characters long |
| Can access POS | Staff member can log in to the POS |
| Can cash in/out POS till | Staff member can add or remove cash from a current till session |
| Can edit reconciled till session | Staff member can edit a reconciled past till session |
| Can adjust POS settings (device & hardware) | Staff member adjust settings included under the 'Device' and 'Hardware' tabs within POS settings |
| Can issue refunds | Staff member may issue a refund to the guest from within the POS |
| Can sell open products | Staff member may sell open products in the POS |
| Can create unpaid POS bookings | Staff member may create unpaid bookings in the POS |
Venue Settings
| | |
| --- | --- |
| Can access account details | Staff member can access and adjust Account Details from within the Venue Manager |
| Can access site content | Staff member can access and adjust Site Content within the Account Details section within the Venue Manager |
| Can access payment settings | Staff member can access and adjust Payment Settings within the Account Details section within the Venue Manager |
| | |
| | |
| | |
| C | |
| | |
| | |
| | |
| | |
| | |