Read this article to find out how to navigate through POS so you can take orders on your POS
Toggling between menu tabs & adding items
1. Toggle between your POS tabs and add various ticket types, add-ons or stock to the cart from different menu tabs

2. Add items to the cart by clicking on the respective tile and the cart will update accordingly
3. Optional: click on the date next to the search bar to change to a future date and purchase tickets for other days in one transaction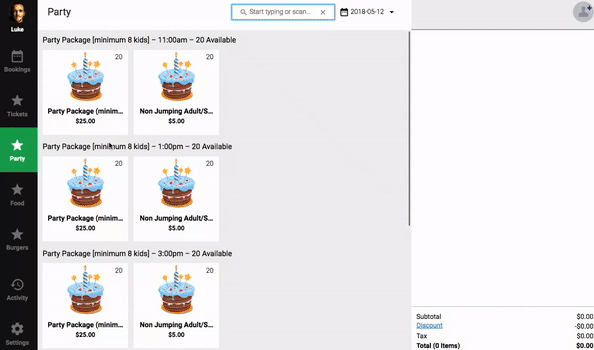 Making adjustments from the cart
1. Increase or decrease the number of tickets from the cart as well. By clicking on the number of items, you can adjust it accordingly with the keypad. For sessions with consecutive hours available, adjust the duration by clicking on the time and duration
2. Remove items by clicking the delete icon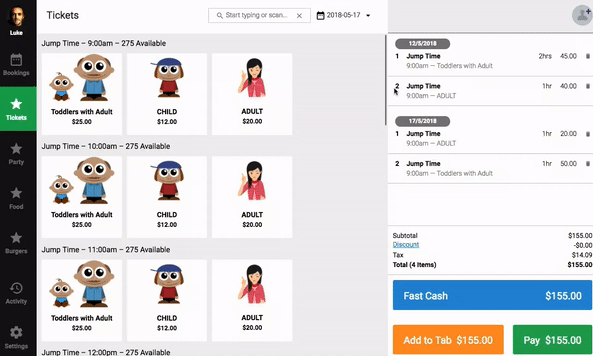 Adding Discounts
If Discounts are enabled in POS settings, users are able to add discounts to the booking being processed
1. Click discounts and select between Code, $ or % if you have the latter two enabled
2. Type in the discount code or custom amount and click Add, repeat steps if you want to add multiple discount codes. For custom discounts, a Manager code may be required to utilize the function if this setting is enabled
Discounts to Gift Cards can only be applied in POS if this functionality is enabled - this will only work in conjunction with custom discounts as gift cards cannot be discounted from Admin or the Checkout. To activate the Discounts on POS Gift Cards functionality, please get in touch with us.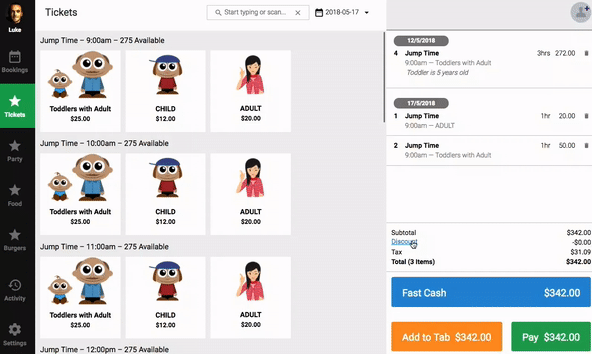 Adding Customer Data
If POS settings are configured to capture new customer details while transacting, the 'Customer details' section will automatically pop up, if this setting is off but want to collect data, click the user icon in the top right
From Customer details, the following can be captured:
Country 
Postcode
First Name
Last Name
Email
Add customer to mailing list - marketing opt-in 
Phone number
Notes
1. Key in data for the relevant fields
2. Click 'Apply' or 'Go To Payment'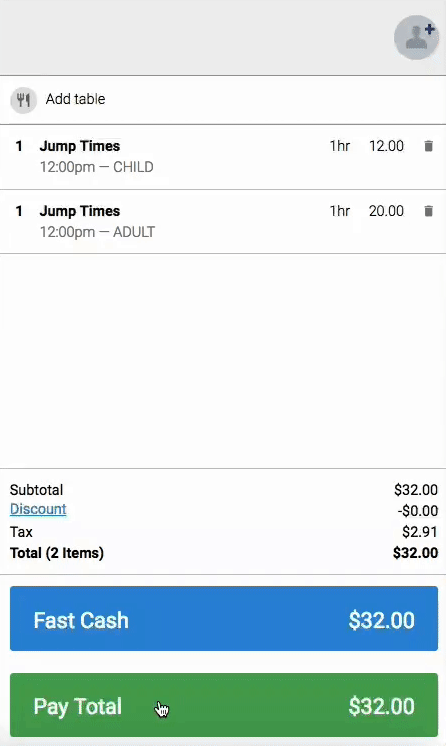 Taking Payment 
This article covers taking payment in general, please read the steps for each option below and if Tabs are utilized, please read this article.
1. Click the green Pay Total button 
2. Choose the payment method by clicking on the option the guest is paying with


Cash
1. Select Cash
2. Click on the denominations listed so you can select the notes you've been paid and it will deduct from the Amount Owing or click on the amount to key in the total cash (received) on the calculator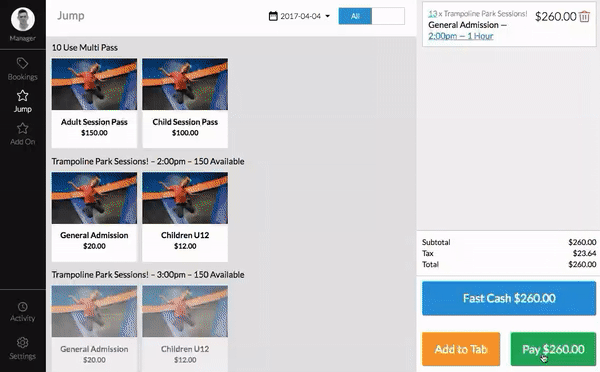 3. Click the Complete Button once it's changed from orange to green and it'll calculate the expected change
Card
1. Select Card
2. Click Complete Payment and follow the prompts on your connected payment terminal.
Do not refresh/close POS/navigate away while a transaction is in progress
Always wait for a response from the terminal. If the card progress modal is closed, wait until Payment success page is shown (booking has been created)
Except for Tyro, card transactions can only be canceled on the terminal or payment provider software. Refresh POS won't cancel the in-flight transaction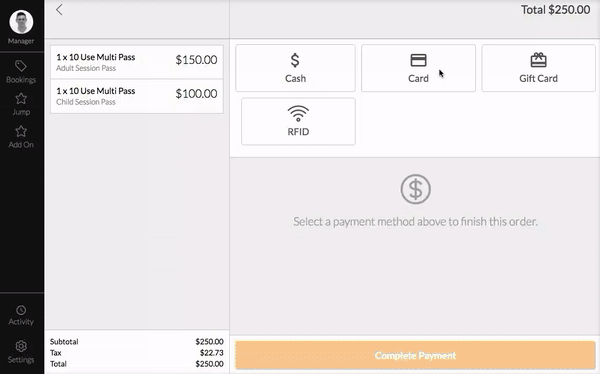 Gift Card
1. Select Gift Card
2. Type in the gift card ID into the pop up modal and press Continue
If the Gift Card balance is less than the cart total, the remainder of the payment will need to be processed by other methods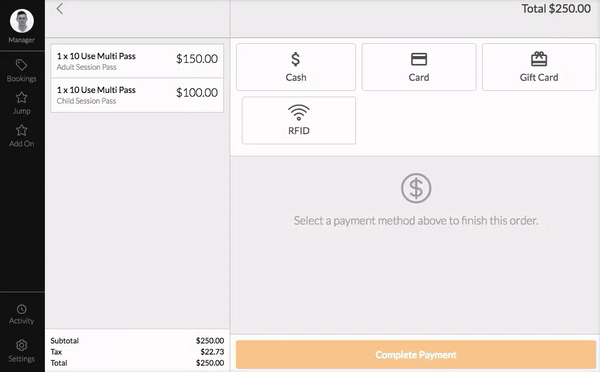 Groupon
This is currently in beta and not available to live clients. Please know that this is not integration with Groupon, so staff need to use normal verification processes eg through the Groupon app to validate and check off the Groupons
It is not possible to partial payment with Groupon with another payment type - for example, the scenario to redeem one ticket on Groupon and another on cash is not supported...each Groupon voucher should be redeemed as a separate transaction.
1. Select Groupon as the tender type in POS
2. This will prompt the side panel for the POS user to either scan or enter the Groupon voucher ID via the number pad or keyboard. It is important to capture this information for reporting
3. Click Complete Payment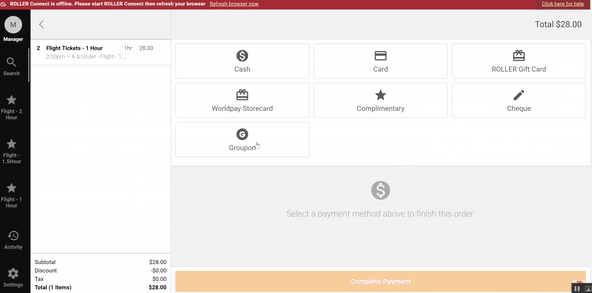 Completing Payment
Once you have taken payment, you have the option to Go to Booking, Print Receipt or Start New Sale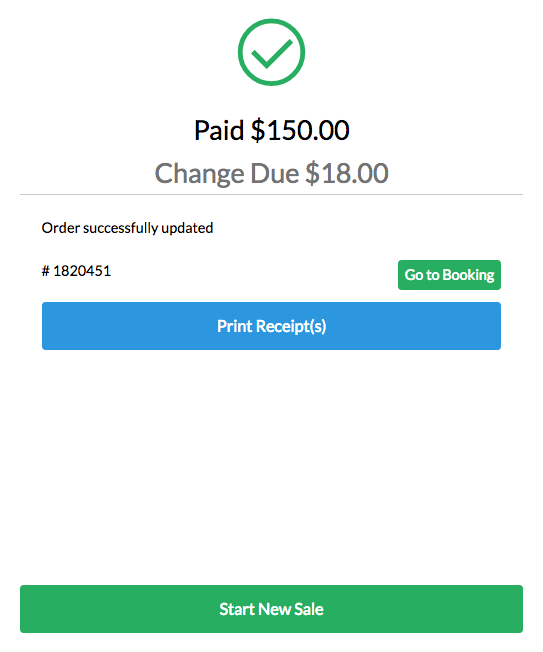 Please see below for the template for the Receipt, it is fully itemized per booking item and includes the costs, discount applied and subtotal: