This guide shows you how to search for waivers at POS and offers advanced search tips for finding a guest waiver.
Search for a waiver at POS
From POS, select the Waiver tab in the top menu bar. 
Use the search bar to find the waiver holder by name, email, date of birth or phone number.
Your search results appear. You can scroll through these to find the waiver you want. 
Advanced search to find a waiver
Your guest might have written the wrong name or used a nickname or shortened version of their name when completing the wavier online. This may be why you can't find their waiver. In this case, you can use Advanced search to search by date of birth.
Click the funnel icon next to the search bar and you'll be prompted to select the guest Date of birth. You can also adjust the Contains field as necessary
Once you hit Apply, the search generates all the best matching options.
Advanced search when assigning a waiver to a ticket
When trying to assign a waiver to a ticket, if you can't find the waiver by typing the guest name in the waiver drop-down, select the funnel button to access Advanced search.
You can type in their name again and then click Apply. The search will generate all the best matching options.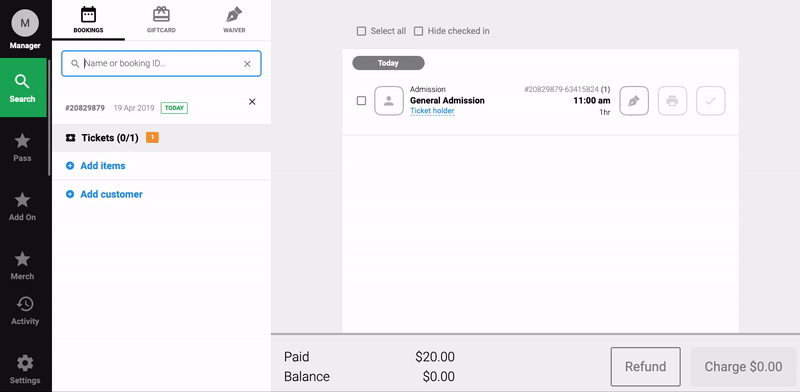 Refer to the guide Search for bookings and redeem tickets at POS to learn more about assigning waivers to guest tickets when redeeming tickets at POS.