Find your Waiver
This will assist staff:
in searching for a waiver if they are unable to find one
check if a guest has or has not signed a waiver
see the validity: active versus expired
From the Bookings page of your POS screen, you can click the 'Waiver' tab to search for waivers, you can use the search bar to find the waiver holder by name, email, date of birth or phone number. You will be shown a list of all options depending on how specific your search is and you can scroll through
Incorrect Name
Time to time, your guest might have written the wrong name or used a nickname or shortened version of their name which may be a reason that you are unable to find the waiver. In this case, you can search by date of birth. Click the funnel icon next to the search bar and you'll be prompted to select the Date of Birth (Day, Month and Year, from the drop-down menus, you can also adjust the Contains field as necessary
Once you hit apply, the search will generate all the best matching options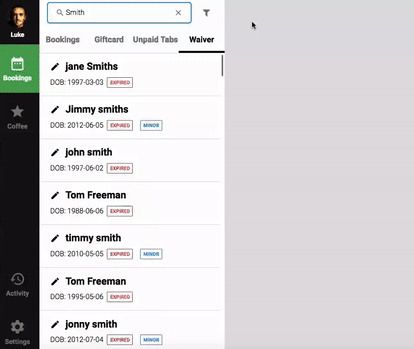 Advanced Search
When trying to link a waiver to a ticket, if you are unable to search for the waiver by typing their name on the main pop-up screen, click on the funnel button to access the Advanced search function. You can type in their name again and then click apply. The search will generate all the best matching options.