Find your Booking
Click the Bookings tab and you will be able to search bookings by name or ID number. If you have a scanner, you can scan tickets from anywhere within POS and it'll automatically bring up the booking/ticket (and check in in the guest if you have this setting turned on)

❗️ Please note: If the 'Charge' button is blue in colour, it will demonstrate that money is owing on the booking, next to this, it will also show the amount 'Paid' and the amount 'Remaining'
​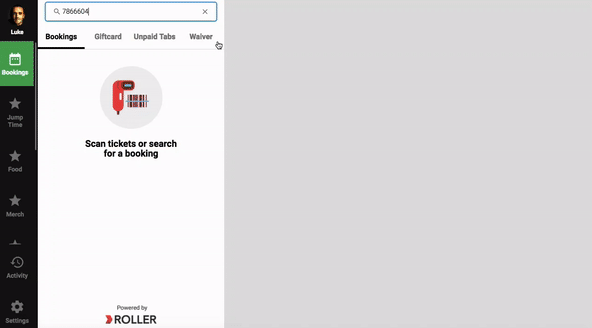 ​
How to Check In Guests
From the right panel, we have designed the buttons to be in the order of the actions that are carried out at the venue:
Signing a waiver
Printing tickets
Checking in
The green colour denotes that the action has been completed
Waivers
If you are using the Waiver module, you can attach the waiver by clicking the pencil icon, this will show you the most recently signed waivers but you can also search for other previously signed waivers. If you are not using this module, this option will not appear on your Point of Sale. The green colour will denote that the action has been completed.
​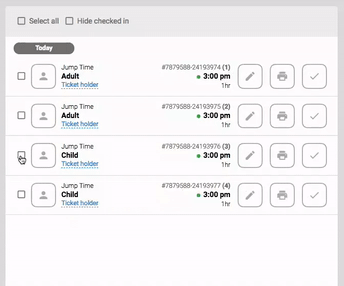 ​
Printing 
The print button will prompt a modal to allow you to print the ticket. ❗️If this option is not appearing for you, please check your settings for the device and know that you can set printing options to either the itemised or master ticket template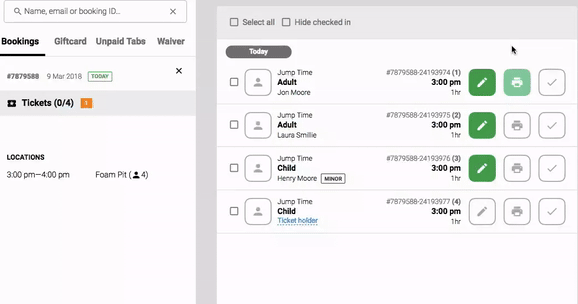 ​
​
Check in
Click the Tick icon to check in your guests, if you have enabled the ability to undo a check in in your device settings,  you can click on an already checked in ticket and undo it. A pop up modal will ask you to confirm this
​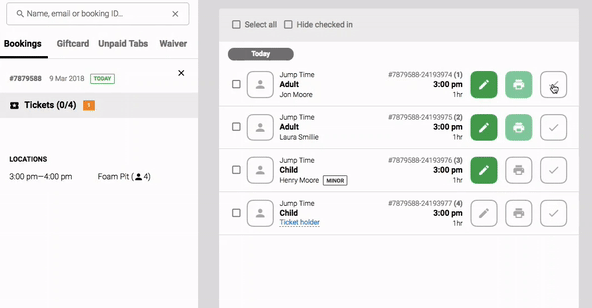 ​
Bulk Actions
Rather than doing many actions one by one, you can select multiple tickets or check the 'Select All' option and from here perform bulk actions:
Clicking the more icon allows you to remove waivers, reprint tickets and undo check-ins
Print icon lets you print tickets in bulk
Check-in button will allow you to check in all tickets selected
​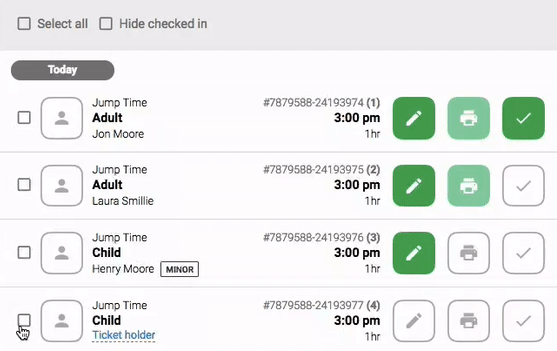 ​
You can select the button 'Hide checked in', this option is particularly useful when you have a large group booking
​