Set up a custom POS template for each area of your business from reception to the cafe
Skip to;
Create a POS template
Hover over 'Apps', from the 'Point of Sale (POS)' flyout menu, click on 'Templates'

Click on the +New POS template button

Configure Settings
Give the Device a unique 'Name' and optional, you can set the 'Starting till balance'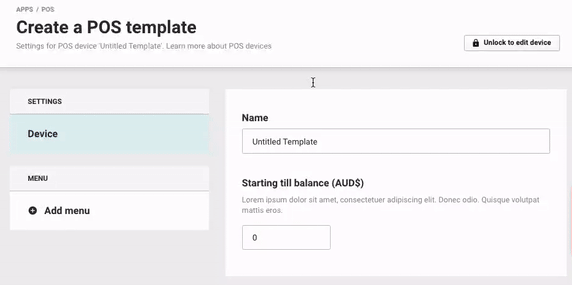 Menu
Click on '+Add menu' and type in the Menu name
Set the icon by clicking 'Change icon' and select an icon from options in the dropdown
Under Menu items, select all the products that are to be added and click 'Apply' so that all items are added
Repeat steps 2 - 3 as necessary until Template is built as desired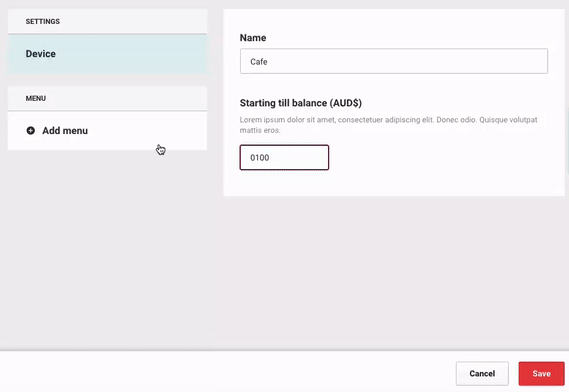 Save
Click 'Save' to create the template or 'Discard' if it is not required

Managing POS templates
On the POS Templates page, from the list of available devices, you can do the following by click on the more button of a specific device:
Edit existing templates
Create device from template
Duplicate - this needs to be actioned by the Client Success team
Archive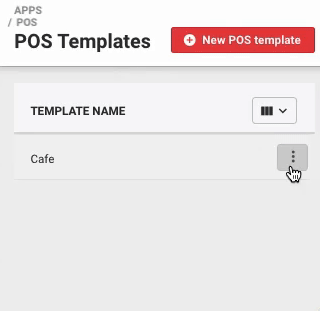 Editing POS templates
Please see this article for instructions on how to edit & manage the Smart Menus within your POS template.
Select 'Edit' from the more button options. This will bring you back to the Template settings page, click the 'Unlock to edit device' to make changes and click 'Save' once all necessary updates have been made
Please note that if you edit a template, a warning will notify that updating this template will impact all devices connected to the template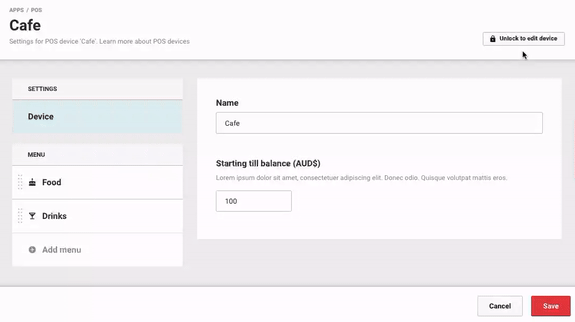 Create a device from a POS template
Selecting 'Create device from template' from the dropdown menu will automatically create a POS device with the template's configurations. Give the device a name that is unique and different from the template as well.
Click 'Save' to create the device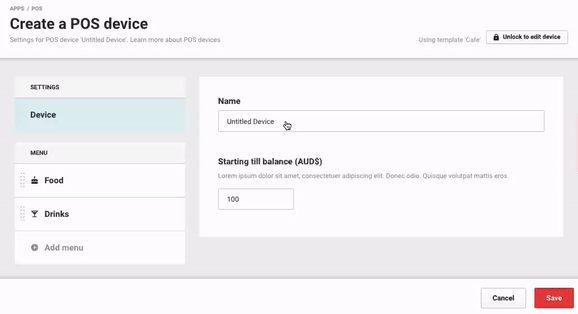 To edit the device, you can click 'Unlock to edit device' but please note this will remove the device from the template and this action is not reversible, it will be unlinked from the template and treated as it's own.
Adjusting the starting till balance will not unlink the device from the template. Till balances will always be editable.
To adjust the template, please head back to the POS templates page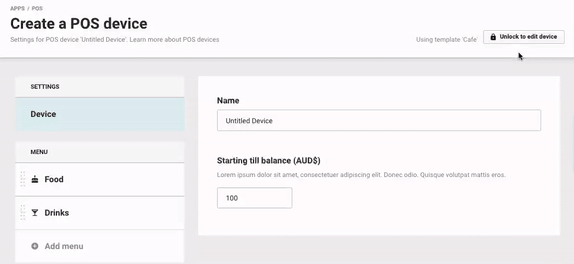 Archiving POS templates
This will remove the POS template from the list, this action cannot be reversed, a pop-up modal will prompt you to confirm this action. Click 'Yes, archive it' to remove it