The Smart Menu is an upgrade to existing menus that better displays session pass tickets based on starting times and improves the usability for creating orders for all product types. By using Smart Menus you can reduce the time taken to create orders, reduce errors made by staff and reduce the number of menus required in your POS devices.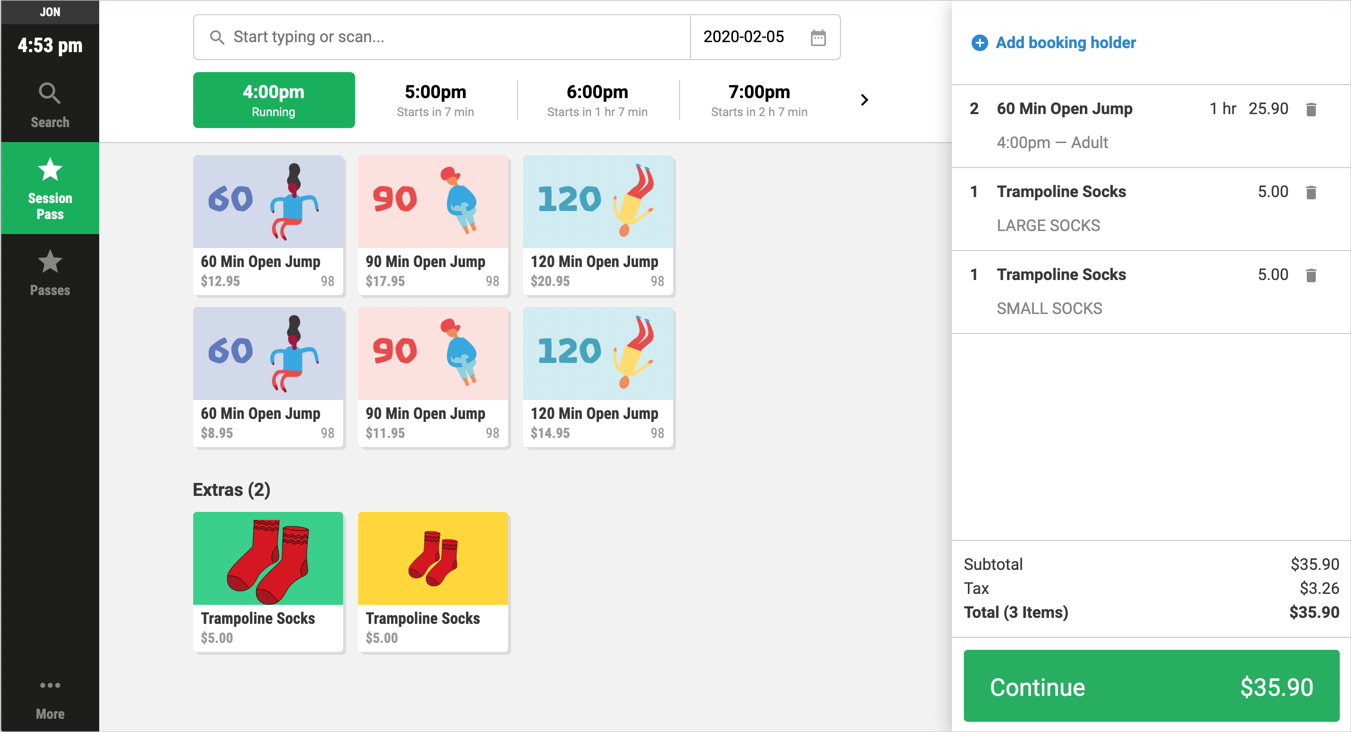 Smart menus filter sessions by time to use screen space more effectively.
Contents
Device screen size
The Smart Menu comes in two sizes—Regular and Small. These sizes exist so that the physical screen size available on the POS device is used most efficiently.
Regular
This size is best for desktop-style POS devices—the kind that generally have a keyboard and mouse. Specifically, screens with a resolution of 1166px wide or greater. The regular size will create menus five columns wide.
Small
This size is best used for tablet-style POS devices or screens with a resolution less than 1166px wide. This size creates menus four columns wide.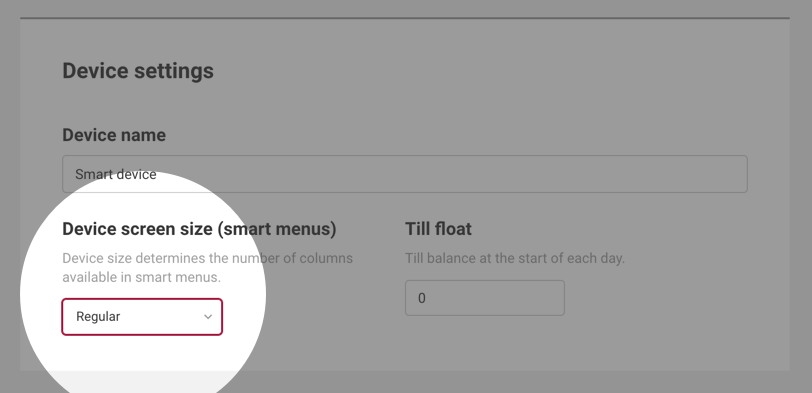 Set your device screen size based on the resolution of your POS device
Creating a smart menu
In Venue Manager, navigate to: Apps > Point of Sale and choose whether you want devices or templates. (Just briefly, devices are stand alone set-ups and templates are reusable. Learn more about devices and templates).

You can either add a smart menu to an existing device (or template) or create a new one.
Click the Create new menu button on the top right corner and select Smart menu


Give your menu a name and choose an appropriate icon using the icon select button. A menu section will immediately be created


Adding, arranging and removing products
To add items, choose products you would like to include in your menu section by clicking Add products. A pop up will appear to enable you to select the products you'd like to include in your menu. Once the products are selected, click Done. To add products to an existing menu section, click on the + button on the section header.

Products will be arranged in rows by default, but you can change this arrangement by clicking the pencil icon on the section header.

The options are:

Group products in rows (default)
A new row is created for each product and each ticket for the product is stacked from left to right. This layout is best used when a menu contains more products than there are columns available (4 or 5 depending on your device size).
Group products in columns
A new column is created for each product and tickets are stacked vertically. It's best only to use this when the number of products in the menu is equal to or fewer than the number of columns available.
Wrap tiles
Each product follows on from the next with no line-breaks and flows from left to right, top to bottom. This is best for saving space but ensure that you use colour and/or images effectively to differentiate products.

To change the position of product tiles, turn on the Tile edit mode switch. Once activated, use the keyboard cursor keys to move products either up and down, if grouped by rows, and left and right, if grouped in columns. The tickets for a product will always be grouped together but you can reposition the order in which they appear by also using the cursor keys


To remove a tile, enable Tile edit mode and use the delete key to remove it.

A note about how session tiles are displayed in POS:




When editing/ viewing a Smart Menu in the Venue Manager, tickets for all dates and times will be shown for each product. However, this may not be how tiles are actually displayed in the POS because only tiles for a selected session start-time and date will be displayed at any one time.
Editing the appearance of product tiles
To edit a tile, first click the tile to open the editing modal (make sure Tile edit mode is disabled).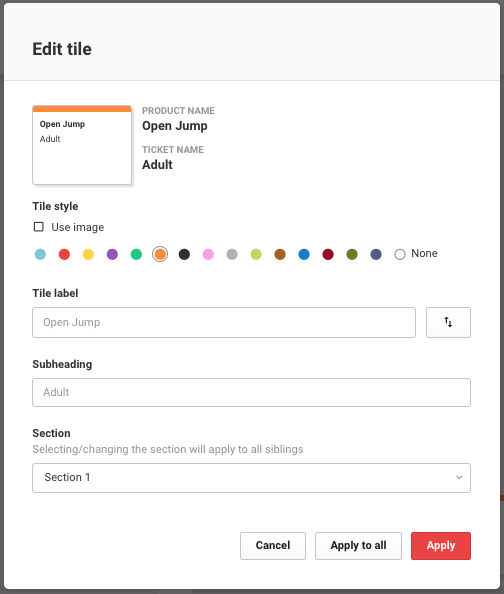 To edit the text displayed on the tile, edit the Tile label and Subheading fields. By default the product name is used for the tile's label in bold and ticket name is displayed as a subheading beneath it.

To swap the product and ticket names so that the ticket name is the tile label in bold, use the swap icon to toggle the order
To edit the colour, select a new colour from the list of colours or select None to remove colour from the tile.

To display the product image on the tile, select Use image

When making changes to the colour/images select Apply to save colour/image for this specific tile only or Apply to all to quickly change the colour/image for all other ticket types within the product.
If you have multiple sections created, you can change the section that the tile appears in by selecting Section > changing the Section > clicking Apply to all. Read below for more on creating sections.
Creating a section within a menu
Click Add section. A pop up is going to appear to enable you to name the new section and set the tile arrangement. Click Create section to create the new menu section.


Once the new section is created, you can add and rearrange products and edit the appearance of the product tiles
Rearranging smart menu sections
If your smart menu has multiple sections, you can rearrange a section by using the up and down arrow on the section header.
Renaming smart menu sections
To add or rename a smart menu section, click on the pencil icon on the smart menu header. A pop up is going to appear to enable you to change the section title. Click Save to apply the changes.
Deleting smart menu sections
To remove a smart menu section, click on the trash can icon on the smart menu header.