This article explains how to download and install ROLLER Connect which is required by ROLLER POS to manage connections to external devices such as receipt/ticket printers and payment terminals.
Installation process
The sections below explain the process to download and install ROLLER Connect on a ROLLER POS device. The steps are:
Windows administrator login
ROLLER Connect requires Windows administrator privileges, therefore to confirm:
Click the Start menu
Click the User icon
Select Change account settings




Under Your info you should see your username and it should say Administrator




ROLLER Connect must run on a user with administrator privileges
If you are not able to change your Account Type to Administrator then contact your IT/technical support representative. Do not contact ROLLER Support, we will not be able to help resolve this issue.
Download & install ROLLER Connect

Open ROLLER POS and log in
Click the More menu option
Click the Settings option
Click the Hardware sub menu
Click the Download ROLLER Connect link

If you can't see a download link, it means you're not logged into the POS as an administrator. If you log out and log back in with administrator access you should see the download link.

Once downloaded, click the downloaded file to run the installation. If prompted, click Run Anyway

Close the browser
Verify ROLLER Connect installation
Open ROLLER POS and login.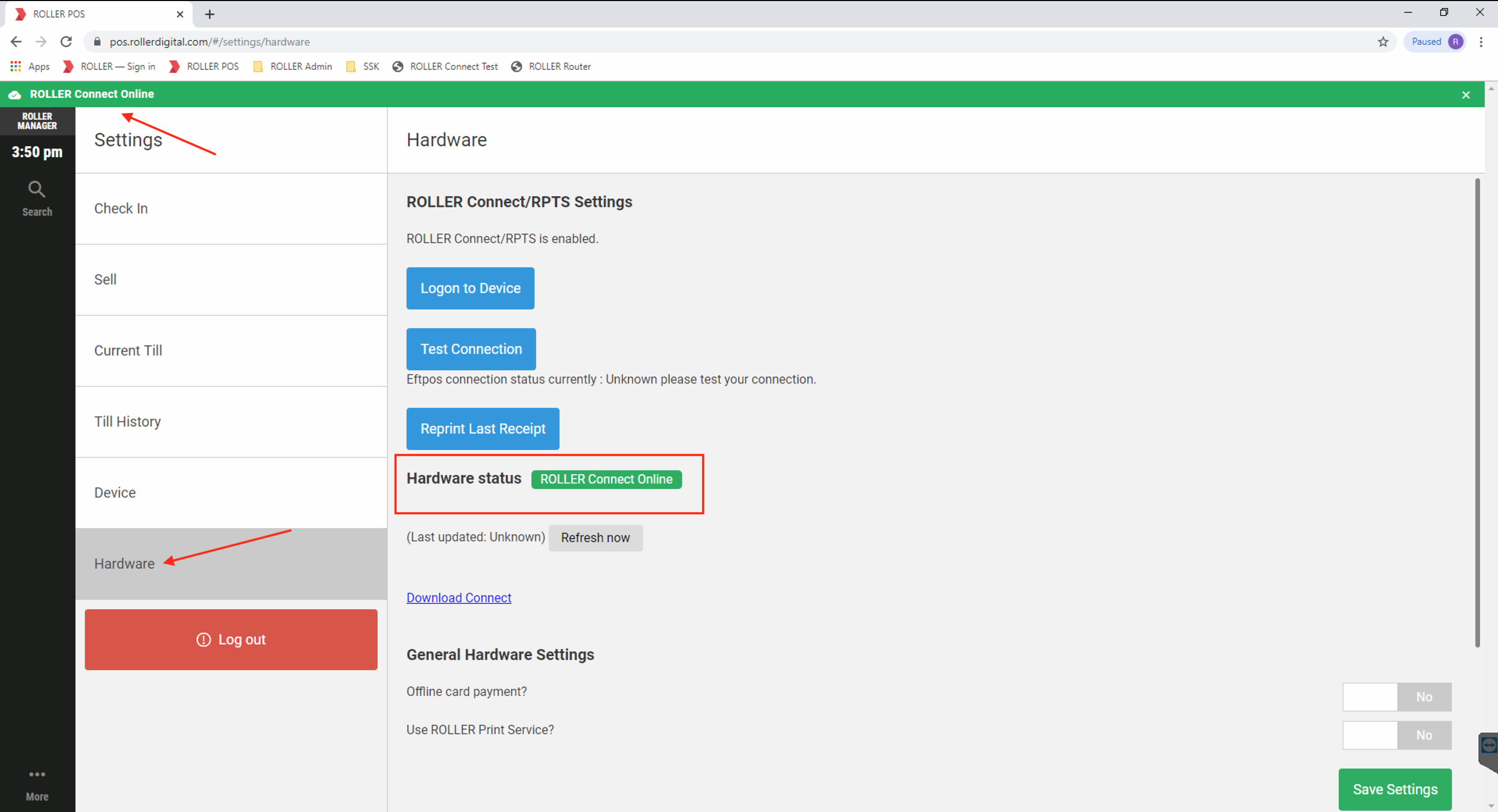 If ROLLER Connect has been successfully installed and is running before the ROLLER POS was opened, you will see a green ROLLER Connect Online notification.
You can also check via the hardware settings (More > Settings > Hardware) in ROLLER POS.
Troubleshooting steps
If you have followed the above steps and you are being presented with a purple ROLLER Connect Offline notification. Refer to these steps in the article
Resetting ROLLER Connect
.
If you've successfully followed all steps in both articles and you're still having problems please log a support ticket.