What you'll learn in four minutes or less

How to create a customized product schedule for sessions starting at irregular times with operating hours set up in your venue

For example, sessions that run from 9 AM to 10 AM, and another from 1 PM to 2 PM, every weekday. You can also customize the tickets available to book at each session time and the resources used.
Before getting started
Remember to assign resources to your product tickets so that ROLLER can manage capacity and availability for the schedule session times.
Create the schedule
You'll need to create a customized schedule for the sessions to run at irregular times across each day.
Follow the steps below to create this type of schedule for your venue.
From Venue Manager, go to Products > Schedules.
Select the product for the schedule you want to create.
Select Create schedule.
Give the schedule a name and description.
From the options menu (3 dots) in the top right, select Customize sessions.



When customizing sessions your session times become "fixed". The session times won't automatically update (extend or reduce) if you change your operating hours. This is because they are not linked to venue opening and closing times.
However, the schedule is still subject to operating hours, meaning that the session times are only available if they are within your operating hours, unless you enable the option to allow sessions outside of operating hours (see below).



Confirm you want to do this by selecting Yes, customize sessions.
Then complete the schedule options as follows.


Options
Steps
First session starts at
Select a time (eg 9 AM) for the start of your first session.
Last session starts at
Since we're creating an irregular schedule, we don't need to define when you're last session starts.
Session starts every
Choose how often you want sessions to start (session interval).

For example, every 1 HR. Guests will be able to purchase tickets for sessions starting on the hour.
Tickets and resources tabs

Go to the Tickets and Resources tabs to confirm the tickets and resources you want are available.
These autofill from your session pass product setup. You must have a resource assigned to manage the capacity and availability for sessions.
Select Add sessions.
The first session appears under Sessions in the right panel.

Add, edit or remove sessions
You can add as many sessions that you want at the times you want.

Select Add sessions from the right panel to add another session.




Select a time for the start of the second session (eg 1 PM).
Choose the session interval for the session (eg every hour so that the session starts on the hour).
Select the Tickets and Resources tabs to confirm tickets and resources available for the session.
Select Add sessions in the pop-up. Both sessions times now appear under Sessions in the right panel.
You can add as many sessions as you want.
You can also select each session time to edit the tickets sold and resources used, or delete a session if you don't want the session available at that time.

Schedule period
Choose when you want the schedule to be available, subject to operating hours:

Choose Everyday for every day, Selected days of the week for some days, and Custom dates for only a specific date or date range.
If choosing selected days of the week (eg Mon to Fri), deselect the days you don't want (eg Sat and Sun).
If choosing custom dates, select the date (double click) or date range from the drop-down calendar, then Apply.

Start date
Select the Start date for the sessions to be available.
Maximum booking window
Select the maximum booking window for guests to be able to book into the future. The booking window automatically extends on a rolling basis each day. Note that this setting doesn't apply for schedule periods set as custom dates.
Allow bookings outside of operating hours

Choose if you want to Allow sessions outside operating hours.
By default sessions are only available for purchase within the operating hours you've set up, unless you enable this option.
Select Save. Sessions times are available at the dates and times you've defined, including any ticket or resource variations you may have set up for each individual session time. Session times are also available within operating hours, unless you choose to allow sessions outside of operating hours.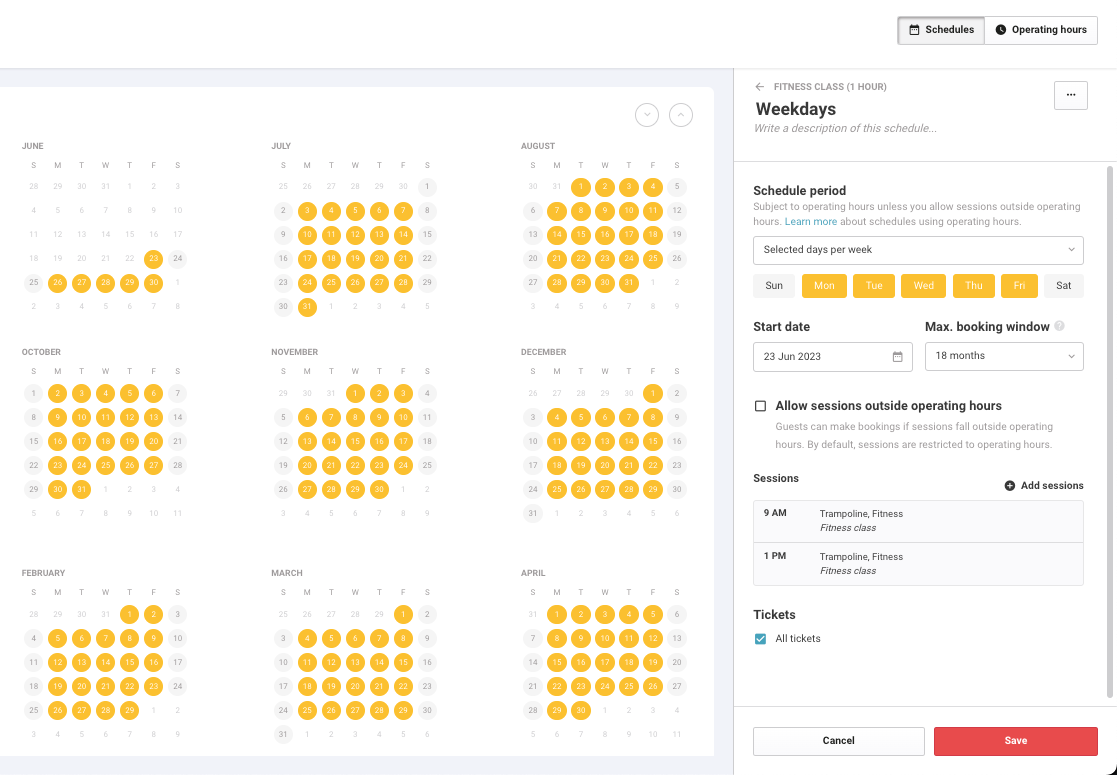 To check if tickets are available, go through the process to book guests through Venue Manager or sell tickets at POS, or the online checkout flow for guests booking online.
Create a booking in Venue Manager and go through the booking flow for the product.
Add the product to an online checkout and go through the online purchase flow for the product.
Add the product to a POS menu, launch the relevant POS device and check the tickets are available on the right days and times.
If sessions are not appearing how you think they should be, check how your operating hours are set up, including any scheduled changes or temporary hour overrides to standard hours.