This article will show you how to access and login to ROLLER POS, as well as allocate the correct POS device to your computer or tablet.
In this article
Accessing POS
Logging into POS
Logging out of POS
Switching between staff users
Automatic logout
Device allocation
Accessing ROLLER POS
Navigate to http://pos.roller.app in your Google Chrome browser.
Alternatively, if you're already in the Venue Manager you can navigate to Apps > Point of Sale > click Launch POS.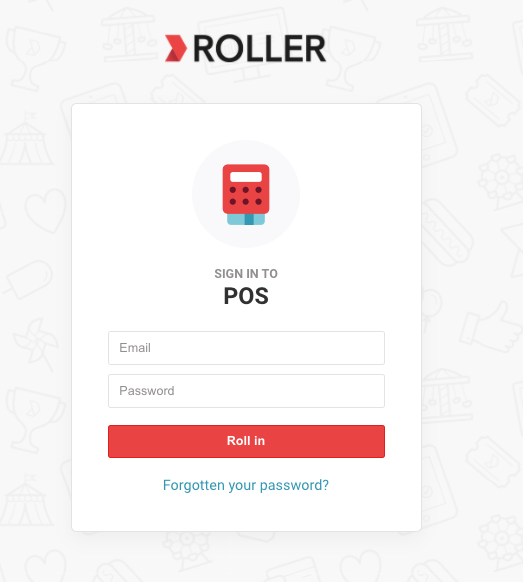 When you first access POS, you may be prompted to select a POS device from the list. This will assign the POS device to the computer or tablet. You can only use one POS device at a time on a computer.

Logging into a POS device
To login to POS you need to ensure you have an active staff account with permissions to access the POS.
When you first access a POS device you will be prompted to enter your email & password.
Following this initial successful login using your email and password, staff will then be able to use their POS PIN

when logging into the POS for quicker access.
Logging out of a POS device
To log out of POS navigate to More on the bottom right corner.
Click Log out.
Switching between staff users
To keep track of who made each sale, you can switch between users in a POS device. Transactions will be recorded as being completed by the staff member logged in when the transaction is completed. This staff member will be shown in Detailed Transactions report and also on any receipts that are printed from your POS device.
To switch between staff:
Navigate to More on the bottom right corner.
Click Log out.
The new staff member can now log into the POS device. If they have their POS PIN code set, they can use this for quicker access.
Automatic logout
You can set the POS device to automatically return to the login screen after a specific time of inactivity. This can be useful as a security precaution. To configure how long before a user is logged out from the POS device:
While logged into your POS device, navigate to More on the bottom right corner.
Click Settings > Device
Scroll to the bottom of the device settings list to Device Timeout (in minutes) and adjust the slider to select your preferred device timeout.
Click Save.
Device allocation
When using the POS you need to ensure the computer or tablet device you're using is allocated to the correct POS device profile that has previously been created in the Venue Manager.

The device will stay allocated to the same POS device profile unless your cache is cleared or someone deallocates your POS device.
To ensure you're allocated to the correct POS device when logged into POS click More
Click Device

If you're not currently allocated to any device, you'll see a full list of POS devices to choose from
If you're already allocated to a device you'll see the name of the device you're allocated to at the top of the screen. If you want to change POS device you'll need to deallocate it

.
If you can't allocate a device because it's greyed out, then you will need to deallocate the device in Venue Manager, then refresh your POS browser and try again.