Memberships are a great way to promote repeat guest visitation and increase revenue for your venue while also offering guests exclusive benefits and discounts. This article will show you how to create a membership product.
Overview
Memberships can be configured to provide your guests with numerous benefits such as exclusive access to products, and discounts on other items.
You can create a separate membership product for each unique membership offering you would like to have. For example creating Silver, Gold, Platinum membership products with different discount benefits for each tier.
Within each membership product you can create variations, such as Adult and Child variation.
Create membership product
In Venue Manager, navigate to Products > Create Product. Select Memberships from the list of products.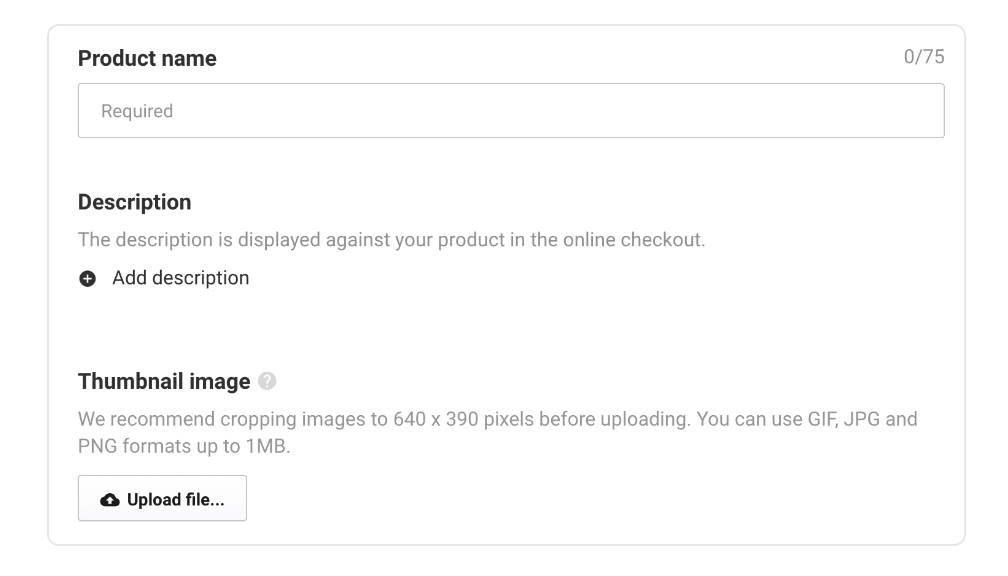 Give your membership product a Name, Description and upload a Thumbnail image to display in POS and on the online checkout.
Configure membership variations
A membership variation is the particular ticket the guest will buy. For example, an Adult ticket in a Gold Membership product.
To create a membership variation: under Membership variations > select the existing General Admission variation (this is an example and you can replace its contents) or click Add variation. This will open a Variation details pop-up modal.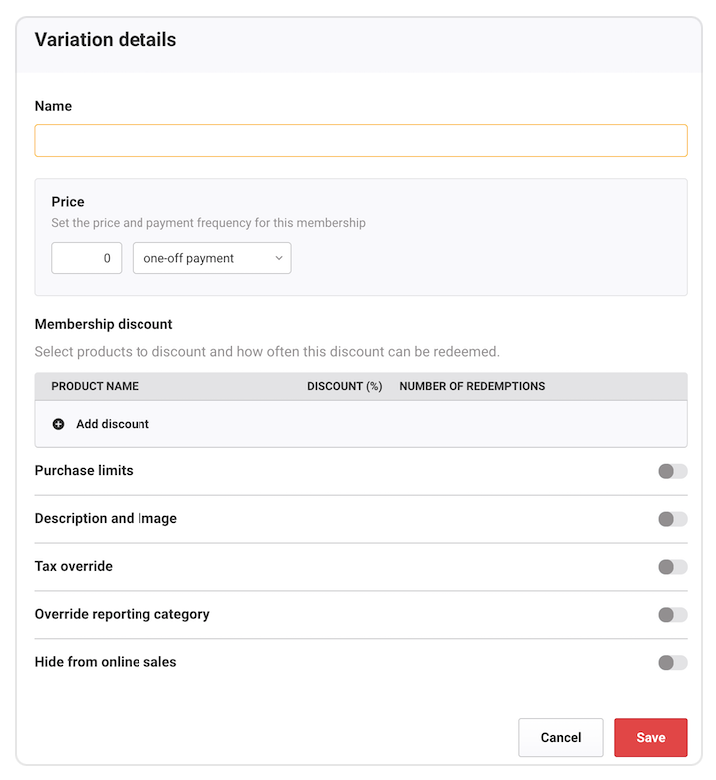 Variation name and price (one-off payment membership)
Give your variation a name. E.g. Adult or Child (16 and under)
Add price
Select one-off payment from the payment frequency dropdown list.
Variation name and price (recurring payment membership)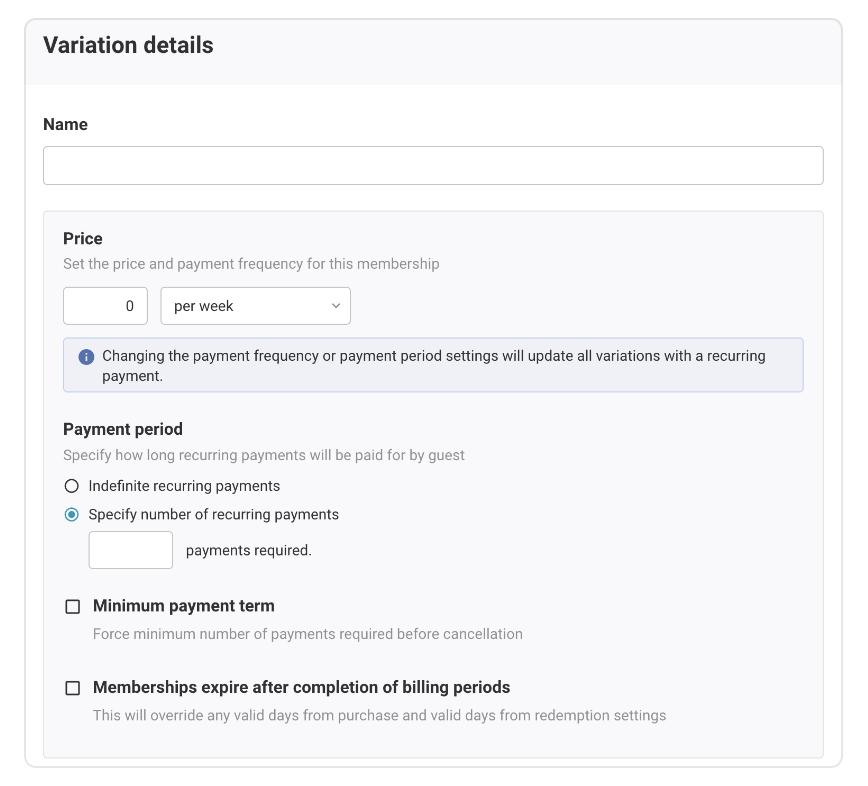 To create a recurring payment membership variation:
Give your variation a

name. E.g. Adult or Child (16 and under)
Add

price

and select the payment frequency from the dropdown list. You can set this to

Daily, Weekly, Monthly

or

Yearly. Additional fields will appear below.
Payment period -

Select how long recurring payments will be paid for by the guest.

Indefinite recurring payments

ensures the membership runs until it is cancelled.
Specify number of recurring payments

allows you to select the number of recurring payments required before the membership expires. E.g. 6 payments required.

Select Minimum payment terms

to specify the minimum number of payments guests are required to pay before membership can be cancelled. E.g. 3 payments required.
If a guest tries to cancel their membership before the minimum payment term has elapsed, they will be charged any amount outstanding from the minimum payment term.
Select

Memberships expire after completion of billing periods

to override the valid days from purchase and valid days from redemption settings. NOTE: This setting works in conjunction with the Minimum payment terms setting.
Membership discount

Configure the membership benefits such as discounted entry or products.
Under Membership discount > click Add discount.
Select the products that can be discounted and the discount amount. E.g. 100% discount on 60 min Open Jump
Check the unlimited checkbox if there is no limit to the number of redemptions. Untick the checkbox to set a limit on the number of times the discount can be used. E.g. 2 redemptions per day/week/month/year.
Repeat the above steps if this membership will offer varying discounts for different products.
Membership variation settings
Configure the settings that will apply to this membership variation.
| | |
| --- | --- |
| Purchase limits | Set a minimum and/or maximum purchase amount. For example, a family pass which requires a minimum 4 memberships to be purchased. Make ticket compulsory automatically will automatically add the membership variation to the cart when guests are purchasing online. This membership variation will need to be purchased if the guest is buying another membership variation. For example, the family membership is made compulsory before a guest can purchase the Additional family member membership. |
| Description and image | Allows you to add a description to the membership and override product image. Override image will appear in the POS. |
| Tax override | Override the default tax settings. |
| Override reporting category | Override the reporting category selected for this membership product. |
| Hide from online sales | Enabling this setting will hide this membership variation from the online checkout. The membership would be available in the point of sale. |
Click Save once done.
To add multiple variations, simply repeat the above steps.
Membership instructions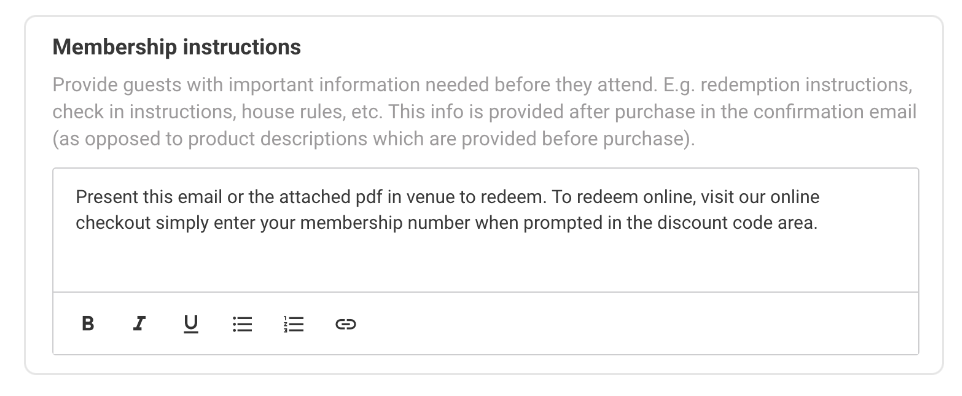 Add Membership instructions for your guests. The instructions are provided in confirmation emails sent to guest after they complete their purchase.
Date settings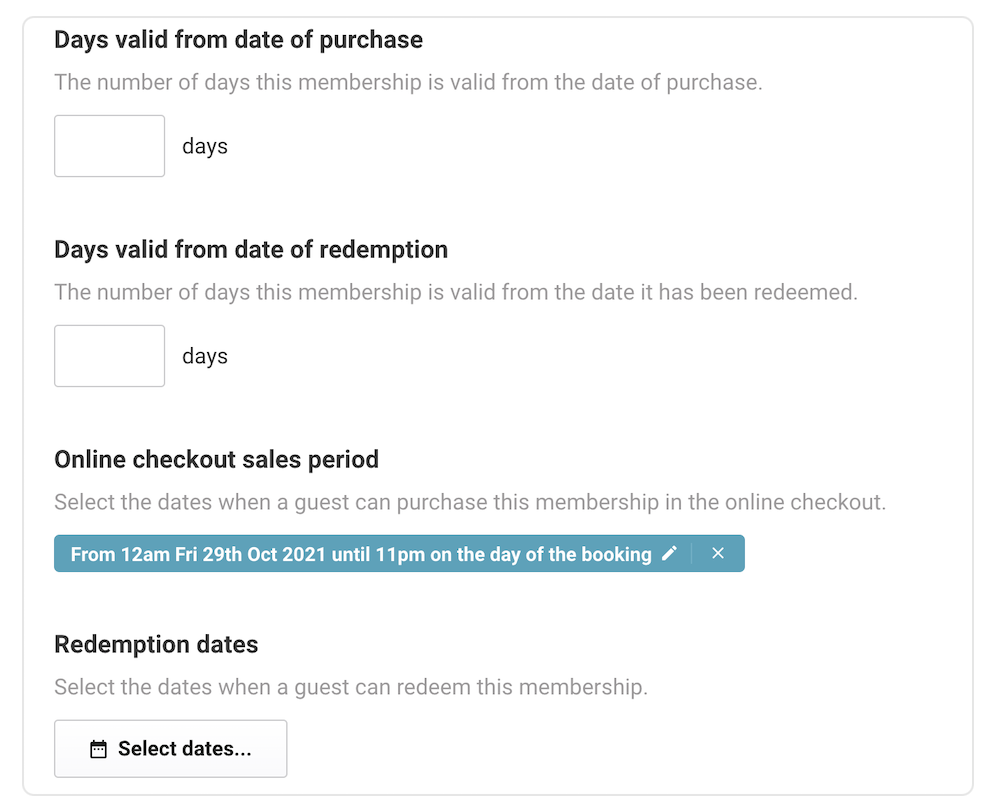 After creating the membership variations and any instructions, you can define when the membership can be purchased and how long the guest has to use the membership benefits (the discounts) after purchasing a membership.
Days valid from date of purchase / redemption
| | |
| --- | --- |
| One-off payment membership | Choose the number of days the membership will be valid for commencing from the date of purchase (online checkouts or POS) or from date of redemption (in POS). |
| Recurring payment membership | Leave the Days valid from date of purchase / redemption fields blank to ensure the validity of the membership depends on the guest paying for the membership each recurring payment period. If payments fail, or if guest requests to stop their membership payments, the membership benefits will no longer be redeemable. |
Online checkout sales period
Configure when guests can start purchasing a membership using online checkouts and when sales close.
Under Online checkout sales period click on the date in blue to open a pop up modal.
Set From to be the first day guests can purchase the membership online.
Set Until to be the last day or last hour each day that guests can purchase the membership online. We set up to the day of booking at 11pm which is the latest time each day that a guest can purchase the Membership online. If this is a limited time promotion, nominate a fixed date.
Click Save Dates once done.
Redemption dates
Define the days that the membership and its discounts can be redeemed by the guest.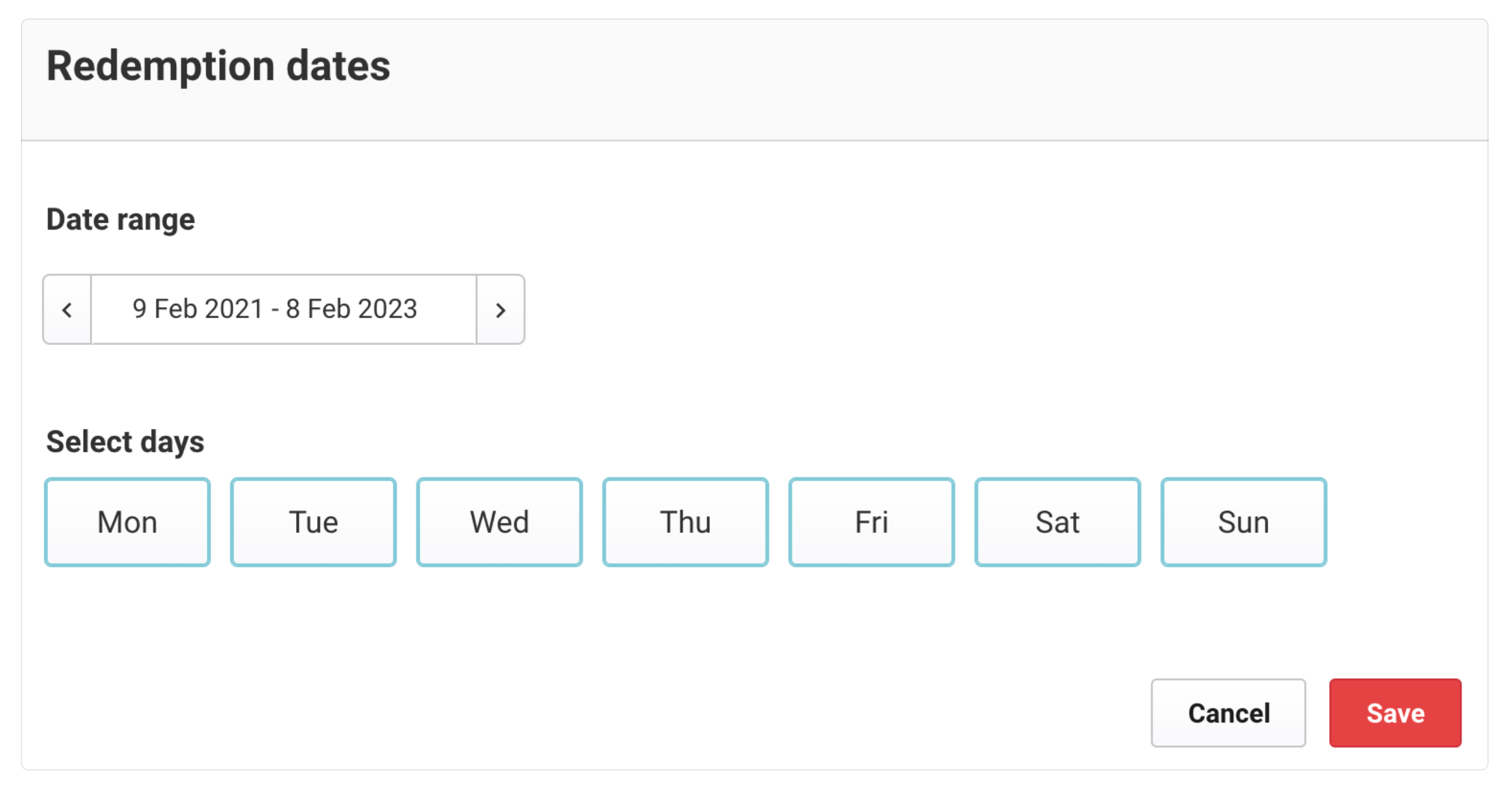 Under Redemption dates click on the date in blue to open a pop up modal.
Click on the date under Date Range and a calendar will appear. Select the days that the member benefits (the discounts) can be redeemed. For example discounts to be used for the next 1 year.
Click Apply.
Next Select days of the week.
Click Save when complete.
Product management
Under Product management, select add-ons, allocate product category, reporting category and tax rate for the membership product.
Advanced settings

Waiver
You can enable a waiver to be assigned to each membership product purchased.

Go to Advanced settings
Under Waiver select the checkbox This product requires a signed waiver
Click on the dropdown list and select your venue's waiver.

Data capture
If you require your guests to complete additional information (e.g. member details) you can create a form and select the form under Data capture.
Product-specific terms & conditions
Add terms & conditions that are specific to this membership product. This will appear after your venue terms & conditions on the online checkout.
Product visibility
Enabling this option will hide the membership product from appearing in online checkouts. Staff will still be able to access the membership product in POS and Venue Manager.
Product-specific venue
Provide alternative address and contact information if the membership activity occurs off-site at an address that is different from the venue address details
Click Save to publish.
Things to know
Memberships are designed to be sold as stand alone products and cannot be used in conjunction with the Packages module.
If you want to edit the membership details email that is automatically generated upon purchase, this can be done via the template studio.
Related articles