This is currently in beta and is not currently available to clients
Intro
Watch the video for a high-level view of Memberships
Please note - Memberships are designed to be sold as stand alone products and cannot be used in conjunction with the Packages module.
Create a membership product
1. Go to Products > Create Product
2. Select the Memberships option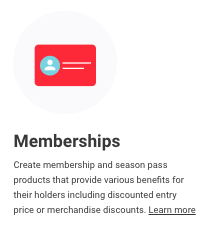 3. Fill out the Name (mandatory), Description and upload a Thumbnail image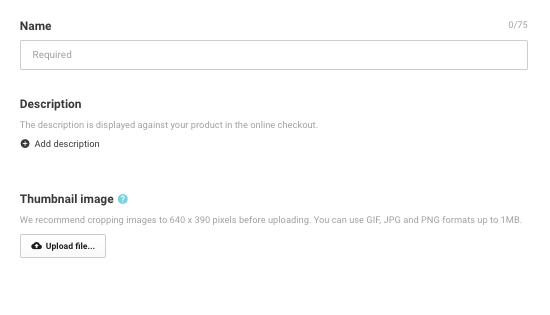 ROLLER Memberships support recurring and one-time payment variations within the same membership product
4. Add a Membership variation and fill in the following details in the pop-up modal:
Name
Price - set the amount, frequency, if payment is one-off, if recurring payments are indefinite or limited to a set amount of payments
Membership discount - select all applicable products, the discounts, the number of redemptions and the frequency in relation to that. Check the unlimited option if there is no limit. Repeat steps for varying discount rates for different products
Purchase limits - if there is a minimum and/or maximum purchase amount and the setting to force the minimum purchase
Description and image - if required
Tax override - override the tax settings
Override reporting category
Hide from online sales - turning this on will restrict this membership variation from being purchased online
Press Save and repeat the steps above to add more variations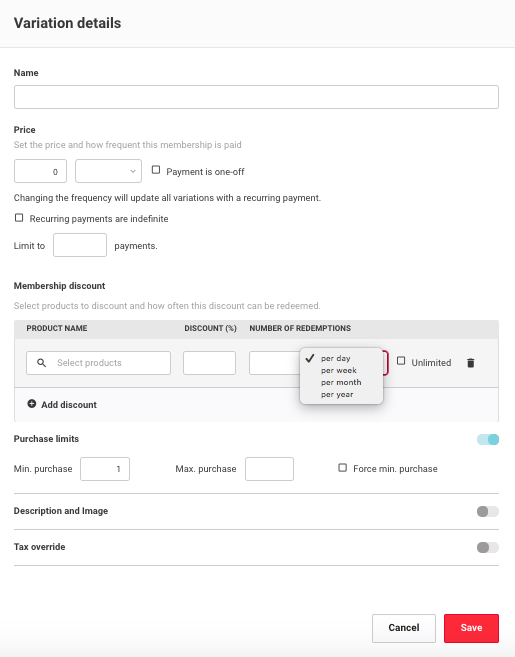 5. Add Membership instructions with important information before they attend such as redemption, check-in instructions or information they should know about the venue. For members to redeem benefits on Checkout, guests must enter in their membership code, that is located under the QR code on their ticket, after clicking the Member number option on the payment page
6. Set the date settings as necessary:
If your product has indefinite recurring payments do not enter any value in the fields:
days valid from date of purchase or
days valid from date of redemption fields
These fields should only be completed if your product is for a limited time, has a once off payment or you set a limit to your recurring payments.
For example if its a three month membership you can set the days valid to be 90.
Days valid from date of purchase
Days valid from date of redemption
Sales period - when guests can purchase the membership
Redemption dates
7. Under Product management, add add-ons, allocate product category and the tax rate
Member details are captured via waivers or forms, ensure that the form uses the ticket holder fields
8. Set the Advanced Settings:
Select the waiver (if the product purchased requires a waiver)
Data capture - select the form to capture member details
Product specific terms & conditions
Product visibility - check this if it is not to be sold online
Product specific venue - if the address is different to the venue address details
9. You could also edit the look and text of the emails sent to guests in relation to their membership through the Template Studio by going to Settings > Design > Email templates.
Related articles