This is currently in beta and is not currently available to clients
Intro
Watch the video for a high-level view of Memberships
Create a membership product
1. Go to Products > Create Product
2. Select the Memberships option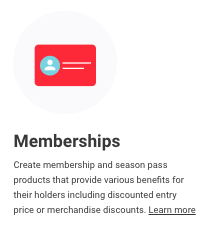 3. Fill out the Name (mandatory), Description and upload a Thumbnail image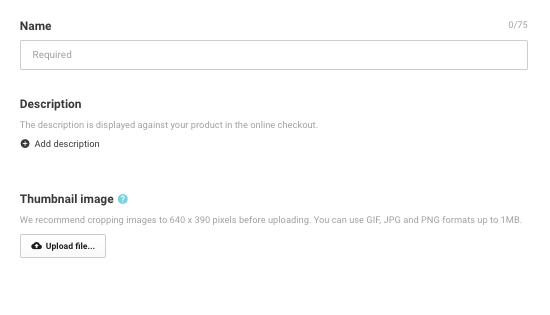 ROLLER Memberships support recurring and one-time payment variations within the same membership product
4. Add a Membership variation and fill in the following details in the pop-up modal:
Name
Price - set the amount, frequency, if payment is one-off, if recurring payments are indefinite or limited to a set amount of payments
Membership discount - select all applicable products, the discounts, the number of redemptions and the frequency in relation to that. Check the unlimited option if there is no limit. Repeat steps for varying discount rates for different products
Purchase limits - if there is a minimum and/or maximum purchase amount and the setting to force the minimum purchase
Description and image - if required
Tax override - override the tax settings
Press Save and repeat the steps above to add more variations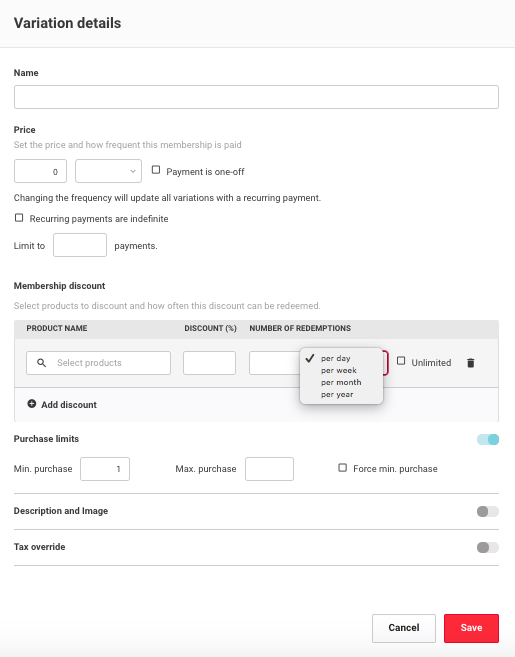 5. Add Membership instructions with important information before they attend such as redemption, check-in instructions or information they should know about the venue. For members to redeem benefits on Checkout, customers must enter in their membership code, that is located under the QR code on their ticket, after clicking the Member number option on the payment page
6. Set the date settings as necessary:
Days valid from date of purchase
Days valid from date of redemption
Sales period - when customers can purchase the membership
Redemption dates
7. Under Product management, add add-ons, allocate product category and the tax rate
Member details are captured via waivers or forms, ensure that the form uses the ticket holder fields
8. Set the Advanced Settings:
Select the waiver (if the product purchased requires a waiver)
Data capture - select the form to capture member details
Product specific terms & conditions
Product visibility - check this if it is not to be sold online
Product specific venue - if the address is different to the venue address details

Buying Membership on POS
When purchasing a membership in POS, it's important to understand that the card, being used for recurring payments, must be authorised/validated and then used to purchase what is in the cart via the payment terminal.
1. Select the Card tender option and click the Complete Payment button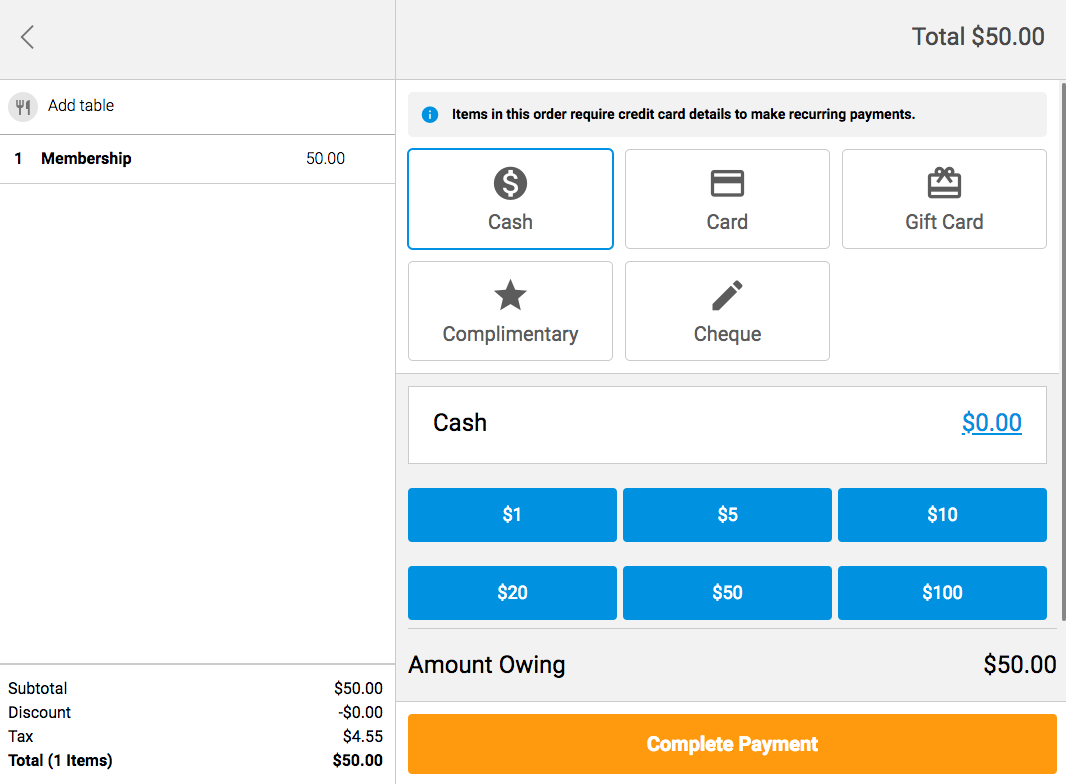 2. Authorise the card for future payments
Please remember that these are for $0 transactions and explicitly for authorisation purposes only
For Payment Gateways using a third party payment page, a pop-up modal will prompt this to redirect to the payment page once you click Authorise. Once card details have been captured in the new window, it will redirect to the cart screen in POS
For those not utilising a third party, the Credit Card details of the customer can be entered directly in the pop-up modal - this will notify the amount, frequency and duration of the impending charges for the Membership. Click Authorise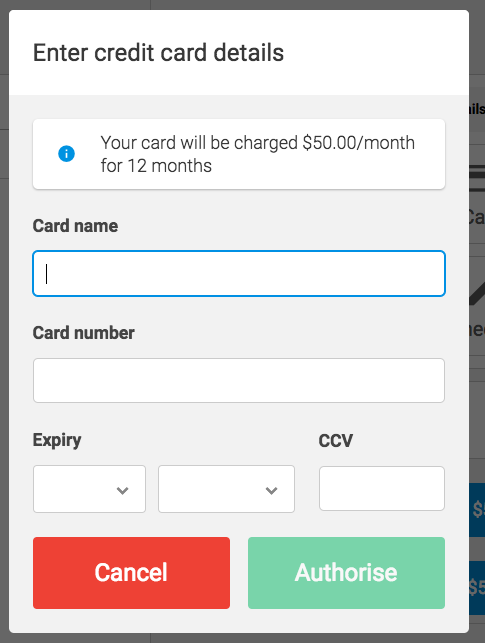 3. To finalize the transaction, take payment for all items in the cart via the payment terminal

Redemption of Membership on POS
1. Search for the customer membership under the Members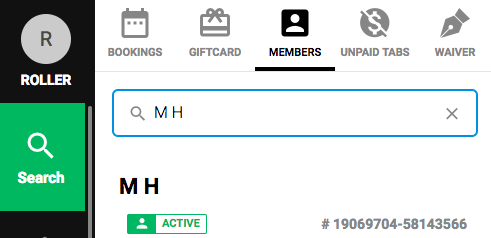 2. Click the Redeem Membership button to put transactions through
3. Add items to the cart, click Pay Total and complete the transaction - this will automatically discount any eligible items using the customer's membership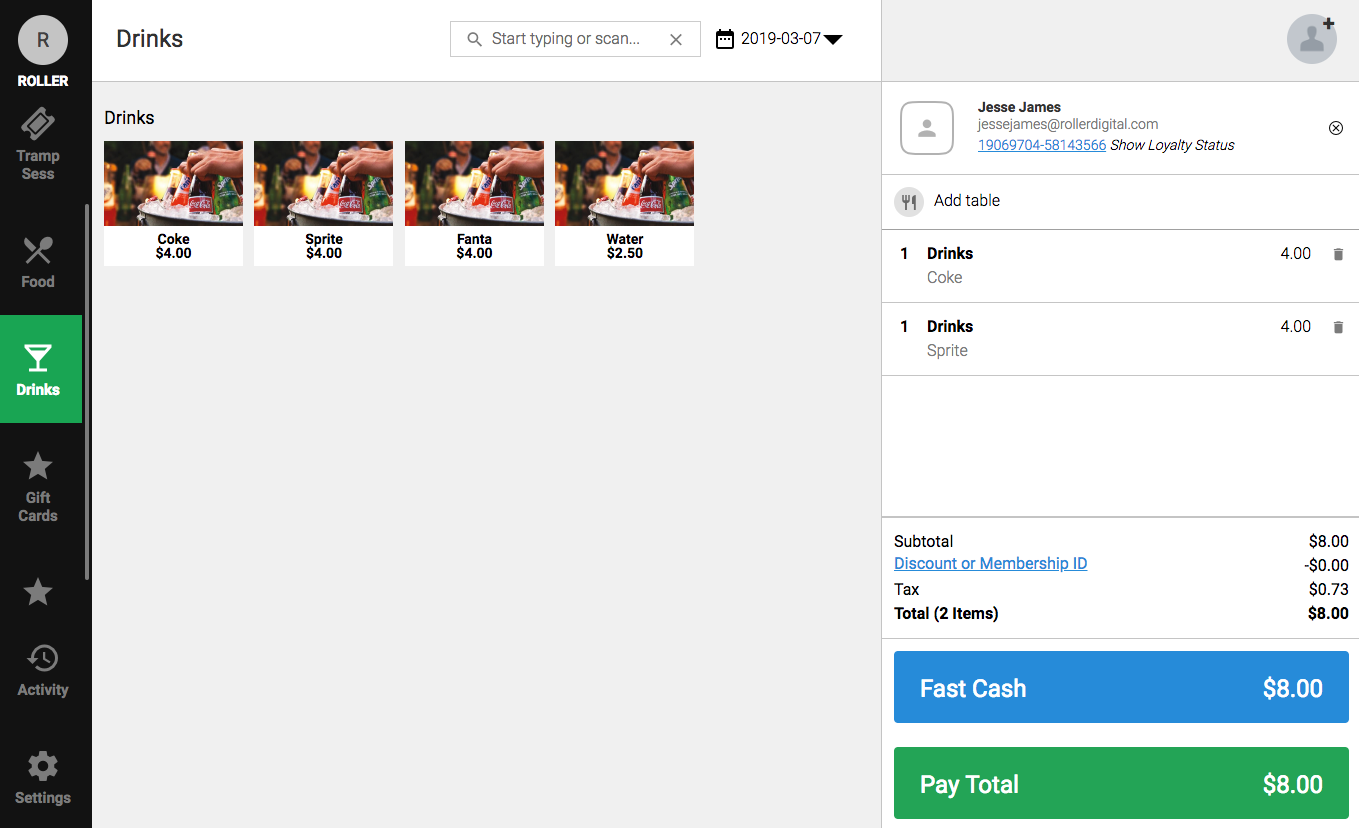 Purchasing a membership in VM
1. Create a booking in VM and add the Membership product to the cart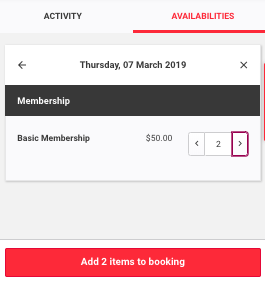 2. If the membership product doesn't require waivers, click the Forms tab and ensure to add the relevant form and add the details to all form fields for each member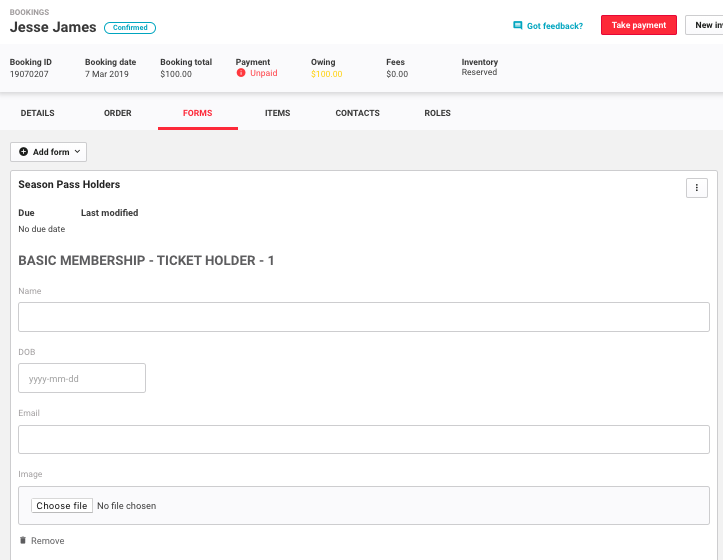 3. Click Take Payment - Credit Card payment option must be selected so that any recurring payments for the membership can be taken
4. Send confirmation email once payment is finalised 
Finding a customer's membership in VM
1. Search for the booking ID or the customer name for the booking with the membership purchase

2. Click the Items tab and click View item, this will give you the Membership # for the designated member
Redeeming a membership on VM
1. Create a booking and prior to taking payment, click on the Order tab and click Add discount and input the Membership # here. Click Save to apply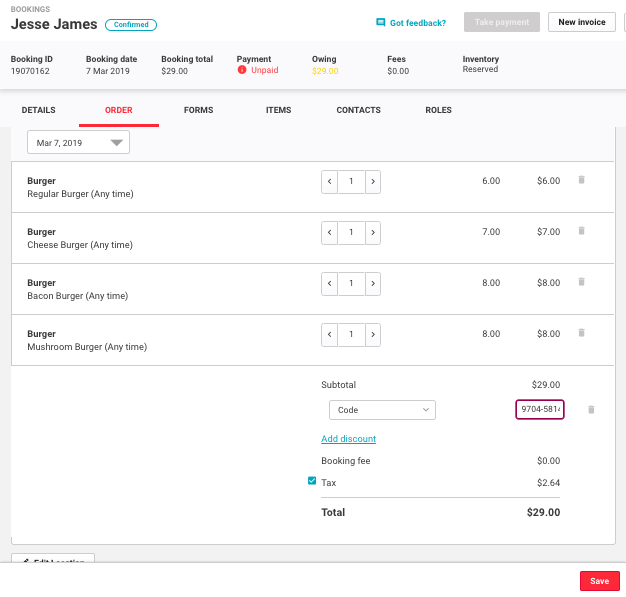 2. Take Payment and send confirmation emails as required

Managing Memberships
If a customer's credit card is not able to make a payment on the day of their recurring payment, a retry will be tried 1 day later, then another time 2 days later and for a final time 3 days later from the original date. If payment has failed in all instances, their Membership will be marked as suspended and they will be unable to utilise it
1. Navigate to Customers > Memberships
2. On this page, you can Search via membership ID/name or filter by the following status: All, Active, Suspended, Deactivated
The Membership grid gives you the Name, Email, DOB, Membership type, Status, Redemptions, Created (date) and Total Discount Value

 3. To update a customer's membership, click the more button and select Edit on their membership 

4. There is the option to Deactivate membership at the top but if a Membership is suspended and the customer can make their payment or perhaps they need to update their details, click the pencil icon under Payment method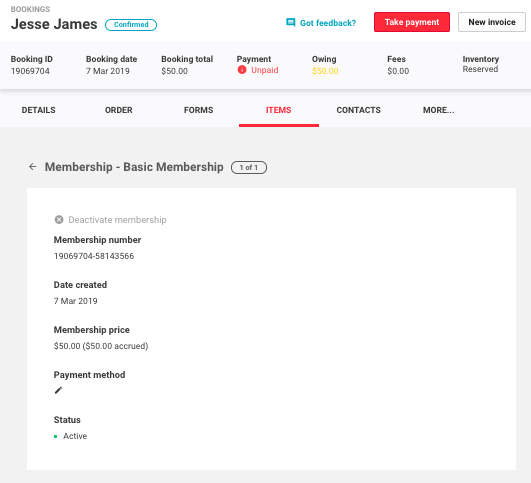 5. Select Credit Card from the drop-down of the pop-up modal, fill in their credit card details and click Update payment method once this is completed. This will take outstanding payment for any suspended memberships and charge the card for the next payment as per the original cycle