In this article, learn how you can create a standard pass, which allows your customers to purchase passes that can be redeemed one or more times during a period of time you have defined, with no time-limit during the selected day. An example of a standard pass is a day pass admission to a theme park or event.
Create a new standard pass product
1. In the Venue Manager, click on the Products button in the left-hand side navigation and select Create product
2. Select the Standard pass option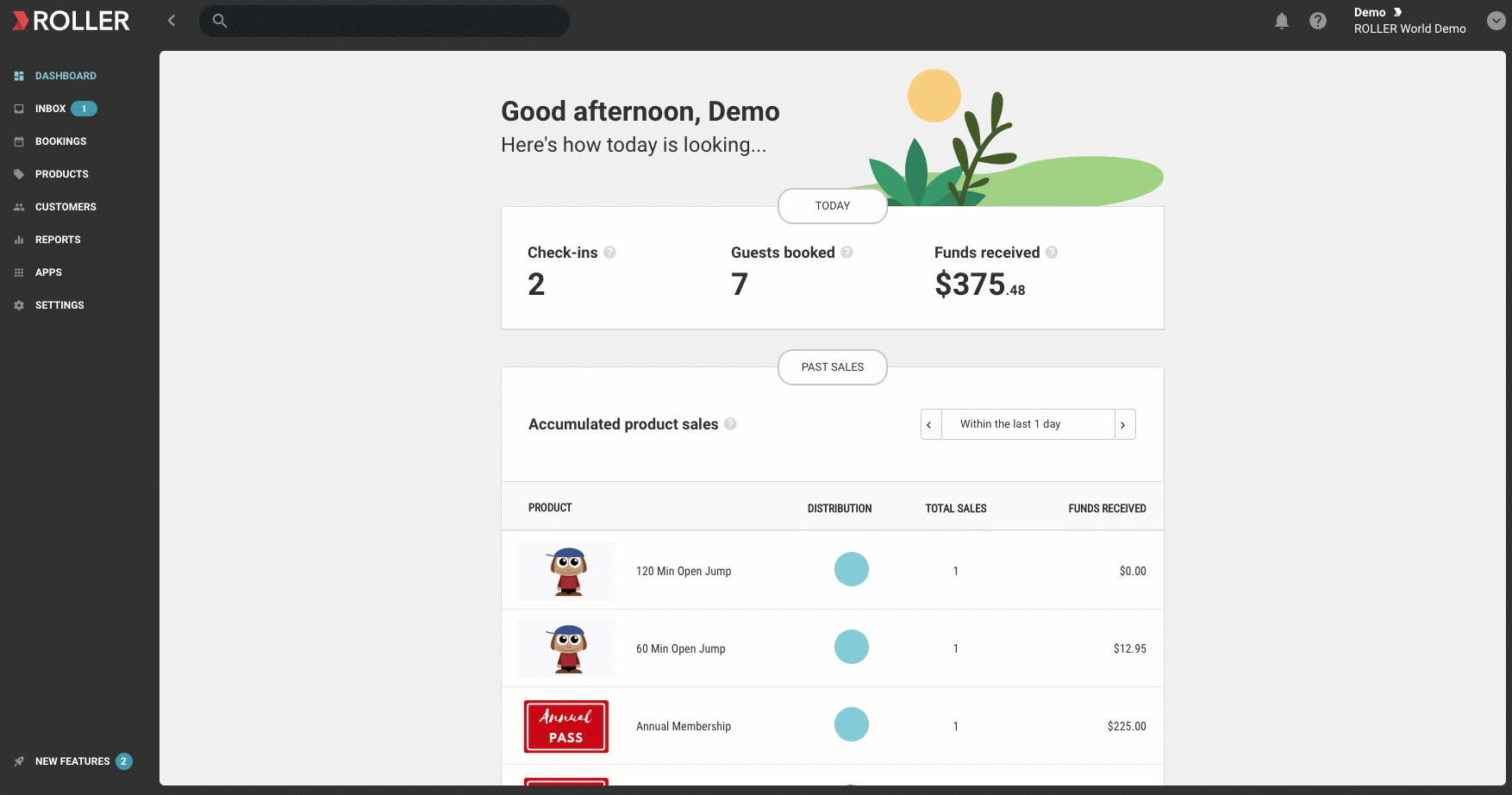 Complete the basic product details
1. Complete the following details
Name (required)
Short description
Full description
Terms and conditions
2. Upload an image for this product by clicking the Upload file button. Select the file from your computer to upload. Once the image loads, pull and drag the crop marks to frame your image, anything with a dark overlay will be cropped out. Press Save
3. Assign a Reporting category where you can link your pass product to a pre-existing GL code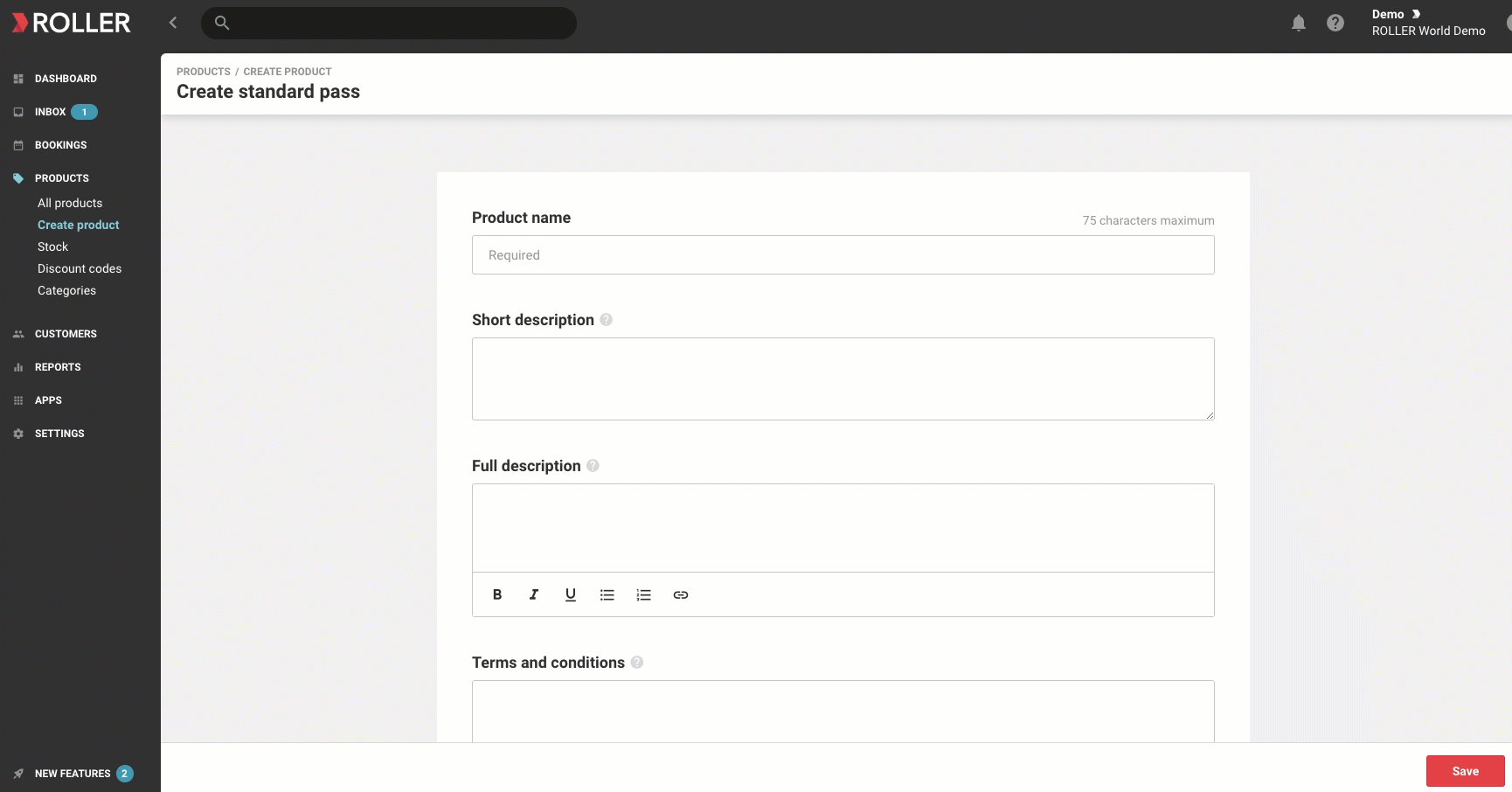 Create a pass ticket type
Click the Settings cog button to add these options, if applicable:
Add a ticket description - use the WYSIWG editor for your text description with options to bold, italicise, underline, use bullet points, numbering or link URLS
Set a minimum and maximum purchase - type in the minimum and maximum per customer purchase in single transaction
Locations (if this activated for your platform) - select from the drop-down menu. Please note that if you use locations, you can keep quantity to Unlimited as it will pull from your location settings. Using Passes with Locations means it'll set that capacity for the entire day, you cannot segregate per hour unless making a ticket type and location per hour
Force minimum purchase means customers must purchase the minimum of this pass type - must check to activate
Group pass (great for family tickets or set groups) - must check to use and set number of guests included
Override sales period for this ticket - You can set a specific sales periods for pass types that override the generic settings for the entire pass- select as prompted sale start date & time and sale end date & time
Override image - if you want a different image for each image pass - click Upload File
Tax override - allows you to select a different tax option from your default tax settings for the ticket type,  you can also check the box if you would like it to be "Tax Inclusive"
Hide from online sales - ticking this box will hide this ticket type from online sales, and this ticket can only be purchased through Venue Manager booking or in POS
GL code - you can assign a GL code to this specific pass type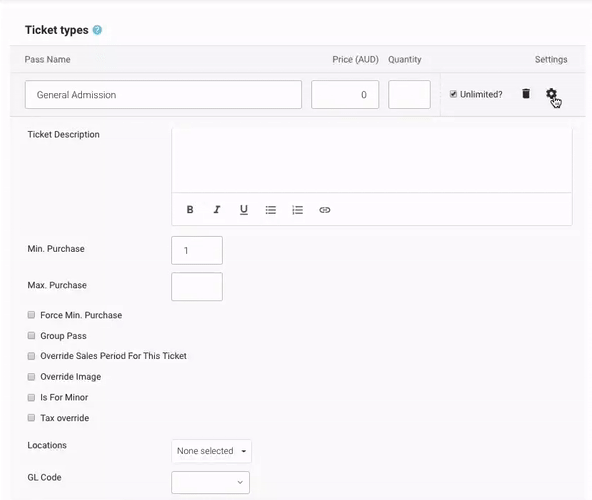 Set validity date
You can either specify a date, or set recurring dates of when the pass can be used. 
You can also customize the validity text on the email confirmation and ticket by ticking the Override this text checkbox. Some example text you can type in is:
Valid for 10 uses from date of purchase

Valid for one year from date of purchase

Doors open at 6pm, 31st March 2018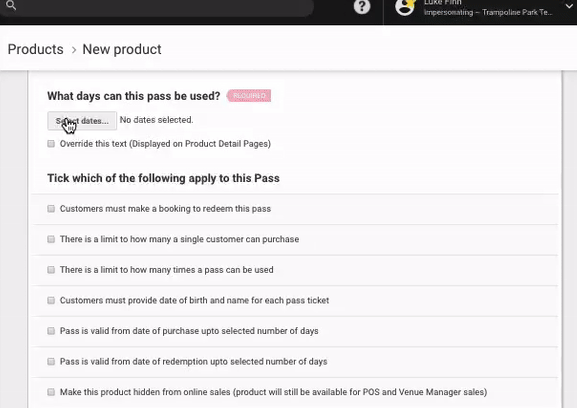 Pass general settings
These are pretty self-explanatory, once you click the checkbox, a text box will appear so you can type in an amount for the rules to apply to.
If you select there is a limit to how many times a pass can be used, this can be used for multi-passes that allow walk-ins only. If you would like to create a multi-pass that allows customers to book themselves online, read this article.

Pass advanced settings
Under the advanced settings section, you can choose to add the following to your pass product setting:
Exclusion period where you can select recurring or specific dates from the calendar when the pass is not available e.g. Every Tuesday and Thursday or when your business is closed such as public holidays including Christmas and New Years Day
When customers can access this pass online where you can set a rule so that customer can only purchase this pass on certain time periods, e.g. at 12 pm every day. If you want the product to be on sale 24/7 until the date of your product, please select the fixed date option
Add-ons where you can link the pass to an existing add-on or stock product. This way, when a customer purchases this item in the checkout, they will be immediately prompted to purchase the linked add-on or stick product. You can select which items you'd like to link to this pass by selecting them from the drop-down menu. There is no limit and you can click the trash can / bin icon to remove any add-ons
Product category where you can assign the pass to a pre-existing product category. Assigning to a product category will make searching for bookings under this product easier when using features such as the bookings calendar view
Tax where you can set the tax rate for this pass. Note that while the tax rate will be automatically set to the default, but you can choose from other preset options in the drop-down menu
Waiver where you can link your venue's waiver to this product. This means that each time the pass is purchased, the customer will need to complete a waiver before they are able to be checked in and participate in the activity at your venue
Forms where you can link a form to the pass. This way, each time a customer purchases this item in the checkout, they will be prompted to complete some additional questions. You can select which form to link to this pass by selecting it from the drop-down menu
Alternate address where you can override the venue settings for this pass. Information that you can override are:


Venue name
Venue address
Website (optional)
Email (optional)
Contact number (optional)

Booking confirmation required where, if this feature is activated in your platform, you can set whether you will need to manually mark bookings for this product as "confirmed" in the Venue Manager
Upgradable product where, if the membership feature is activated in your platform, you can set whether this pass can be upgraded to a membership product in the POS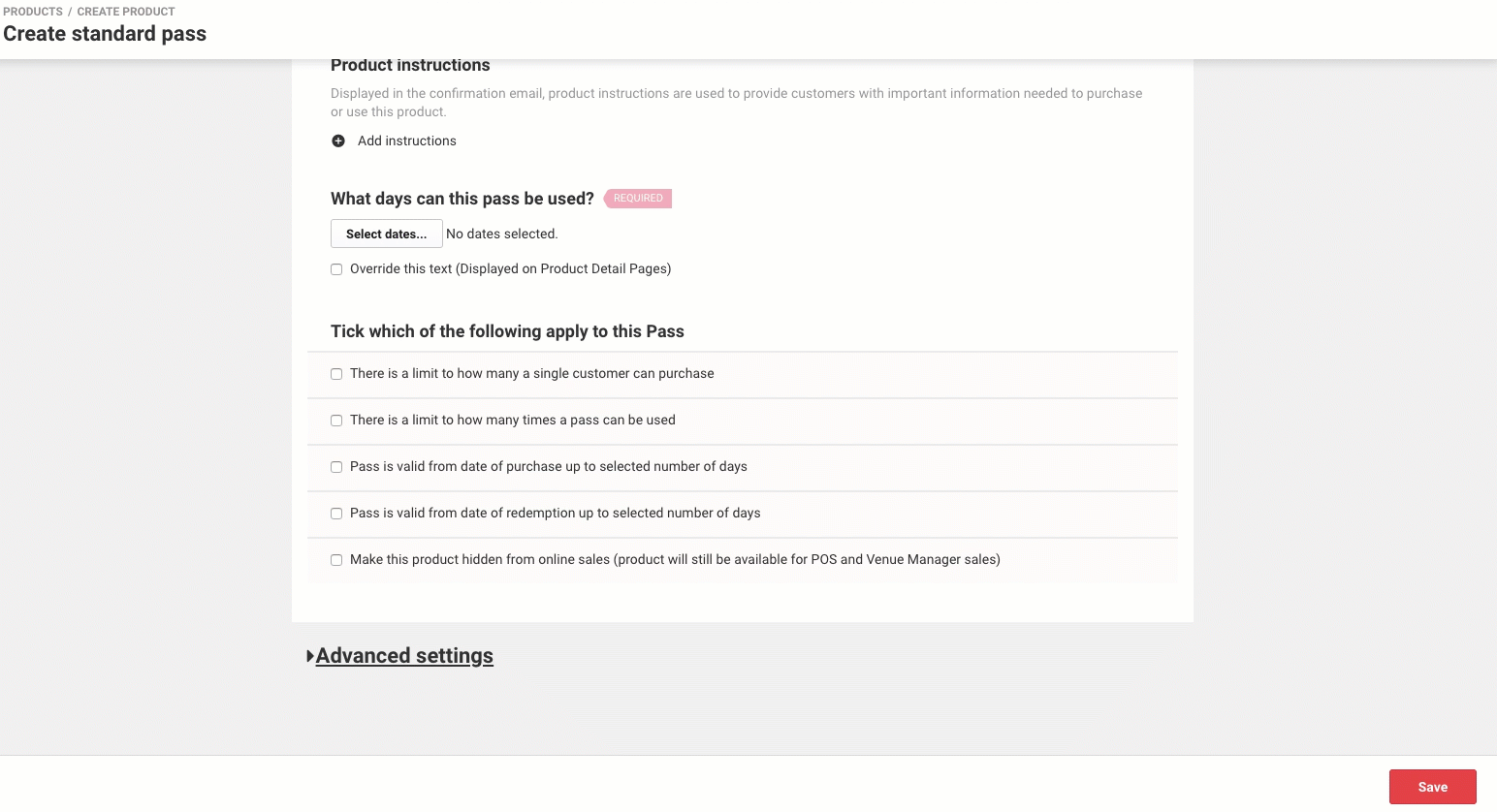 Save and publish your pass
Click Save once you've completed all steps. 
To start selling this pass online, you will need to add it to a checkout. 
To start selling this in-store, you will need to add it to a POS menu item.